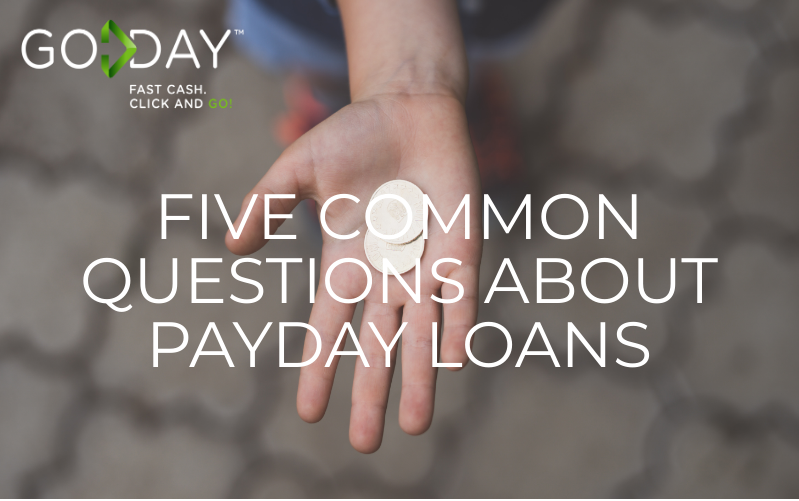 Payday loan questions should be answered before you decide to borrow. GoDay understands that the information out there can be misleading or incomplete, leaving you to wonder whether if a payday loan can be the right option for you. That's why we compiled five of our more commonly asked payday loan questions. Plus, we'll define what it is is and when one is appropriate.
Payday Loan Question 1: What are the benefits of a payday loan?
A payday loan, or short-term loan is a small value loans you take out for a short time, typically until your next payday. A payday loan can be a great way to get cash quick and with very little red tape to help you solve urgent, but temporary cash-flow needs. These loans can be a great option for people when cash flow is tight. 
1) Speed
The number one benefit of a payday loan is the speed in which you can receive money. Lenders may approve applications for payday loans instantly when you provide them with all the information they need. You don't need to fill out lengthy forms and can get your cash quickly, when you need it. This is a much quicker turnaround time than a traditional loan or other forms of credit.
2) Ease and convenience
The processes and all interactions when you apply are online. You don't need to book multiple appointments, or sit on the phone for hours with your banking institution. Payday loans are easy and convenient. You can apply from anywhere at any time, versus a traditional loan where you can expect to have several meetings or calls with a loan officer before approval.

Another bonus of a payday loan is that you can spend it on anything, including paying your bills. Traditional lender issue loans for a specific purpose. For example, a mortgage or a car loan.

3) Fewer requirements
It's easier to get a payday loan than a traditional loan, because you only need to meet a few basic requirements. Most importantly, the lender wants to see a stable source of income. If you have that, you are likely to receive approval. Traditional loans, however, usually require proof of income and more.

4) You won't borrow more than you can afford
Payday lenders limit the loan amount that new borrowers can have access to. You can only access an amount that is within your salary and lenders range. For example, at GoDay, you can borrow up to $1,500. If you are approved for less than the maximum, you can increase that value next time you need a payday loan by paying off your loan on time.
5) Less chance of damaging your credit score
With a payday loan, you'll have a short repayment period. This may feel like a burden to some people, but it can be an advantage for most, because it can protect your credit rating. If you apply for a regular loan, you will usually have a longer term to pay it back. However, a lot can happen over a long period and you can easily miss your instalments, and accrue interest. PLUS, it can damage your credit score. A short repayment period can help you stay on top of your debt, so you're more likely to be approved for bigger loans like a mortgage down the line.
Payday Loan Question 2: How do I pay back a payday loan?
Obviously a payday loan isn't free money. You need to pay it back. Just like any other loan, it's important you ,meet your obligations to avoid any penalties. On the agreed date, GoDay will automatically withdraw payment directly from your bank account. If you wish to make alternative arrangements, you'll need to chat with our customer service at least two business days prior to your repayment date.

If you fail to repay your loan within the specified term, we will contact you to arrange payment. However, additional fees may apply and your account will be handled by our professional collections team. We understand things happen, and the team will do their best to help you manage repayment. Nonetheless, if you fail to cooperate, your credit score will be impacted for up to six years, as well as your ability to obtain future payday loans with GoDay.
Payday Loan Question 3: How can a payday loan impact my credit score?
Your credit score is incredibly important. Having a good credit score increases your chances of obtaining other forms of credit such as a mortgage or a line of credit. A poor credit score can prevent approval for credit cards, and even a new cellphone.
Most people have debt in some way, shape, or form. That's okay. However, paying back your debt on time is what really impacts your credit score.
At GoDay, we may check your credit score when you apply for payday loans. This is because these loans often include the same processes as any other loan. This basically helps ensure us that can pay back your debt, including your GoDay payday loan.
Having a payday loan won't impact your credit score. However, not paying back on time, will. Obviously, you should ensure that you can comfortably afford the repayment of your payday loan, before you decide to borrow.
Payday Loan Question 4: How do I know if a payday loan is right for me?
Are there times when you should say "no" to a payday loan? Yes, there are times when a payday loan might not be right for you. We want to get you back on track, not further away from your financial goals. With this in mind, here are a few situations when a payday loan might not be appropriate:
No borrowing options
If you find yourself in a situation where the lender only offers set amounts you can borrow, you might want to consider steering away from them. This is not to say that all payday loan lenders are like this. They aren't.
At GoDay we give you the choice of how much money you need, because we are not a one-size-fits-all company. Not having a choice in how much you borrow and your repayment options, means your should probably say "no" to the lender.
More than one payday loan
Since payday loans put stress on your cash flow, be very wary of any lender that is willing to issue more than one. This can lead to unmanageable debt and make it very difficult for you to meet your loan obligations.
At GoDay, our policy is that we won't give you another loan if you have an outstanding balance and haven't paid us back yet. We're a responsible lender and don't want to see you in a worse financial situation.
If a lender is willing to grant you multiple payday loans, be very wary. If you don't make your payments, you will probably pay very high fees. Plus, your loans will accrue high interest charges. It is better to just stick to one payday loan, instead of several.
Sketchy lender
Some payday loan lenders hope that you won't read the fine print too carefully. They may charge you extra fees and penalties, because they're aren't upfront with you.
GoDay is totally transparent and let's you know what you'll pay before you agree to borrow. With shady lenders, you won't find any of this out until you suddenly find you need to pay these charges.
If a lender doesn't let you know what you'll pay straightaway, just say "no".
Payday Loan Question 5: Is GoDay The Right Lender for Me?
There are a number of different financial solutions out there, but GoDay likes to keep it simple. We are 100% online. Apply for the loan you need from virtually anywhere! There is no need to go into a physical store to get cash ever again. Save time and apply from any device at any time.
Along with being 100% online, we pride ourselves on our responsible lending practices. Some lenders would be willing to surprise you with additional fees and charge you for extras, but not us. Our short-term cash-flow solutions are intended to help get you back on track – not further from it.
We're also a Canadian company! With physical office locations in both Toronto and Vancouver, GoDay.ca may be a virtual online company, but we are founded and run here in Canada.
Besides helping you to get the cash you need quickly and easily, we also offer the security and professionalism. Your data is securely encrypted and our customer service is top-notch.
It's easy to get a payday loan online with GoDay! Head over to our website and complete our quick, easy online payday loan application. You will need to provide us with some personal information such as your banking and current employment details. As long as your information is correct and you are approved, you will have your funds in less than 24 hours.
Once your online payday loan application is complete, our office will set up your GoDay account and our automated and online cash advance system will determine your approval amount. After you've signed your payday loan documents, we will use the industry's best tools to get you your online payday loan funds quickly and easily.
Depending on what time of the day you sign your loan agreement and the hours of your financial institution, your payday loan will either be delivered to you the same day or you will wake up to it in your bank account the next morning. A GoDay representative can provide you with further details about your loan once you're approved.
Have further questions about payday loans? Explore our website or reach out to us! We're always here to help.