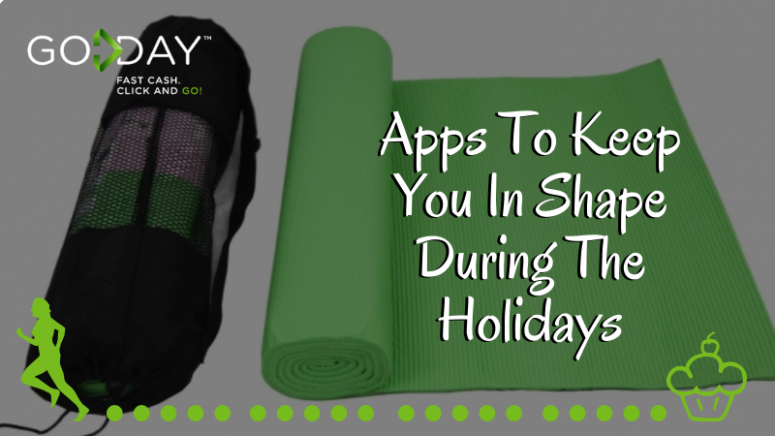 New years resolutions were seemingly made for the regret we carry on our bodies after our holiday food indulgences, right? Get ahead of yourself this year and keep the pounds from creeping on in the first place with these very different exercise apps!
Now…where's that eggnog?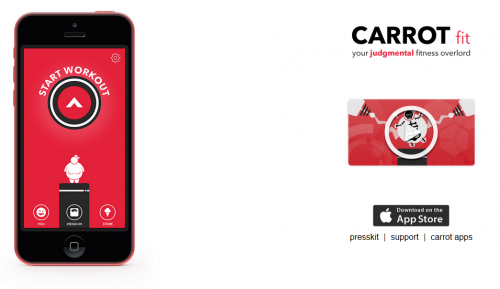 If being yelled at and insulted is your idea of motivation, then this is the app for you. Available only on iOS, CARROT Fit uses demotivation as your motivation. It's imagery is even demeaning, fat cartoons either cheer or cry while on the stand after you've logged your workout results. While having a workout version of GLaDOS from Portal screaming at you from your phone sounds different, it gets tired fast. The real problem comes from a logistical standpoint.
Every body has different composition with it's fat and muscle mass. If you're combining weight training with your cardio, chances are you'll be building muscle at the same time. If your weight doesn't fluctuate (but your inches do), CARROT doesn't seem to care as it only concerns itself with net weight. It won't matter if you dropped a pants size if your poundage barely moved.
But hey, at a measly $2 price tag, give it a whirl. Being shouted at has to work at some level, otherwise the Marines wouldn't be what they are.

Hear that grumbling? No, it's not your stomach. It's the hordes of zombies on your tail when on your next run. Yours truly has been addicted to the Zombies, Run! 3 app since the summer & can attest that it keeps you motivated, especially if you love great stories & gaming. Though ideally used with GPS tracking turned on while you're out about your neighbourhood on a jog, this app works anywhere at any speed. So, whether you're just starting out and can only walk or if you're an advanced runner, this app will keep time with you, track your progress and throw you into an action-filled game every step of the way.
You can also use it inside on a treadmill or on a stationary bike by using the "constant speed" setting. If you want a bit of an interval workout along with it, turn on the "zombie chases" mechanism, which will alert you at unknown times that zombies are closing in on you (and you can hear them!) and you have to increase your speed by 20% to escape them, or else you'll drop much needed supplies.
You have a choice of 30 minute or 1 hour workouts, and the app mixes in your own playlists between the story-time voice-overs. During your workout, you collect valuable items that assist you in building your very own base of operations in the survival camp of Abel Township.
Join over 800,000 players all over the world in this thrilling workout adventure. There are currently 3 "seasons" that include over 120 "episodes" (workouts), so even if you run every day, you'll have material lasting you for months. This doesn't even include the "supply drops" and "race" options as well!
This app is currently available for Android and iOS users.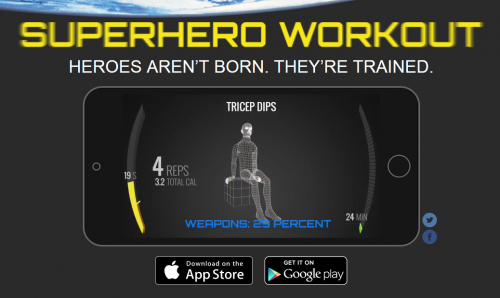 From the makers of Zombies, Run! comes a brand new strength training app that's centered around you, a superhero in training, meant to save the world! Like with it's predecessor, The Superhero Workout is very story-based and it's structure is that of "episodes" as well. The amazing thing about this app is that it uses the technology within your camera to analyze your moves! Hook your phone up to your television and track your progress by every calorie torched.
If you have a particular area you want to strengthen, the workout missions can be tailored to help you improve that area. When you're ready, "do battle" and complete missions to test yourself!
This app is currently available for Android and iOS users, though it's brand-new for Android users, so be patient in case there are some bugs to be worked out!
Bonus!
Log the 'nog and see how much yelling you'll have to take from CARROT Fit to burn it off. Supplement your efforts with food diary apps like the oh-so-famous MyFitnessPal, Noom or FatSecret.