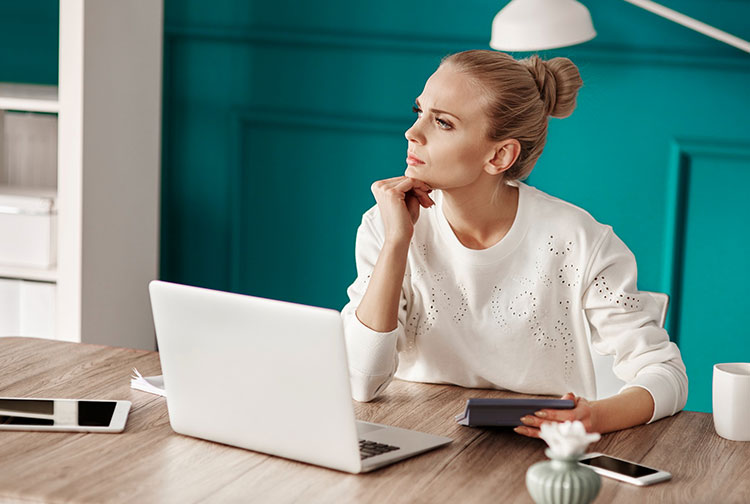 Unexpected financial emergencies can arise when we least expect them. Whether your car breaks down, you need expensive medication, or you're suddenly out of work, the last thing you want is to be short of cash. A payday loan can provide a quick and convenient solution to address immediate cash needs in such situations. 
GoDay offers a flexible borrowing process, allowing you to get online payday loans in Canada from the comfort of your couch. Our straightforward application procedure only requires a few minutes of your time, and once approved, you can receive up to $15,000 deposited into your bank account on the same day.
Although the process is typically straightforward, it's crucial to understand the payday loan process thoroughly and approach it responsibly to make informed decisions. Use this guide to learn more about how to get a payday loan to navigate the process effectively.
Understanding Payday Loans
A payday loan, also called a cash advance or paycheck advance, is a small loan, designed to provide temporary financial relief until you receive your next paycheck.
How to Get a Payday Loan?
If you've determined you need a payday loan to handle a financial emergency, consider the following factors when obtaining payday loans online with us or other lenders.
Eligibility Criteria
The first concern most borrowers have when looking for short-term financing is, what do you need for a payday loan? Most lenders typically have a specific set of eligibility requirements borrowers must meet to qualify for online payday loans. But some of the requirements can vary among lenders. We aim to help borrowers get quick access to the cash they need without filling out lengthy applications or visiting us in person. We operate entirely online and offer a seamless borrowing process. You must meet the following requirements to qualify and apply for payday or personal loans in Ontario and other provinces with GoDay.
Be a Canadian resident.
Be over the age of 18.
Have an active bank account with a Canadian bank or credit union.
Have an active email address & phone number.
You should have a stable source of income, such as a job or regular benefits.
Can send us a screenshot or photo of the required documentation for your payday loan application.
Choosing a Lender
Before proceeding with either in-person or online payday loans, it's essential to research and select a reputable lender. Look for lenders who are licensed, regulated, and have a positive track record. Read customer reviews, compare interest rates, repayment terms, and any additional fees associated with the loan. Responsible lending practices and transparent terms should be a priority. The goal of a payday loan is to eliminate financial stress, not add to it. Unfortunately, choosing the wrong lender can negatively influence your financial health and lead to more stress.
If you're looking for a payday loan in Ontario, take the time to know your rights to ensure you're making educated decisions. The rules may slightly vary if you are located somewhere else in Canada.
Application Process
Once you've chosen a reputable lender, follow these steps to apply for a payday loan.
Gather Required Information: This step typically applies to online lenders, whose process may be lengthier. This step typically applies to online lenders, whose process may be lengthier. You might be required to gather certain documents like proof of your earnings, identification (such as a driver's license or passport), proof of address (like a utility bill), and information about your bank account. But most lenders have a few basic requirements borrowers must meet, whether borrowing in-person or online.
Online Application: Many lenders, like us, provide an online application process which is convenient and accessible 24/7. To apply for a payday loan with GoDay, fill out our simple online application and how you'd like your funds delivered, and how much you'd like to borrow.
Review Loan Terms: Carefully review the loan terms, including the loan amount, repayment date, interest rates, and any additional fees.
Submit Application: After reviewing the terms, submit your application. The lender will assess your eligibility and determine whether to approve your loan request.
Loan Approval and Disbursement: If approved, the lender will provide you with the loan agreement stating the terms and conditions. After that, you will receive the funds in your bank account within a few hours or the next day.
Responsible Borrowing Practices
Once you learn how to get a payday loan, relying on them for financial support can be tempting. However, it's important that you're strategic with your borrowing approach to avoid accumulating too much debt and make informed decisions. Whether you get payday loans online or in person, consider implementing the following responsible borrowing practices.
Borrow Only What You Need
Assess your immediate financial needs and borrow only the required amount. Keep in mind that payday loans have expensive interest rates and additional charges, so taking out more money than you actually need can result in a repetitive cycle of debt.
Being cautious about how much you borrow can also help you prevent making impulse purchases that might affect your financial health negatively. When you borrow precisely the amount you require, it becomes simpler to allocate the funds appropriately and resist the temptation to buy unnecessary items.
Impulse spending is a common problem, and a study found that people spend about $5,400 each year on impulse purchases of food, clothing, household items, and shoes. The urge to impulse shop can stem from various internal or external factors.
Understand Repayment Terms
By understanding the repayment conditions, you can gain a clear understanding of the overall amount you will be required to pay back, which includes any extra fees. Comprehending the repayment terms helps avoid potential issues such as missed payments or defaults. Payday loans usually require repayment on your next payday or within a short period, ranging from a few days to a few weeks. If you fail to repay the loan on time, you might encounter extra charges and penalties that can rapidly accumulate.
Make Budgeting a Priority
Budgeting is essential when taking a payday loan because it helps you manage your finances responsibly and avoid falling into a debt trap. By learning how to budget and being consistent, you can assess your income and expenses, identify areas where you can cut back, and determine how much you can comfortably allocate towards loan repayment.
Budgeting also allows you to plan for unexpected expenses and build emergency funds for the future. While payday loans can provide quick cash when needed, they are typically meant for short-term financial gaps. By including the loan repayment in your budget, you can make certain that you have sufficient money to cover your regular expenses as well as any unexpected situations that may arise.
Reasons to Trust GoDay for Payday Loans
GoDay offers convenient online payday loans to help you quickly access cash when needed. We take pride in our commitment to creating a seamless borrowing process for Canadians from coast to coast. Here are a few more reasons to trust us for your short-term financial needs.
No Surprise Fees
When looking for payday loans online, the last thing you want is to deal with surprise fees that add to your financial burden. Most Canadians realize that they need to save more money, not spend more, especially in today's challenging economy. That's why we ensure a fully transparent borrowing process. When you borrow with GoDay, you will be aware of your loan amount and the repayment options, including how much time you will need to pay us back. This differentiates us from other lenders that charge high-interest rates or hide their fees in the fine print.
As a licensed lender in Canada, we follow all the rules and regulations outlined by the Government of Canada concerning payday lending. These limit how much we can charge you in interest and fees.
Dedicated Customer Service Team
When you choose GoDay for our online payday loans, you have access to a dedicated customer service team of Canadians who can help you online or on the phone. Whether you want to learn how to navigate our site and resources or need help with your application, our team is always ready to assist.
High Levels of Security & Privacy
We understand that sharing your personal information when applying for online payday loans can feel risky. That's why we take security and privacy very seriously at GoDay. Our platform uses the most advanced industry practices and top-level encryption to ensure your data is safe and never used without your consent. We also keep your information confidential and don't share it with anyone else.
Getting a Payday Loan
Payday loans can be a valuable financial tool, allowing you to access cash when needed. When used responsibly, payday loans can provide a lifeline in financial emergencies. By understanding the eligibility criteria, application process, and responsible borrowing practices outlined in this blog, you can navigate the payday loan process effectively.