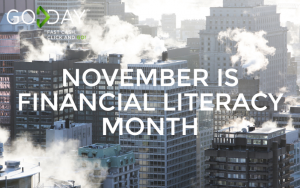 Did you know November is Financial Literacy month? The Financial Consumers Agency of Canada (FCAC) and the Financial Literacy Leader has helped to coordinate and increase collaboration between organizations from the private, public and non-profit sectors to promote financial literacy for Canadians of all ages. This means that t throughout November; everyone across Canada is invited to participate in events aimed to help Canadians learn more about managing their personal finances.
Canada has a National Financial Literacy Strategy that defines financial literacy as having the knowledge, skills, and confidence to make responsible financial decisions.
So what does this mean for you? The Canadian Bankers Association describes it as Canadians who make healthy, long-term financial decisions help to build their own financial security, and contribute to the strength of the Canadian economy as a whole.
The purpose of Financial Literacy month is to bring awareness to both organizations and individuals across Canada, to strengthen the financial literacy of the Canadian people,  and encourage Canadians to achieve financials goals as created by the Financial Consumers Agency of Canada including:
How to manage debt wisely;
How to save for the future; and
How to understand your  rights and responsibilities when it comes to your money.
Will you be participating in Financial Literacy Month? The FCAC's theme for Financial Literacy Month for 2016 is, "Managing money and debt wisely: It pays to know". Focusing on the different set of financial skills needed at different stages of life, the FCAC  goals are to always be encouraging Canadians to be saving for the future.  This year the FCAC has laid out topics for each week of November that focuses on different advantages to money management. They are:
Week 1 (November 1-5) – Start with a budget
Week 2 (November 6-12) – Live within your means
Week 3 (November 13-19) – Know your rights and responsibilities
Week 4 (November 20-26) – Have a savings plan
Week 5 (November 27-30) – Review your finances
Along with what the FACA is doing, the Canadian Bankers Association is also participating in numerous ways. With something available for everyone, including bringing financial basics to classrooms, improving the financial literacy for seniors, and bank support  credit counseling, each bank is also hosting specific events or programs surrounding Financial Literacy Month. To get involved, see all the programs on the Canadian Bankers Association website here.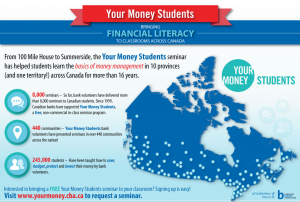 Photograph via Canadian Bankers Association
To read more on Financial Literacy month check out the Financial Consumer Agency of Canada's web page here.