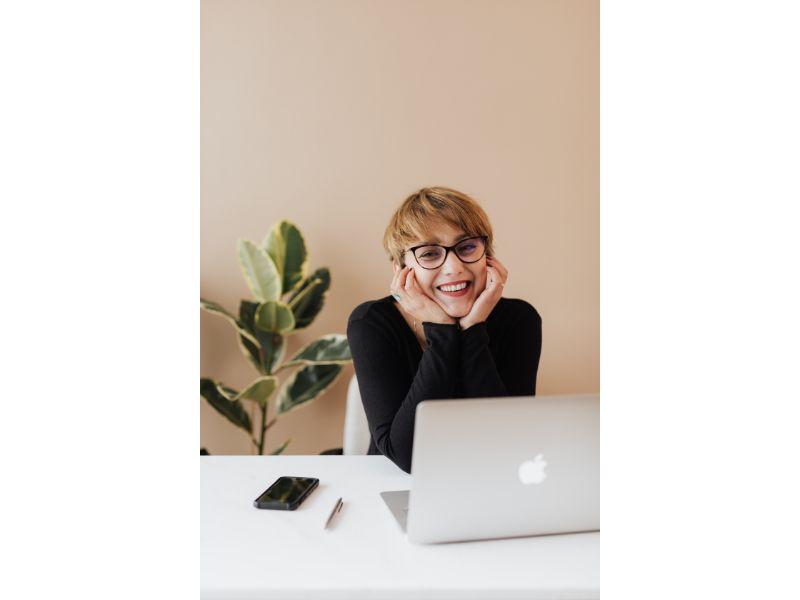 Online loans offer so many advantages, it is hard to narrow it down. However, the following are some of the most notable regarding payday loans and installment loans that you are sure to love.
1. Extremely Convenient
Undoubtedly, the greatest advantage of online loans is convenience. You don't need to book an appointment, drive to a bank branch or office, find parking, and wait to be served.
Instead, you can apply from any device at anytime from anywhere. This is especially convenient if you work shifts or your hours don't align with "normal" business times. If you have an internet connection, you're good to go.
2. Easy Application Process
Besides being able to apply at anytime from anywhere, the process is much simpler than an in-person application. No one will ask you list your addresses or employers over the past five years.
In fact, the application process is dead simple. An online application form through a good lender usually takes less than 15 minutes to complete. You will need to provide your banking information for funds transfer and income verification purposes. However, everything else is very straightforward.
3. Wide Range of Borrowing Options
Online loans don't have to be for tens of thousands of dollars. When you need quick cash for an urgent need, a payday loan can be a good solution.
In Canada, the maximum allowable payday loan amount is $1,500. However, a responsible creditor may lend you less, since they base their calculations on your net income.
Equally, a lender may not grant you the full amount if it's your first time working with their company. Fortunately, if you meet your loan obligations you'll usually qualify for a higher amount if you want to borrow again.
Should you absolutely need at least $1,500, some lenders will offer you an installment loan automatically when you apply for a payday loan. If you need more than that, a reputable installment loan lender could provide you with the funds you need.
Installment loans offer more flexibility and some lenders offer them for as little as $500. You can choose how long you want to take to repay and when you want to make payments.
However, payday loan repayment normally falls on your next full two-week pay cycle. Some provinces allow up to 62 days to pay back your loan, but the is the maximum.
4. Costs Revealed Upfront
Online loans provide you with the financial information you need before you sign on the dotted line. A good lender reveals all costs upfront and discloses potential penalties should you fail to meet your obligations.
The best part is that you're given this information without obligation. If you don't like what the lender offered you, you can look elsewhere. Just make sure the lender uses a "soft" credit inquiry. Otherwise, the process could negatively impact your credit file.
5. Fewer Requirements
We already mentioned online loans are convenient and offer a simple application process. Perhaps more importantly, online lenders are often more lenient than traditional lenders.
Non-traditional lenders hope to pick up the fringe business big banks don't want to deal with. As a result, their criteria for qualifying for online loans is often less stringent.
What does this mean? Traditional lenders often demand long-term stability before they'll even consider granting a loan. This includes work, home, and bank consistency, often for one year or longer.
Even if you've moved, changed jobs, or switched banks for perfectly legitimate reasons, they could turn down your application. Luckily, a good alternative lender will seriously consider your application, providing you can demonstrate three-months stability.
6. No Proof of Income
Yes, you read that correctly. Many online lenders do not ask you to provide them with proof of income. Conversely, the big banks definitely want proof of what you earn.
This can extremely inconvenient for self-employed individuals. They must request an income statement from their accountant or hire one for the sole purpose of the loan application. Once again, there's no guarantee they'll accept this documentation even after going through all the trouble.
Most other people will need to look for pay stubs or contact HR. However, a good online lender will verify your income through your bank. They can't and don't want to look into your personal finances. All they need is verification that you're paid regularly through direct deposit.
7. Emphasis on Salary, Not Credit
Traditional lenders also place a great deal of emphasis on your credit. Most have a minimum credit score requirement before they'll even consider your application.
However, non-traditional lenders use their own scorecard for determining credit worthiness. There's a greater emphasis on how much you earn, rather than your credit. Depending on their review, they may not check your credit at all if you're borrowing a small amount.
Big banks often have a high minimum salary requirement too. Regrettably, they don't tell you this beforehand. You could waste your time on an application, only to discover that you never had a chance in the first place.
Alternative lenders may have a minimum salary requirement, but it is probably very reasonable. Some want as little as $2,000 net per month. This could mean you could qualify even if you have a part-time job.
8. Quick Decision
Once again, online lines beat in-person loans hands down. You don't have to wait while an employee works their way through their inbox pile.
Instead, a good online lender uses artificial intelligence to immediately assess your application. They let you know within minutes whether you're approved and you'll clearly see what they're offering.
Unfortunately, when you apply through a brick-and-mortar lender, you could wait days or weeks for a response. If their answer is no, all that time was wasted. Plus, you still don't have the money you need.
9. Simple Repayment Strategy
Whether you choose a payday loan or an installment loan, your repayment strategy will be simple. Payday loans are normally repaid on the payday after you've worked a full two weeks.
Installment loans offer many options. You can repay in as little as 6 months, or take as long as 5 years. Choose weekly, bi-weekly, bi-monthly, or monthly payments that align with your finances.
In either case, you should borrow wisely. A payday loan and an installment loan aren't meant for a shopping spree or to top up your bank account when you're spending more than you earn. However, they can get you out of a temporary financial bind or provide reasonable payments if you need more money.
10. Legal Oversight
Canada offers licensed and unlicensed lenders. Licensed lenders must adhere to strict regional laws regarding how much interest they can charge. Additionally, these laws limit fees and penalties.
This certainly isn't the case with unlicensed lenders. Lenders may charge up to 60 percent interest. They can also levy open-ended fees and penalties should you default on your loan. Obviously, this could worsen your financial situation.
The lender could hound you for payment, send your loan to a collection agency, seize your property, or garnishee your wages through the courts.
Online Loans Through GoDay
GoDay is an experienced, reputable online lender that has issued Canadian online loans since 2012. We're licensed to lend in BC, AB, SK, MB, ON, NB, NS, and PEI.
Our company operates totally online, although we have an administrative presence in many Canadian cities. We were founded here and our employees live and work in Canada.
We're also a proud member of the Canadian Consumer Finance Association, representing licensed payday loan lenders in Canada. Our Better Business Bureau overall rating is A+. We also have over 1,400 reviews on TrustPilot, with an overall rating of "Excellent"
Besides all this, we're also transparent and professional. You can expect:
Upfront information on your costs
Clear documentation
Accountability
Easy application process
Fast decision – we'll let you know within minutes, not hours
Quick funds release – in most cases GoDay will have the money in your bank account within an hour, providing you apply during business hours. If you apply during the evening or on the weekend, you will get your money as soon as possible on the next business day.
No proof of income
No minimum credit score requirement
Artificial intelligence assessment
Soft credit inquiry, if necessary
GoDay's requirements for payday loans are straightforward.
At least 18 years of age and a Canadian resident
Have a permanent address
You have an active Canadian bank or credit union account
You're paid regularly through direct deposit
You have a valid email and an active cellphone or home telephone number
However, we will also automatically consider your application for an installment loan if you meet certain financial requirements.
Whether you are ready to start the application process or want more information, please visit our website. GoDay knows how to do online loans the right way.