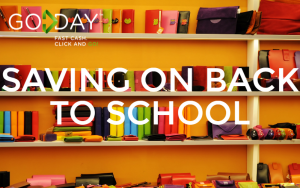 It's that time of year again! September is known as back to school season and we want to know, are you financially prepared? No matter what age or grade your child is going into, school expenses can cost you. That's why we've rounded up the best tips and tricks for savings to make this back to school season easy on you and your wallet this September.
Recycle
Everything from supplies to books, electronics, and clothing, when it comes to back to school, make sure you do a good clean sweep of items you may already have around the house and see how they can be repurposed for back to school. This is crucial for students entering first-year college or university who are moving into residence and out on their own. Make sure to bring old bed sheets, that lamp from the basement and do you really need a leather office chair?
Recycling is also a great tip when it comes to textbooks. Make sure to look at your schools bookstore for last year's model or check out any online community groups for students that may be selling theirs. Textbooks can be one of the biggest sticker shocks when it comes to back to school. For those expensive electronics, do your research before buying. A lot of the big retailers sell refurbished items that they've fixed up to work like new, but sell at a discounted price. The best part about this is you will still be covered under warranties through these big retailers too!
Watch For Sales
Like Boxing Day shopping, school supplies tend to go on sale once students are back in the classroom. If you can wait to purchase items later in September you will definitely be getting a great deal. But there are still many deals during the lead up of the back to school season as well. Make sure to watch your flyers for flash sales and price comparisons, and make sure to do your shopping at stores that will price match those items for you. A great app to help with this is Flipp! Create your back to school list, see where has the best deals and if coupons are available all in one place.
Buy In Bulk
We know how many pens and pieces of paper we go through (yes, even GoDay as a digital company we still lose pens), so imagine how many supplies your kids will go through. Buying in bulk is not always the best option, but when it comes to key items that students use every day. Buying in bulk can save you a lot of money in the long run, especially if you have more than one child headed back to school this September.
Go Digital
Follow your favourite stores and brands online as it is very common for companies to release online deals or coupons specific to their website or on social media. Combine these offers with on sale items and enjoy even more savings on back to school items!
When it comes to prepping for back to school, it's a lesson in expense management, so make sure you're budgeting wisely.
What are your favourite saving tips for this back to school season? Let us know in the comment section below.