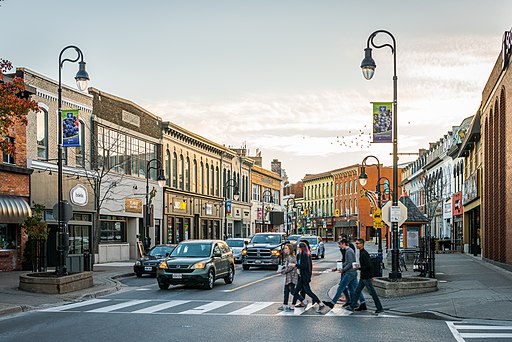 A St. Catherines payday loan can offer you quick cash for an immediate, pressing need. It is often the best choice for those without access to other forms of credit. This includes not being able to borrow from family and friends.
However, payday loans can vary greatly, as do lenders. As a result, you need as much information as possible to find the best Catherines payday loan and lender. That's why we created this guide.
First, we'll look at what short-term loan options might be available to you. Next, we'll discuss specific rules regarding payday loans in Ontario. Finally, we'll discuss what to look for in a lender so that you and your data are well-protected and you don't pay more than you should.
After reading this guide, you should have a good overview of a St. Catherines payday loan and what differentiates a good lender from a less desirable one. After all, knowledge is power and without it you can't possibly make an informed financial decision.
Types of Short-Term Loans
Short-term loans can include payday loans and installment loans. The two main differences between them are the amount you can borrow and how long you have to repay your loan.
St. Catherines Payday Loan
A payday loan only offers a short repayment term and a relatively small amount of money. This type of loan has the least stringent requirements of most credit products and approval rests heavily on your income.
You can choose to take time out of your busy day to visit a brick-and-mortar office, or you can apply online. Obviously, dealing with an online lender is more convenient. Plus, you should enjoy a simpler and faster process and top-notch data security.
However, it is extremely important that you choose a licensed lender, no matter which way you apply. We'll discuss why this decision is important in detail later in this guide.
Ontario Payday Loan Specifics
By law, an Ontario payday loan lender can only grant you up to a certain amount. It is based on 50% of your income over the past two earning periods, up to a maximum of $1,500.
It is up to the lender whether they will grant you all of this eligible amount. If it is your first time borrowing from a particular lender they may not, because they want you to establish a track record with them first.
As mentioned, a St. Catherines payday loan has a very short term and is paid back quickly. Normally, this occurs after your next full income earning interval. As an example, if you obtain your loan and you're paid every two weeks, you'd repay your entire loan on your following full pay interval.
Fortunately, some lenders automatically review your St. Catherines payday loan application to see if you qualify for an installment loan instead. These loans offer greater flexibility and often better terms too. You pay a fixed payment amount, but choose how long you want to take to repay.
St. Catherines Installment Loan
This form of credit usually has tougher criteria, for several reasons. First, loan amounts are broader. Once you're approved, you have access to more money than a payday loan. Some lenders offer several thousands, while others as much as $15,000, or more.
Second, you choose how long you want to take to repay. However, a longer loan term also increases lender risk. Consequently, the lender is more concerned whether you are well-positioned to repay your loan over a longer period and has more exacting requirements.
Nonetheless, an installment loan offers you flexibility. If you can qualify for one, it is your better choice. Select lenders offer terms as short as six months and as long as five years. This is in stark contrast to a payday loan that is repaid within weeks and usually at a higher interest rate too.
Payday Loan Lender Licensing
We mentioned it is extremely important that you choose a licensed lender. The first reason is it is the law. The Ontario government states the "Payday Loans Act, 2008 requires all payday lenders and payday loan brokers to be licensed".
Unfortunately, some lenders don't adhere to this requirement. Consequently, those that use an unlicensed lender aren't afforded the protections of this legislation.
This Act ensures consumer rights and data are properly protected and their loans ethically managed. Additionally, licensed lenders must follow interest rate, fee, and penalty restrictions. Unlicensed lenders may charge exorbitant, open-ended fees and they may not even be a legitimate lender.
In some cases, dealing with an unlicensed lender can lead to identity theft. They will collect your personal data and immediately use it to obtain credit. Of course, it can be quite a shock when creditors start calling about loans and credit cards you know nothing about. It can also be very costly and time-consuming to resolve once you discover your finances have been hacked.
Luckily, licensed lenders will only ask for your province when you start the loan inquiry process. If you decide you don't want to take out a loan, no problem. You haven't provided sensitive data.
What Does a Payday Loan Cost?
When you're applying for a payday loan through a reputable lender, they will ask you for your province. They need this information as costs vary between regions. A licensed lender will immediately provide you with your costs to borrow after you do so.
If you decide not to borrow it is not a problem. Your data remains private and there's no impact your credit.
Payday loan costs tend to be higher than those of an installment loan. Currently in Ontario these are the fees a licensed lender can charge you:
Finance Fee of $15 per $100 borrowed
NSF Fee of $25, if you do not have funds in your bank account
Late Interest (per year) of 2.5% per month
If a lender does not reveal your costs upfront, look elsewhere. They are legally required to have a license and must provide you with this information straightaway.
How Can I Find a Good Lender?
We already mentioned that you should look for a licensed lender in your region. However, there are other factors you should consider.
First, check out their website. Is it clear and easy to understand, or filled with asterisks that refer you to important fine print information? Do they offer a comprehensive FAQ section that answers common questions?
Second, check which customer service options they offer. Do they have a toll-free number, chat, email, and website support? You should be able to reach out in whatever manner you choose.
Third, check their reviews. TrustPilot is a great source as well as the Better Business Bureau. All this information can give you a customer's viewpoint regarding the company and their St. Catherines payday loan.
Fourth, borrow from a Canadian company. Many companies offer a St. Catherines payday loan, but they're located elsewhere. If you have questions or concerns, you want to talk to someone who lives and works in Ontario. They should also provide a way for you to lodge a complaint on their website, if you need to do so.
Fifth, the company should belong to industry organizations that govern payday loan lenders in Canada. This demonstrates they are a professional, committed business.
Finally, look at the information provided on their website carefully. Do they define how quickly they make a decision and release funds?
St. Catherines Payday Loan Through GoDay
GoDay is one of the few lenders in Canada that will simultaneously consider your payday application for an installment loan too. If you meet our criteria, you could enjoy better terms and more flexibility, without making an additional application.
Further Benefits of Choosing GoDay
100% online process
No impact on credit score
Decision in minutes
Licensed Ontario payday loan lender – we've issued loans since 2012
Member of the Canadian Consumer Finance Association that represents the majority of Canadian regulated payday loan lenders
A+ Better Business Bureau rating
Over 2,000 reviews on TrustPilot with an overall ranking of Excellent
We're Canadian – all our customer service representatives live and work here
Excellent customer service options – Toll-free number with Ontario business hours, email, chat, and website support as well as an in-depth website FAQ section
Money in your bank account within an hour, providing you apply during business hours
Funds release options include direct bank deposit or Interac® Email Money Transfer (conditions apply).
We're Transparent
Unlike other lenders, we tell you our basic payday loan requirements. We know your time is valuable and there's no point in applying if you can't qualify:
Canadian resident
At least 18 years of age
Permanent address
Active account with a Canadian financial institution with at least three-months of transactions
Paid regular income through direct deposit (we consider employment, self-employment, pension, Disability Tax Benefit, and Child Tax Benefit income)
Valid email
Active cellphone or home telephone number
Whether you are ready to start the application process or want more information, please visit our website. We also offer more information on our Ontario payday loans here.
Let us show you why people continue to choose us for their St. Catherines payday loan.