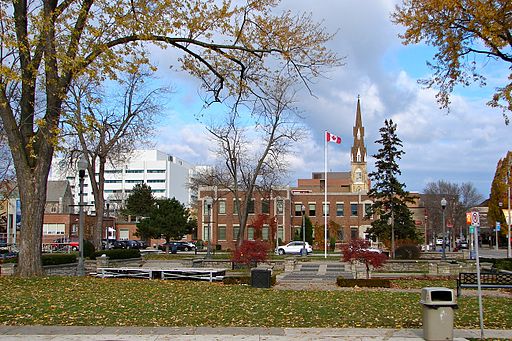 A good Oshawa payday loan can be a great choice for accessing quick cash easily. In many cases, it is a person's only option when they need money, but don't have credit or can't borrow from others.
Nonetheless, an Oshawa payday loan isn't meant for anything. For instance, you shouldn't use one to constantly top up your bank account, because you don't manage your money well. However, an Oshawa payday loan can help you out if you have an urgent, immediate cash flow issue.
Additionally, you need to understand how an Oshawa payday loan works and how it differs greatly from other forms of credit. Otherwise, you can't make an informed financial decision.
Let's take a look an Oshawa payday loan works, what sets it apart from other forms of credit, and how to find a good loan and lender.
The Maximum Loan Amount is Only $1,500
The maximum, legally allowed payday loan in Canada is $1,500. However, the Ontario government has imposed further restrictions to ensure you don't borrow more than you can afford. Consequently, you can only borrow a maximum of 50% of your previous month's income.
In addition, the lender decides whether they'll grant you the maximum amount, or not. As a result, the lender may choose to lend you less the first time you borrow from them. Once you establish a borrowing history with them, you may qualify for more and it will certainly be easier to apply since you already have an account with them.
You Can't Increase the Amount
Unlike a credit card or line of credit, you can't add to your debt once you've been approved for your loan. You can only apply for another loan, once you've paid off your initial debt.
An Oshawa Payday Loan is Paid Back Quickly
A payday loan differs from other financial products, because you can't make partial payments. You repay the entire amount the next time you receive your full income. For instance, if you're paid every two weeks, you would repay your loan after a full two-week pay cycle.
Frequent borrowers may have up to 62 days to repay, but never more. This was enacted by the Ontario government to ensure a person has a little extra time to get their finances in order.
Regardless, as mentioned, you shouldn't borrow repeatedly unless you absolutely need to. An Oshawa payday loan is an expensive form of credit which could worsen your financial situation if you use it unwisely.
Some Lenders Consider Various Income Sources
Most lenders only grant payday loans to those with full-time employment. However, a select few consider income from other sources. After all, the world has changed and many people don't receive income from a 9-to-5 job.
Luckily, if you're paid a steady income through direct deposit, you may be able to get an Oshawa payday loan under the following circumstances:
You work several part-time jobs, but earn a steady amount
You earn a steady income from self-employment, such as contract work
Your income comes from the Canada Child Benefit or Disability Tax Credit
You draw a private pension or a public pension such as Old Age Security or the Canada Pension Plan
Choose a Licensed Lender
This is an important consideration when you're looking to borrow. Not all lenders in Ontario have licenses, even though they are legally required to do so.
Licensing is important as it protects your consumer rights. The lender must follow the Payday Loan Act and they have government oversight. In other words, if they don't fulfill their obligations or handle your Oshawa payday unethically, you have recourse.
Besides following best practices and responsibly, a licensed lender must reveal your costs to borrow before you provide your sensitive data. They may ask you for your province of residence (restrictions vary between areas), but that's all. If you decide to move forward, they will ask for more information. If you don't want to borrow, you never need worry, since they don't have your personal information.
Luckily, it is very easy to check whether a particular lender has a license. Just input their name into Ontario Ministry of Government and Consumer Services website here.
Unlicensed Lender Issues
Both your provincial and federal government warn against using an unlicensed lender. The most pressing reason for this is that they could very well be trying to obtain your personal data. This can lead to identity theft, credit issued under your name, and a severe blow to your credit report. Additionally, identity theft is very costly and time-consuming to remedy.
Another reason you don't want to use an unlicensed lender is how they could handle your loan (should they actually grant you one). Without consumer protections they are free to do whatever they please and charge you whatever they want.
Without a doubt, you will pay more than through an unlicensed lender as their interest rates, fees, and penalties aren't limited by law. Plus, they may hide open-ended fees within your loan contract. You won't know about them until them spring them on you later. They could also use illegal methods to collect any money outstanding.
Finally, there's no easy way to lodge a complaint if an unlicensed lender doesn't behave as they should. You could try Consumer Affairs, but without a license there's little for them to work with. Most likely, the process will not bring about any results.
Online Loans are Faster & More Convenient
Many lenders are eager to grant you an Oshawa payday loan. However, most expect you to take time out of your busy day to visit their brick-and-mortar office. This is not only a complete waste of time, but unnecessary too.
We live in a digital age and a good online lender makes the borrowing process simple. Apply at any time from any device wherever you are. A good licensed online lender is legally-required to protect your data too.
An Oshawa payday loan application shouldn't take more than 15-minutes to complete. Avoid any lender that is asking you for where you lived, worked, or banked years ago. This isn't necessary for such a small amount. They should only be interested in whether you are in a position to repay your loan now.
Check Their Customer Service Options
Regrettably, some unsavory payday loan lenders have tarnished the market. They're not interested in repeat customers and only want to make a quick buck. Consequently, they offer very limited customer service options. Usually, it is an email address or a call centre telephone number to an agent in another province or country.
While you may not think you will ever need help, you never know. As a result, it makes sense to choose a company located in Ontario. They should have Canadian customer service representatives and a toll-free number too.
If you prefer online contact, look for chat, website support, and an FAQ page on their website.
Check Out Their Process
Most people that need an Oshawa payday loan want money quickly. Consequently, you will want to choose a speedy lender with a simplified process. Here are a few things to look for:
Licensed Ontario Lender – enjoy consumer protections, best practices, and top-notch data protection
Quick Decision – you should have their decision within minutes, not days, or weeks
No Proof of Income – in today's digital world, there's absolutely no reason you should have to upload pay stubs or ask your income source for a letter confirming how much you earn. A good lender uses digital income verification
No Office Visits – some lenders claim they offer an online Oshawa payday loan, but then ask you to visit their office to sign your loan contract. A good lender uses digital contract signing
Fast Funds Release – a good lender could have your funds in your bank account within an hour, if you sign your contract during business hours
Automated Repayment – you shouldn't need to provide a cheque to the lender. Repayment should be worry-free with funds automatically withdrawn from your bank account.
Get an Oshawa Payday Loan Through GoDay Today
If you're considering an Oshawa payday loan, here are GoDay's basic requirements:
Canadian resident
At least 18-years old
Permanent address
Active account with a Canadian financial institution with recent transactions
Steady income through employment, self-employment, Canada Child Benefit, Disability Tax Credit, Old Age Security, Canada Pension Plan, or Private pension
Valid email address
Active cellphone or home telephone number
Benefits of Borrowing Through GoDay
GoDay realizes you have many options when you're looking for an Oshawa pay day loan. Here are a few reasons why we are your better choice:
We automatically review your application to see if you qualify for an installment loan. These loans offer a longer repayment period and often better terms.
We're a licensed lender in Ontario
We've issued payday loans in Ontario since 2012
Better Business Bureau accredited since 2015
Over 2,000 reviews on TrustPilot, with an overall rating of Excellent
We're 100% Canadian owned and operated – we offer Ontario business hours via toll-free number, as well as chat, website support and website FAQ
Simplified process – no proof of income
Quick decision and funds release
Direct bank deposit or Interac® Email Money Transfer (conditions apply) available.
Whether you are ready to start the application process or want more information, please visit our website. You can also find more information on our Ontario payday loans here.
Access the best Oshawa payday loan today, without the hassle.