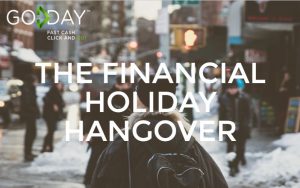 With only a few days to go and the celebrations in full swing, it's no surprise that this is a time where your wallet is being put to use. So are you done all your shopping? How many last minute items will you have to go out and grab in a rush? Have you stayed on budget or been keeping track of your spending this month? These are all questions we ask based on the comments and feedback we get here at GoDay.
Are you going to be able to cover your costs come January? Because that's when the real financial hangover kicks in, once the credit card bills plus the other normal expenses start to add up. According to Canadian Living, statistics from 2015 showed us that the average person plans to spend $766 on gifts during the holiday season. About 27 percent will spend over $800, while 23 percent will spend $200 or less. Where do you fall according to your spending this year?
So how can you survive the holiday financial hangover?
Know what you're spending!
We've given you reasons on why you should always be keeping a spending journal, and for the holidays this is no exception. When you know how much you've spent and what you're spending it on, it's much easier to keep track and see what you owe come January. Because we know you're going to be using credit cards for purchases this holiday season (don't worry, we're guilty too), it can be much easier to lose track when you don't have the numbers in front of you.
Don't be a holiday hero.
"Put it on my tab!" Those are the things you shouldn't be saying if you're financially stressed this holiday season. The holidays are about spending quality time with loved ones, not spending money. It's not about the best gift or most expensive bottle of wine, sentimental value goes much further. Retail stores do a great job at making you feel like you need all of these popular items this holiday season. Go with your gut and not your credit card when it comes to purchasing gifts this year.
Practice self-control.
You're not the only one who has bills to pay and leftovers in the fridge this holiday season. To make it through January, you need to properly manage what bills are coming in, because missing one is not an option. And when it comes to the fridge, are you now throwing food or decorations out that have expired because you purchased too much? How much money could you have saved on January's bill if you would have managed better?
Good luck getting through the January financial hangover; we'll be there with you! But now that we've prepared you, you'll be able to learn for next year and recycle so the holidays will be a breeze.