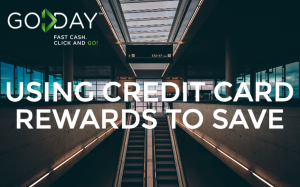 What kind of credit cards do you have? Cash back? Points? Vouchers? Travel? There is basically a credit for everything these days so how do you know what the right credit card for you is? Some cards charge an annual fee and some can be free to use. Some cards have higher interest rates than others and some cards are designed to cater to specific retail locations or businesses.
No matter if it's Visa, MasterCard, American Express or any other type of credit card, every card has its perks and it's about finding the ones that will benefit you. Our favourite types of rewards are the ones that save you money. Can a credit card really do that you may ask? You bet! That's why we've created our credit card rewards guide so you can start saving money with your rewards today.
Pay Back With Points
Now not every credit card, but a large majority of credit cards offer the pay back with points option. What does this mean? For all the money you spend, you've been accumulating points based off of your total purchases. You can use these points for various things depending on the card you have and what partnerships your bank has. This can include retail outlets and shopping deals, travel vouchers, etc. But why not put those points towards your current credit card balance? Based off of the total number of points you have will determine how much your points are worth and can help you save on your monthly statement. This perk is definitely worth looking into as we have to pay off our credit card statement each month regardless, so why not take advantage of your rewards and save with points.
Cash Back Options
Does your credit card offer a cash back option? That's right; there are credit cards that will give you money at the end of each year based off of what you've spent. Similar to the point's option, receive a certain percentage of cash back based off of your spending and the credit card will vary in terms of what percentage of cash back they give you. For example gas and groceries may be worth 4% cash back but things like bill payments may be worth 2%. As much as 2% does not sound like a lot, that total adds up quick in a year, especially with the bills we are regularly paying, getting cash back from paying bills helps make it easier to justify.
Card Holder Perks
As we mentioned, no matter kind of credit card you have there is most likely some form of benefits that goes with it. But don't forget about the many advantages that the providers also have. This can include incentives such as travel insurance coverage, 24/7 service or access and savings to exclusive tickets or events. These are all benefits of being a card holder and could end up surprising you with savings when it comes to taking advantage of them.
What is your favourite credit card rewards program? Let us know in the comment section below.