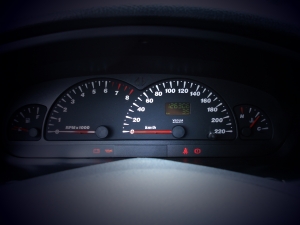 (For lots of helpful hints on cars and car maintenance, check out our Pinterest board right here!)
Your robe is hanging neatly in your closet. Your degree(s), or trade certification is fastened to the wall with pride. Countless energy drinks, sleepless nights & Ramen noodle packs later and you're finally here.
Congratulations – your degree is an enormous accomplishment.
If you're lucky enough to have been offered a job right after or soon after graduation, congratulations again. But, if that job is beyond the reach of public transit, you're probably thinking deeply about purchasing a car.
If you're in that boat, don't let the new car smell (or the prestige of having one) blind you to the reality that high monthly car payments will zap you dry. This advice also applies to anyone who's looking for a new car, also.
Before you hit a lot, ask friends and family if they have a car they're selling. Visit a local reputable mechanic and offer him a fee if he can locate you a great second-hand vehicle. But if you must, hit up a dealership and check out their used lot. If reliability is important, getting a car that's 3-4 years old is just fine.
Things to check before purchasing a used car:

Accident History

Gas consumption


Average cost for major maintenance


Interest rate (if you're financing)


New Grad Rates (many dealerships offer some kind of perk if you show them your diploma).
If you had a ride through college, you know that stereotypical clunker, deal with it until it breaks down. Even if you're putting a few hundred into it every few months for maintenance, that's still much less than an average monthly payment of $250-$400!
Older cars often have much cheaper insurance premiums than new cars to boot. Carefully weigh reliability with your old car. If you're driving very long distances, anything over 30 min of travel time one way, it's better to trade in for a slightly newer vehicle. If you're driving around in town, 10-15 minute distances, you might be able to draw out that old beauty's life.
Check out this awesome infographic from DriveSteady.com for tips on how to save money once you've got your new wheels!
And remember, if you're ever stuck in a jam, have a tire to replace or emergency boost costs but your cash flow is stunted for the week, head on over to GoDay.ca and apply for a short-term loan.
Source:How Much You Could Save If You Did Car Maintenance Yourself
Remember, if you need a short term loan before your next pay day, head on over to GoDay.ca to apply!

Like This Post? You might also enjoy: