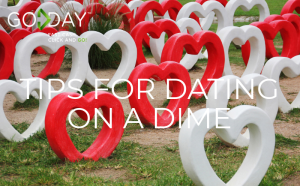 Money and romance seem to go hand in hand in today's society. For some reason, society has built this warped reality that in order to romance someone you need to spend money.  In reality, there are so many inexpensive ways to take your loved one on a date or show them that you care.
Today many people are meeting their significant others or potential significant others through online websites and dating apps. There are hundreds, if not, thousands of options on these sites, which means that if you're in search of a connection, you may go on a ton of dates before you find the one. How do you keep the cost of each of those dates down so you don't blow your entire budget on searching for love?
Whether you are already in a relationship and trying to keep the romance alive, or are looking to find the one and actively dating, dating can add up, and since taking out a payday loan may be a bit extreme, looking for creative, inexpensive ways to treat the special people in our lives may be the only option. Here are some ways you can save money while dating…
Think of romantic inexpensive dates
You don't always need to pick a grand event to have a great date night. Pick a more inexpensive restaurant for dinner, or opt for a restaurant where you do share plates versus large main courses. Alternatively, suggest that you just go for dessert and wine somewhere versus a three course meal. There are so many alternative dates that can be incredibly romantic that aren't overpriced like:
A picnic in the park

Stargazing with some wine

Do a free brewery or wine tour

Go to the beach for the day

Take a hike at a nearby trail

Do something active like roller skating
These are just some ideas to get the wheels turning for your next date night!
Look up free events
Most cities offer a ton of free events every day or weekend, all you have to do is do your research. Finding free events and activities can be a great date day/night. For example, in Toronto there are a ton of food festivals and cultural festivals that happen regularly. You can even find free movie nights in the park, or other fun events that don't need to blow your budget.
Opt for a romantic night in
You don't always need to go "out" to have a romantic night, sometimes staying in can be even more intimate and romantic. If you want to treat your girl/guy set the scene right in your own home for a great night in. Set up a movie night with snacks, and treats, make your significant other a nice dinner with wine, do a spa night and give your love a massage and pamper them. Think of some fun activities you can do in your house. We have this false conception that in order to please someone you need to always take them out, but in reality, most people would love if their significant other put in some effort and put on a special date night at their home. 
Use a coupon
This sounds like it screams cheap but sometimes lots of activities are unattainable to the average couple and you can find great Groupons online that let you do great activities for cheap. For example, maybe you can find a coupon that lets you bottle your own wine for cheap, rent a kayak/canoe or do an extreme activity that usually is incredibly overpriced, you might even be able to find deals on cooking classes, or a unique activity like axe throwing or wine and paint nights.
Look for specials
Especially during the week, so many restaurants and bars do specials to attract more people to their venue on less busy nights. You can catch a happy hour at a local bar, or visit a restaurant on a night that they have half-price bottles of wine or great drink deals, going out for dinner or drinks can add up quick so finding special nights at local establishments can make a huge difference.
Watch for red flags
This rule applies when you aren't already in a relationship and are dating to find your perfect match. Financial red flags are important to look for in the early days because you don't want to end up with someone who is not compatible with you on a financial level. For example, does your date like to spend way more money than you do? Did your date talk about debt or seem like they have issues paying their basic bills? Is your date ordering all the most expensive things on the menu and splurging on your dime? It's okay if you don't make the same amount of money but having the same mindset when it comes to spending money is important in a relationship.
Don't lose the spark
For couples that have been dating for awhile may not feel the need to go on dates with each other anymore, or may be so focused on saving for other aspects of their lives together like buying a house, getting married or having a baby. Although it's important to save for these things you want together, don't stop focusing on your relationship because of it. Going on dates together can be important no matter what stage of your relationship, and like we said, you don't need to spend a ton to have a special night out/in together. Make sure you make time for each other even if you're trying not to spend money because of other priorities.
Be upfront
This is a big one. If you're dating, especially if you're going on multiple dates a week in search of the one, be upfront with your dates. Don't suggest huge baller dates if you are going to go into debt to finance them. You're just setting yourself up for failure if you go to over the top or paint a picture of being a big spender on dates. Show people who you really are and look for alternative ways to make them feel special without breaking the bank.
Dating doesn't need to cost you an arm and a leg, and if you're with someone who expects you to pay an arm and a leg to wine and dine them you may want to reconsider the people you're dating. What are some of your tips for dating on a dime?