Any plans for Earth Week? If you're going about your normal business, there are small ways you can alter your routine to make a big difference!
And you're in luck- we've got an in-house environmental advocate who's going to lay down some of the best tips & tricks for you! Best of all, they will not only save you money (like a short-term loan sometimes can!) but most of them you can do them all year 'round! If you're interested in eco-friendly retailers, re-purposing tips, "chemical-free" cleaning or safe landscaping ideas, this is the list for you. Check back each day this week to see something new!
When was the first "Earth Day"?
Attention towards environmental issues began to rise in the 1970's in San Francisco after a horrific oil spill that occurred in 1969 off the west coast. Senator Gaylord Nelson of Wisconsin, inspired by the popular anti-war movements of the 60's,  asked American citizens to join them in a peaceful demonstration. Both men chose different days, however, March 21st – the spring equinox, and April 22nd, respectively. Millions  took part in the grassroots demonstration and though April 22nd is officially called "Earth Day" today, many still celebrate on both, and some communities even dedicate an entire week of celebrations to Earth Day.
Canadians first celebrated "Earth Day" on September 11, 1980, beginning with a ceremonial tree planting on September 6th, as an entire week was declared as "Earth Week".
Are there any traditions associated with Earth Day?
There are indeed! Tree planting, recycling drives & educational elements about sustainability are all big Earth Day traditions. Green, obviously, is the go-to for a colour scheme, but don't forget about other "earthy" tones like browns, blues, off-whites and black!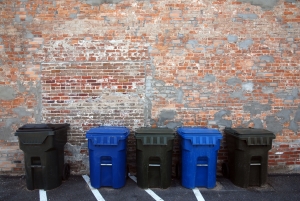 Do I have to give up certain parts of my lifestyle just to "go-green"?
This question is asked a lot, and the answer is a big ol' no! In fact, switching to greener methods may actually make your life a lot easier, cheaper and healthier! Technology is largely to thank for this, especially when it comes to using energy, but there are little, simple things we all can do to improve and save.
You probably already do a lot to "reduce your footprint" or "live green". If you carpool into work every once-in-a-while, that's a green thing to do. If you recycle, that's a green thing to do. If you use products that are from sustainable agriculture, whether fully or in part, that's a green thing to do. If you use natural solvents to clean your home, or dry your laundry on a clothes line, these are green things to do. If you have re-usable grocery bags, this is a green thing to do.
Yes, in all of these cases, you may have chosen to do them to save money. But that's the beauty of going green – many of our day-to-day tasks can both be eco-friendly and also let us keep more of that "green" in our wallets (…and blue, purple & pink a Canadian's case).
Alright, alright – I'm convinced. What tips are you discussing this week?
Check back on Wednesday for some DIY earth-friendly home cleaning solutions that are cheap and safe to use. On Friday, we'll go over a selection of DIY green beauty routines!
Monday: Official Earth Day 
Did you turn off the lights when you left the house? Did you turn the heating down for whenever you're away? Did you take out the recycling? Do you do your laundry after 7pm (or whatever the local cut-off time is for lower rates)?
We bet you do most, if not all, of these things in an effort to save money, right? As we mentioned, the best thing about going green is not only do you often create a healthier local environment for yourself (your house) but you end up saving a bit of money, too!
Come back tomorrow to see our awesome DIY eco-friendly home cleaning recipes! If you're not really of the mind to make your own, that's totally okay, too! Check back on Wednesday when we review some our of favourite green retailers!
Sources:
"Earth Day", Almanac.com
"A Little Litter is Too Much", Kingston This Week, July 23, 1980.