Cost-Effective Stocking Stuffers
GoDay.ca | Short-Term Online Loans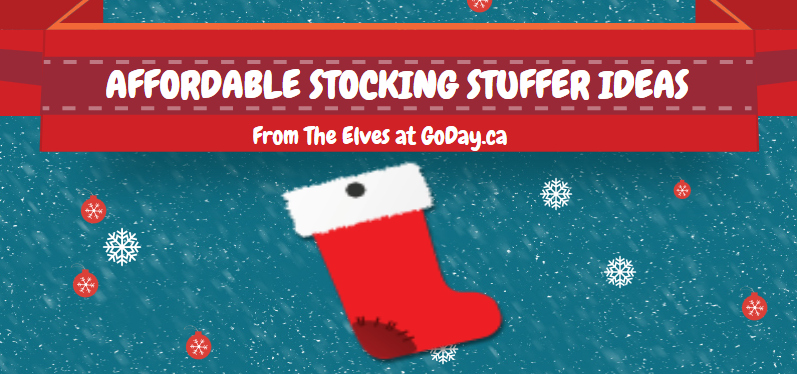 Ah, stocking stuffers, the best part of Christmas, in my humble opinion. Sure, it's awesome to see your beloved friends and family tear open a delicately wrapped gift. But nothing beats watching them plunge their entire arm into the depths of a glorified sock, filled with so many goodies it might as well be Mary Poppins' stocking.
The good news is you don't have to wreck your wallet to stuff a stocking. In fact, this is the best place to give your loved ones things they need and use on a regular basis. Besides, it'll save the laugh-groans that would inevitably occur after opening a present that's a bunch of socks of t-shirts.

-Consider his hobbies and supplement them with small items. Eg: if he's a swimmer, maybe some sharp new goggles. A reader? A gift card (an amount you decide) to his favourite store. A gamer? Check out his Steam Wish List and buy one for him and print off a little card. You get the idea.
-iTunes or Amazon gift card. This is a universal recommendation since it's customizable on your end and theirs.
-Personal care products; another universal recommendation. We all need to stay clean, so stuff the stocking with shaving gel, his favourite body wash and maybe a new razor or some fresh blades.
-Is he a health nut, a junk food junkie or something in between? Every stocking needs treats. Fruit (like the seasonal clementine) is a healthy and affordable alternative to the more expensive gourmet chocolates. If you do go the sweet route, buy in bulk and share the wealth amongst all the stockings.
-Socks, underwear, undershirts, gloves, scarfs or hats are a perfect bottom-of-the-stocking filler. Everyone needs 'em!

-Again, consider hobbies! If she's into a sport, supplement that hobby with something small that she needs on a regular basis. For example, does she coach a team? Maybe a sharp new whistle would do the trick. Does she dance? Ankle wraps. A gardener? Some new seeds to try in the spring. Again, you get the hint.
-Tea or coffee. We all drink one or the other (or both) and this time of year has special seasonal flavours to experiment with. The safest bet is getting one new flavour and another of her favourite.
-Makeup and toiletries. Sure, makeup can be expensive, so limit it to a few little things. Also, we need lotion badly this time of year, so if our stocking is full of our favourite skin protector, we'll be grateful. On that note, chap stick and other things along those lines would also be great.
-Has she been eying a new book recently? You know the rest.
-There's a very strong chance she has a Gift Board/Wish List Board on Pinterest. Ask her if she has one and you'll save yourself a lot of guesswork.

-Those socks and t-shirts that were originally going to go under the tree can now go into a stocking. Clothes within clothes. How meta is that?
-An iTunes gift-card of any dollar value; perfectly customizable for any budget.
-Their favourite magazine, or better yet, a subscription certificate to their favourite magazine.
-Teenagers are still kids, right? Load it up with their favourite candy or chocolate. Buy in bulk – it's cheaper!
-MicroSD cards or usb storage keys. With the amount of pictures and video they take, storage is something that will always be welcome.
If you need a little extra cash before the holidays to make things a bit simpler, head on over to GoDay.ca! New customers can get up to $500.

Like This Post? You Might Also Enjoy:
Tips for an Affordable New Year's Party
GoDay.ca's 4 Easy Holiday Desserts – Part 2