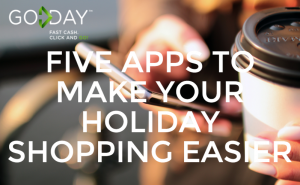 With the holiday season in full swing, everyone is busy and there are always last minute gifts to purchase. But as technology continues to develop, we are able to save time and money all by doing things right from our mobile devices. Below is a list of apps that were specifically designed to make your life easier and will definitely come in handy this busy holiday season.
Giftagram: Yes, this app is exactly what it sounds like. Exclusive to Toronto, Vancouver and Los Angeles, the first step is to pick a gift from the wide selection of local and international retailers. The second step is to select a recipient of your Giftagram who is notified by email or text message. And finally your recipient will choose the location of delivery and your gift will arrive in two to three days. With a variety of gifts, including some that you can't normally wrap up such as classes, Giftagram is an easy way to send your gifts this holiday season. And as a bonus they give you a $20 credit just for signing up!
Green P Parking App: Everyone knows that trying to find parking during the holiday season can be chaotic. Now you don't have to wait in the cold to pay for parking, you can do it right from your mobile device. This app also takes the stress out of keeping track of the amount of "time" you purchased, because with the Green P Parking app you can add a few dollars right on your phone and forget having to go back out to the car. This app couldn't have launched at a better time, but is unfortunately only available in to use in Toronto.

CF Shop: Looking for a specific product but don't know what stores carry it? A lot of people have questions and are regularly searching for the mall's customer service desk to ask them. Cadillac Fairview has introduced a feature through their app that provides shoppers with a phone number to text their question to a customer service representative and receives a response back. This mobile function will definitely be helpful this holiday season for the big malls like the Eatons Centre in Toronto and Pacific Centre in British Columbia.
PayPal Mobile: Whether you are trying to pay for parking while shopping, transferring funds to split the cab fare to the holiday party, or looking to shop while on the go, PayPal Mobile is the go-to app to make your mobile payments as easy as possible. Incorporated with many retailers and available as a payment method on other apps, PayPal Mobile works to make making payments stress free this Holiday season.
Flipp: We can't forget about one of the biggest things to shop for over the holidays, food! Flipp has taken over the digital flyer scene as it provides you with online flyers for the best deals, but it also compares all the prices for that item for you. This works for more than just food, but is great for price matching at certain grocery stores as you can choose your item and the app will save those clippings for you! It also shows you any coupons that are available for the product and you can create your shopping list all within the app. You will save time and money this holiday season with this app.
Do you have an app that will make your holiday season easier this year? Let me know in the comment section below!