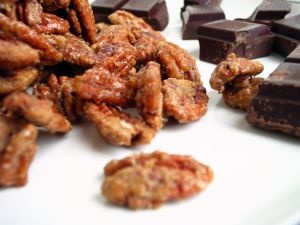 It's holiday time, meaning it's also time to get ho-ho-hefty.
Well, not on purpose, at the very least. Everywhere you go, someone has something delicious to shove into your face. At work? Someone brought in 2 dozen brownies. Your kids bring home a lunch-pail full of candy canes and jelly beans. And your own get together's are, no doubt, loaded with rich delectable's like mousse, gourmet cookies and more.
The good news is this phase doesn't last long, so you know what, live it up! Enjoy yourself and try out some recipes you've been putting off.
If you're short on time, here are some quick and easy desserts that are sure to please a crowd, your wallet and your schedule. Check back each week from now until Christmas – we'll have more recipes every week! So what are you waiting for? Pull out that beautiful bottle of Merlot you've been saving for a good ol' bake-off and invite some friends over.
You might need some backup.
Brownie Trees
You'll Need:
1 pack Brownie Mix
Tube of Green or Red Icing
Tube of Green or Red Sprinkles
1-2 large Candy Canes
1 bag of Green or Red Smarties
Follow the instructions to bake the brownies (or, your own recipe works just fine!).
Once adequately cooled, cut brownies into small triangle shapes, with the base of the triangle approximately 2″-2.5″ in length.
Decorate the brownies in the following manner:
-Use the icing to create a "garland" effect on the tree
-Lightly add the sprinkles all over the icing areas
-Place the Smarties as if they were ornaments along the icing areas
-Finish by sticking a straight and small piece of candy cane into the base of the brownie
Snowmen on a Stick
You'll Need
1 bag of White Chocolate Chips or Discs
Melting/Fondu Pot
15 Large Marshmallows
1/3 cup Dark Chocolate Chips or Discs
Shish-kabob Sticks
Wax Paper
Orange Icing (optional)
Stick the large marshmallows onto the end of the sticks. Don't poke it through the entire way.
Slowly melt the dark chocolate and white chocolate separately and keep warm (if you have a fondu pot, now would be the time to use it!). Dip the marshmallows into the dark chocolate first. Let cool. Dip a second time. Let cool.
Repeat these two steps with the white chocolate. Let cool again and paint small faces with the pointy end of the stick using the dark chocolate.
Chocolate Peppermint Sticks
You'll Need:
7″-8″ long Candy Canes or Pretzel Sticks (or both!)
3 cups of Dark, Milk or White Chocolate Chips or Discs
1 bag of Sprinkles, Broken Smarties or other broken candies (very small chunks)
Once your chocolate of choice is melted, dip your stick of choice into the chocolate on one end only, about 1/3 of the stick's length. Repeat this step 2-3 times until a thick coating exists. On the last coat, roll in crushed candy of choice or sprinkles.
Candy Cane Graham Crackers
You'll Need:
12 Graham Crackers
3-4 large Candy Canes (broken into small pieces)
2 bags Milk Chocolate Disks
Melting/Fondu Pot
Wax Paper
Melt the Chocolate Chips/Disks and stir well. Lay the crackers on a cookie sheet covered in wax paper, keeping an obvious space between the crackers for ease of breaking later. Pour a thick layer of chocolate over the crackers. Smooth chocolate and spread evenly over-top the crackers. Sprinkle broken candy cane pieces all over the tray and let cool for 1 hour. Break crackers along ridge lines and enjoy!