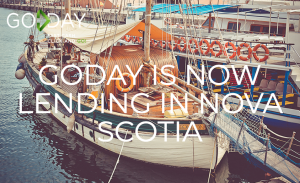 Big news! GoDay is now an official online payday loan/short-term loan lender in the province of Nova Scotia. This is the sixth Canadian province/territory GoDay is operating in. When it comes to personal loans, there are a couple of solutions you could look into. You could go through your bank and apply for a line of credit, but this process can be time-consuming. Some people try to borrow funds from friends or family members, but this can make you and others feel uncomfortable. What about attempting to pay with a cheque dated for after your next payday? Unfortunately, not everyone accepts this. So what are your other options when it comes to getting fast cash?
That's what GoDay is here for. Now in Nova Scotia, GoDay offers payday or short term loans from the South to the North Shore of Nova Scotia. And the best part? You'll never have to walk into a retail store for a payday loan with us.Our average short-term loan application takes less than five minutes to complete. Even better, our automated system can deliver a decision on your payday loan application in seconds. Getting a personal loan cannot be any simpler! Our payday loans are not intended to provide a long-term financial solution. Rather, they are intended to solve urgent but temporary cash flow needs.
You can apply for an online payday loan with GoDay by completing our simple online application form 24/7. The process is quick and easy; we are committed to offering one of the fastest, payday loan services in Canada. Within seconds of submitting your application, we will let you know if you have been pre-approved. Should we need any additional information from you, we'll be in touch promptly by phone or email. If approved, we will use the industry's fastest tools to transfer your online payday loan as soon as possible. Our Toronto based Customer Service team is available to help along the way should you have any questions or concerns. Get started by submitting a loan application here.
First time customer with GoDay? Thanks for choosing us! If it's your first time getting a loan with us, we do have a first timer's policy in place. To start, you can request a loan of up to $500 for up to 30 days. As our relationship grows and we establish mutual trust with one another, we're happy to gradually increase loan amounts up to a maximum of $1500 for any future finances you may need. Within seconds of submitting your application, we will let you know if you have been approved. Our payday loan applications are accepted and processed instantly by our automated system 24 hours a day, seven days a week as we mentioned above. From there, if we need any additional information from you, our system will let you know and we'll be in touch. But if you're automatically approved, we then use the industry's fastest tools to transfer your loan as soon as possible.
One of the first things everyone thinks about when it comes to payday loans are the interest rates and fees associated with getting alone. But that's the difference between GoDay and other payday loans or short-term loan lenders – we don't believe in hidden fees. This means that at GoDay, we don't have hidden fees or extra charges on top, we disclose all fees up-front, that's why at GoDay we have a "what you see is what you get" policy in place, so when you're looking at a payday loan with us, the numbers you see won't change. That's right, everything from the amount you need to the repayment options including how much time you will need to pay us back. That's why we pride ourselves at GoDay in our responsible lending practices. Other lenders would be willing to give you anything and everything if they could charge you interest indefinitely. But that's not us. Our short-term cash-flow solution is intended to help get you back on track – not further off it which is not always the case as there are many other payday or short-term loan lenders that will surprise you with additional fees.
Unlike many online lenders, we have real people and physical locations ready to help you along the way. At GoDay we are very proud of the professional service we offer as our customer service representatives are professional, experienced, and available to answer any questions you may when it comes to your loan. As much as we appreciate your business, we're hoping your loans are few and far between. That's why at GoDay we provide numerous resources for our customers including this blog and our Finance 101 page that includes many helpful guides and links.
Disclosing private information online isn't always safe. And as an online company who prides themselves on secure loans, we're the first to understand that filing personal information online can make you feel uneasy. We're a payday loan company, which means we take all your financial and private information seriously and it is our job to keep your privacy and security top of mind, while protecting the information you give us. This is all a part of our responsible lending strategies here a GoDay as we are compliant with provincial loan regulations, which means you're protected legally with every cash advance. Our customer service representatives can also help to answer any questions you may have with respect to your privacy, your obligations, and your rights.
GoDay has been providing Canadians with online payday loans and we're happy to now be operating in Nova Scotia. At GoDay we're a licensed online payday lender, a proud member of our community, and we care about our customers. If we can help you get through a few financial hurdles, terrific. If we can help you avoid them altogether, even better. Try our service and let us show you why thousands of Canadians turn to GoDay when they need a payday loan.