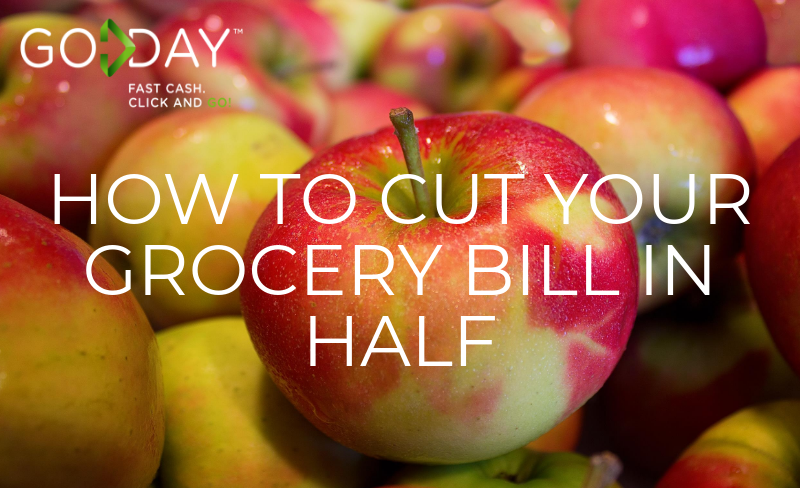 Grocery shopping is an obvious necessity that everyone has to do. Especially if you have a growing family, you know the struggle of keeping the fridge full in your busy household. It can seem like you're constantly running back and forth to the store to restock on food or regular household items like toilet paper, and paper towel. All this stuff adds up, however, there's no avoiding buying it, and obviously it's not ideal to have to get a GoDay loan to keep up with your grocery bill.
Here are some tips to help get that grocery bill down to a more affordable price, even with the rising costs of food. People may be surprised at the amount of different ways there are to save money out there, many of which are super simple to implement into your weekly shopping routine.
Use a list
A grocery list can be a lot more valuable than reminding you of the things you need to pick up at the store. A list can help you stay on track and only purchase the things you actually need versus impulse adding things to your cart that you could have lived without. Also, a list can help you be more organized prior to shopping.
For example, if you plan on making certain recipes that week, you won't forget any of the ingredients you need. However, when you go into a grocery store without a list or without a plan of what you want to cook, you'll end up with a ton of ingredients that don't actually come together to formulate any sort of recipe, which means you'll just have to run out to the store again and again.

According to research from the University of Pennsylvania, people who can avoid impulse spending when they shop with a list and save up to 23% on their grocery bills.
Eat healthier
There are obviously a ton of benefits to eating healthier foods, but did you know this can also help with shrinking your grocery bill? Not only will your body thank you but so will your wallet. Fresh produce is often more inexpensive than the foods you'll find in the middle aisles of the grocery store, aka the processed stuff. The more vegetables and fruits you can incorporate in your life, the better, for more reasons than one.
Shop at the right grocery store
There are a ton of different grocery stores out there, most of which sell the same types of products but we all know some are way more expensive than others. Especially the smaller, boutique grocery stores or specialty stores.
By shopping at the right grocery store, even if this means commuting a little bit further to it, you can sometimes cut your grocery bill in half. Whole Foods and Farm Boy are great, but No Frills and FreshCo have significantly lower prices. Even if you love certain products that are sold at the more expensive grocery stores, visit those stores to pick up odds and ends, and do the bulk of your shopping at one of the more inexpensive stores.
Buy generic brands
Generic brands, aka no name brands of products versus name brands can be significantly cheaper for essentially the same product. Yes, there are certain items that may not taste as great, for example a no name brand of Cola isn't going to taste the same as Coca Cola. However, there are tons of products that taste identical. Walmart's Great Value products are usually produced by a major brand name food company, who might have their own version of those products under its brand names sitting right next to the cheaper, Great Value version.
Price match
This tip may take a bit more effort and research than you are wanting to do for your grocery shopping, however, it can definitely help you save money on your grocery bill and while doing other shopping. There are a ton of stores in Canada that price match. Essentially this means that if you see a better price for the same item at another store, you can bring the flyer for the competing store and the store you are shopping in will match the better price.
For more tips, watch this great video:
Apps that help you save

Outside of following the above tips to help cut that grocery bill in half, there are a ton of fantastic apps out there that can make grocery shopping more enjoyable and less expensive. Here are some of our favs at GoDay:
Checkout 51
Coupons are obviously at a great way to save money on groceries, however, it can be incredibly time consuming, not to mention, a lot of companies have cut back on the amount of coupons and paper flyers they send in the mail. Checkout 51 is a great solution for this. The app gives you money back on certain products after you purchase them, so you don't need to carry around a pile of coupons, or worse, worry about forgetting them at home.
Here is how it works. Once you purchase items on the list in the app, you photograph and upload your receipt via the app, the app will scan your receipt and within around 48 hours the money you earned will get added to your account. Once you hit $20 in savings, a cheque will be mailed to you.
Flipp
Flipp is definitely a cult favourite. The app takes the weekly flyers that are usually crammed in your mailbox that you don't often have time to go through, and it combines them into a user-friendly, searchable app. Through the app you can search for specific flyers and browse them OR you can search for a specific product and Flipp will search all the flyers for you. You can also clip items from a flyer virtually and add it to a shopping list right in Flipp to keep everything centralized and way easier to use and navigate then that pile of flyers haunting you in your mailbox.
Grocery shopping doesn't need to be such a headache and it definitely doesn't need to drain all your hard earned money. Follow these tips to cut that grocery bill in half so you have more disposable income to spend on other things in life.