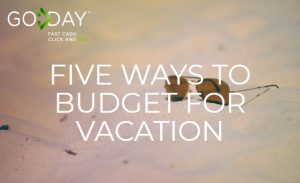 Everyone needs (and deserves) a break. Really, you do! And according to a survey in 2016, Daily Hive reported that Canadians received an average of 17.3 vacation days from employers this year, but only took 14 of them. That represents 31 million unused vacation days and $5.5 billion in wages going back to employers. But if we dig deeper, 27% of Canadians go an entire year or more without taking a vacation, with another 36% of Canadians going six months or more without taking any time off.
Whether it's just a break from regular routine, taking time for yourself, or having the urge to explore somewhere new, planning a vacation doesn't mean having to break the bank. And no matter what kind of vacationer you are and depending on what you want to do, there are many different ways that you can save money. That's why we break down five different tips on how you can start budgeting for your vacation without having to break the bank.
Estimate How Much You'll Need
So where do you start when planning a vacation? With a budget of course. There are a few ways to do this. One way is to start with looking at destinations or activities you want to do and seeing if that would be possible with your current budget. The second way is to start saving and know how much you want to spend on a vacation and do your research based on your price point. There are numerous travel resources out there now that can help find you the best deals based on what you're looking for, whether it's travel deal sites, Google flights, unique places to stay, travel forums and more. So how do you know what to budget for? When it comes to budgeting for a trip you need to consider all your costs and then some. It's also probably a good idea to budget extra since there will always be unexpected expenses that come up. But to get you started, here are the main things you need to budget for:
Accommodations
Meals
Transportation
Attractions
Shopping
Extras (luggage, visas, etc)
Set Up A Travel Fund
Once you have an idea of what kind of vacation you're looking to go on and what you need to budget, it's time to start saving. So how can you start to save when you're busy paying and saving for everything else? People save in different ways, but whether you're someone who likes to cut expenses or do a purge and sell some of your items, we recommend saving for at least a few months prior to your trip. Another tip is when it comes to saving people usually keep their vacation savings in their regular banking accounts. But with that cash easily accessible, this can be a big mistake as it can be tempting to spend this cash on other things. Instead, open a separate savings account specifically for your vacation money, preferably with an online bank so you can earn a higher interest rate. Don't forget to look into travel rewards with your bank as well, as most banks offer deals with credit card points and if you're setting up a travel fund, your bank should be there to help. You should also look at making automatic contributions into your savings to ensure that you're putting cash away every paycheck.
Local Deals
For all-inclusive vacations or cruises, doing your research is much easier since most things are included in your pricing and resorts or your travel companies have usually done the work for you. But that doesn't mean that there aren't things you won't pay for. So how do you find out about local deals while travelling? The best way to do this is to go right to the source. Talk to people! The local people will be able to tell you the best places to eat, where to shop and all of the hidden gems you wouldn't normally hear about. No matter what kind of vacation you are on, the local people will have the scoop on whatever you're looking for.
Don't Wait Until the Last Minute
Not everyone is a planner, but when it comes to saving money and going on vacation, this is when you should be. According to CNBC, based on historical flight data, April is when you should start booking your summer travel. Travelers could save 12 percent compared to peak summer booking prices, they estimate, and even more for big holidays and long weekends. As previously mentioned your planning should start with your budget. Even if your trip is months away, you can start saving a certain amount of money now so when the time comes you're not scrambling at the last minute to afford everything. No one wants to go into debt just to go on vacation.
Cut Out The Little Things
Like anything you're trying to save for, the best way to start is to take a look at your current spending and make a game plan on how to curb some of your expenses. When saving for a vacation, you've already estimated how much you'll need and you've started putting cash away in your travel fund. But this is really a time to help cut out necessary expenses. Maybe it's cutting down on your coffee or restaurant visits, or you stop treating yourself, cutting out the little things can make you realize how much you are spending and how you can start to cut back to start saving a little bit more, which is never a bad thing.
Going on vacation should mean no stress and an adventure to remember. Which is why you shouldn't have to also be worried about your finances. Follow the tips above and you will be on your way to a memorable time. But if you do get in a financial pinch, that is what we are here for. We can help bridge the gap of travel expenses that you may not have planned for, stress-free and make sure you are in a place where you don't have to worry while on your trip. So where are you off to next? Let us know your travel or vacation tips in the comment section below.