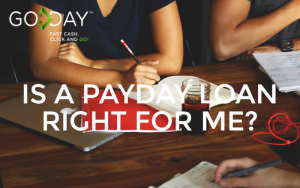 A payday loan isn't for everyone, and here at GoDay we will tell you that. GoDay likes to see customers use us to get back on track financially, not further behind. And there are times we will have to say no to people because our loans may not be the right fit for you at the time. So how do you know if a payday loan is right for you? We give you some of the key factors we look for in our customers and let you know how easy it is to become a GoDay customer today.
Do you understand what a payday or short term loan is? The Canadian Payday Loan Association has a guide that you can refer to see if a payday loan is right for you. As their definition states, "A payday loan is an unsecured short-term loan to meet unexpected cash needs. When used for short-term cash needs, a payday loan is convenient and economical, but it is inappropriate to use for long-term or continuing cash needs". At GoDay we like to see you get back on track and we're here for you to help bridge the gap before your next paycheck.
Do you know the costs of a payday loan? As a responsible borrower, it is important to know the costs of borrowing a payday loan as compared to other borrowing products. Everyone is different, but here at GoDay we don't believe in surprises when it comes to your money, that's why there are no hidden fees, what you see is what you get with us. At GoDay we give you an instant decision on whether or not you've been approved for a loan. You can use our online slider tool to help calculate the cost of your loan and receive it in as little as one hour once approved.
Do you trust the lender you're getting your cash from? At GoDay, we're compliant with provincial loan regulations, which means you're protected legally with every cash advance. What's more, our customer service representatives are professional, experienced, and available to answer any questions you may have. At GoDay we like to avoid financial stress, that's why GoDay partners with the most reputable financial institutions and uses the fastest tools in the industry to ensure you get the speediest service possible so you don't have to worry.
How often do you use payday loan services? Whether it's GoDay or any other kind of short-term loan provider, payday loans are meant for occasional use as a short-term cash flow solution and should not be used as a continuous method to cover gaps in your budget.  If you are finding you're using payday or short term loan services frequently and are having issues meeting your financials needs, there are options out there to help you including Credit Counselling of Canada.
At GoDay we like to make it as simple as possible for you, that's why you should choose GoDay for your next payday loan.