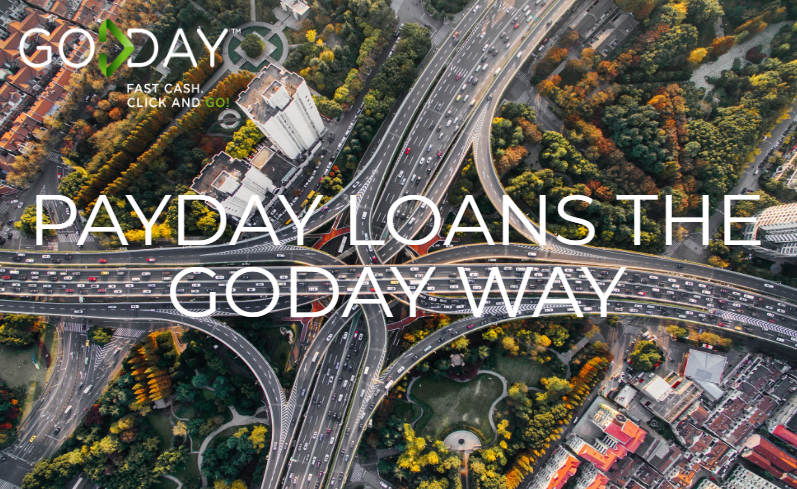 Payday loan or short-term loan, this financial tool is one option when it comes to your finances. Payday loans from GoDay are the simple, smart and secure way to get the cash you need quickly and easily.
In a recent report by the Financial Consumer Agency, nearly two million Canadians use payday loans each year. Whether you are looking for fast cash to get yourself out of a financial bind or to keep yourself afloat until your next pay cheque, GoDay can help.
Our payday loans are not intended to provide a long-term financial solution. However, they're great for urgent, temporary cash-flow needs. That's why we like to let you know about your borrowing options and why GoDay is a good choice.
What is a payday or short-term loan?
Basically, a payday loan is a type of short-term borrowing. Expenses can come up unexpectedly at any time and you may not have cash readily available to cover costs. However, you may not want to rely on friends and family to get you out of a difficult financial situation. You may not be able to borrow from a bank either. Luckily, you have additional options.
People turn to payday loans for many reasons. However, it is important you understand how payday loans work. You don't want surprises when it comes to finances. Payday loans aren't for everyone, but if you need quick cash GoDay may be able to help.
GoDay Offers More
You'll find countless lenders within the payday loan market. However, GoDay likes to keep it simple. We are 100% online, which means you can apply for your loan from virtually anywhere! There is no need to go into a physical store to get the cash you need ever again. Save time and apply from any device from any location.
Along with being 100% online, we pride ourselves on our responsible lending practices. Some lenders would be willing to surprise you with additional fees and charge you for extras, but not us. Our short-term cash-flow solutions are intended to help get you back on track – not further from it.
We're also a Canadian company! With physical office locations in both Toronto and Vancouver, GoDay.ca may be a virtual online company, but we were founded and still operate in Canada. We know that life happens and there are times that you need cash, fast! Besides us helping you to get the cash you need quickly and easily, we also offer the security and professionalism that should go along with the process.
How does GoDay Work?
It's easy to get a payday loan online with GoDay! Head over to our website and complete a quick and easy online payday loan application. You will need to provide us with some personal information such as your banking and current employment details.
Once your online payday loan application, our automated and online cash advance system will review it and let you know how much we can approve you for. After you've signed your payday loan documents, we will use the industry's best tools to get you your online payday loan funds quickly and easily.
Depending on what time of the day you sign your loan agreement and the hours of your financial institution, your payday loan could be delivered to you the same day. Either that, or you will wake up to it in your bank account the next morning. A GoDay representative can provide you with further details about your loan once you have been approved.
Say no to surprise fees
No one likes surprises when it comes to their money. This is why GoDay discloses everything upfront. That's right, everything from your loan amount to the repayment options, including how much time you will need to pay us back. We don't believe in secret or additional fees. This sets us apart from other lenders that charge high interest rates or hide their fees in the fine print.
GoDay is also a licensed lender. We're proud of our responsible lending practices and follow regional laws to the letter. These limit how much we can charge you in interest and fees.
We are here to help!
Even though we are 100% online, our customer service representatives are Canadians ready to help you at any time.
Do you have questions about your online payday loan? Give us a call. At GoDay, we are very proud of the professional services we offer and our amazing customer service team. We care about your financial well-being and are readily available if you have any questions or concerns.
We have served Canadians since 2012 and we invite your scrutiny. Take a look at our customer reviews on TrustPilot. We also have an overall A+ rating from the Better Business Bureau. You can also confirm we have an Ontario Payday Loan License here before starting your payday loan application.
Resources
GoDay café, our personal blog, covers a variety of topics related to money matters. We also have our GoDay education section on our website, to support – not replace – the advice of a financial professional. This includes information in our learning center regarding payday loans and personal finance options.
You will also find numerous resources and tools such as calculators; links to credit counsellors, useful apps, budget worksheets, a glossary of industry used terms and more. Our customer service team is also a great resource for any other questions you may have for us. Feel free to reach out if you have any questions.
Privacy and security
You can find anything and everything online these days. And this includes us! That's why we understand that sharing your personal information online can make you feel uneasy.
We're a payday loan company, which means we take all your financial and private information seriously. It is our job to protect the private information you provide to us online. GoDay uses the most advanced industry practices to ensure your data is safe and never used without your consent. We don't share any of your private online payday loan information with anyone else.
Because we are digital, you can apply for the loan you need from anywhere. We are also mobile-friendly. This makes the entire loan process simple and quick. GoDay is compliant with provincial loan regulations, which includes consumer protections on every loan through our company. Our customer service representatives can also help answer any questions you may have with respect to your privacy, your obligations, and your rights.
Communication is key
Applying for a loan with us? We let you know where you stand every step of the way. From our instant approval process available 24/7 to our GoDay email status notifications, you will always be in the know.
Our online payday loan application takes five minutes to complete and our fully automated system will provide you a decision within minutes. You can also use our online tools to customize your loan. That's right, you can choose everything from the amount to the payment options.
First time customer with GoDay?
Are you a first-time customer with us? If so, welcome and thanks for choosing us! We try to make it as easy as possible for you. We like to see customers using our loans responsibly to get back on track financially, not further behind. So, if it is your first time getting a loan with us, we do have a few rules in place.
For your first loan, you can request up to $500 with us for up to 30 days. As we establish a relationship with one another, you then have the opportunity to gradually increase your loan amounts up to a maximum of $1500.
As a GoDay customer, we don't make you wait for your money. Once you submit your application, it is processed instantly by our automated system that works 24 hours a day, seven days a week. If we need any additional information from you, our system will let you know. Then one of our customer service representatives will get in touch. After that, we use the industry's fastest tools to make sure you get your loan as soon as possible.
If we can help you get through a few financial hurdles, terrific. If we can help you avoid them altogether, even better. Try our service and let us show you why thousands of Canadians turn to GoDay when they need a payday loan.