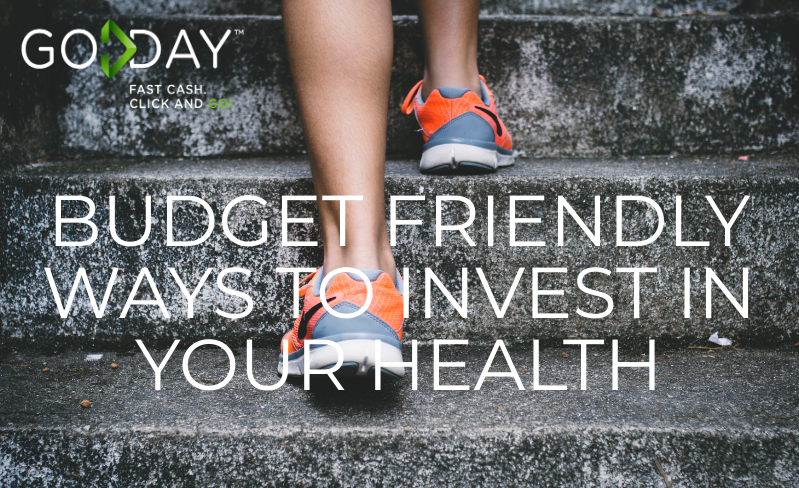 Budget friendly health options may seem a distant idea. However, good health must be a priority. Basically, without good health, you wouldn't be able to live the life that you want to lead.
Nonetheless, staying healthy may also wreak havoc on your bank account if you don't manage it properly. Lots of people think buying expensive health food or memberships to yoga or fitness studios are a necessity. That's simply not the only way you can invest in your health.
Here at GoDay, we want to share with you some budget friendly ways you can create better health.
Meal Planning
Meal planning is one of the simplest ways to not only save money, but also invest in your health. When you're ordering take out or eating out for every meal, you're creating poor eat habits. First, you may consume more food than you normally would. Second, you could make unhealthy food choices. Sometimes you may not have any idea of what's in the you're consuming. Finally, you can spend a fortune on food. You could be spend significantly less at a grocery store.
Meal planning can be a challenging habit to form when you are used to eating out all the time. However, once you get the hang of it, you'll see your savings go up, and your health increase. To get started, we've created some steps for you to follow:
Firstly, draw a two column template that leaves room for breakfast, lunch, and dinner for every day of the week on the left, and a grocery list on the right.
Next, fill in any meals that have already been accounted for such as birthday dinner or a lunch meeting at work.
Likewise, take stock of what's in your fridge and pantry and fill in as many meals that can be made from the ingredients you already have. If you have leftovers from the previous week, include those as meals too.
Additionally, you may have some ingredients that you can't use for a full meal. That's okay. Just add the additional ingredient to your shopping list so you can make a complete meal. For example, you may need toppings and buns for the burger patties in your freezer.
Lastly, fill in any blank spots. Need inspiration? Check out Pinterest for some super easy recipes. This can also be a good spot for finding inspiration for meals to make with ingredients you already have.
Quick tips for meal planning:
To get you started, here are some tips to consider when building out your meal plan to achieve success:
Pack your lunch the night before. This way if you aren't a morning person or if you are running late, there's no excuse
Switch up your lunch and dinner so you don't get sick of eating the same thing and order food instead
Prepare your favorite recipes to help you stick to your plan. If you and the family love them, why try something new?
Have healthy snacks on hand, like nuts or cheese. If you get hungry, you will these instead of buying junk food
Stock your pantry, fridge and freezer with long lasting, nutrient-dense items. These include rice, pasta, beans, canned goods, sauces, soups, frozen veggies, etc. These staples can easily be incorporated into many recipes
Use themes such as Meatless Monday, Taco Tuesday, or Crockpot Wednesday
Order groceries online. Most grocery stores offer online shopping and if they don't you can use a service such as Instacart
Double recipes when possible. You can eat the leftovers, pack them for lunch, or freeze them for quick and easy meals on busy nights
Some tips to save on meal preparation:
Cook less meat and load up on vegetarian proteins. Beans and eggs cost less.
Buy a full rotisserie chicken. If you need a quick meal, these are a good option. You can also use the leftovers for sandwiches, soups, tacos, etc.
Buy dry beans instead of canned beans. They're cheaper and healthier as they don't contain sodium.
Use a slow cooker. They are easy to use and tenderize cheap cuts of meat.
Buy in bulk and freeze.
Make big batches to freeze for later use.
Buy frozen fruits and veggies. They can reduce food waste.
Buy in-season produce. Freeze it for use later to protect against price increases.
Sign-up for store points and discount cards where you shop.
Buy spices, baking supplies, etc. in bulk so you only purchase what you need. Bring your own containers to eliminate waste.
Make your own sauces, dressings and seasonings. They're healthier and cheaper.
Grow veggies in herbs in containers.
Use leftovers for soup.
Store your produce properly to ensure it lasts. Here are some great tips.
Here are some additional tips to help you cut your grocery bill drastically.
Working out
Working out is a key component to making you feel good and keeping your body healthy. However, gym memberships can be pricey. If you like niche fitness classes like yoga, Pilates, or boxing, memberships can cost upwards of $150+ a month. This adds up quickly and makes exercise unattainable for many people.
What we forget about is everything that is available out there to allow us to workout on a dime. Here are some ideas to help get you moving and your heart healthy.

In the age of social media, there are so many free workouts available right at the click of your finger (or mouse). YouTube, for example, offers tons of different workouts that you can scroll endlessly and never do the same workout twice. We put together this list a while back that you may find a great resource for where to start.
HIIT/Tabata/CrossFit
If high intensity circuit training is your thing, you can buy basic equipment like weights or resistance bands online. This will still be cheaper than a gym membership.
BodyRock.TV® has almost 1 million YouTube subscribers. The channel creates new HIIT (high intensity interval training) workouts every single day. They have their own website where they share lifestyle and nutritional advice.
They feature hundreds of videos, from short to very challenging. If you're a beginner to interval training, no worries. They have great "entry level" videos to get you started. One of our favourite things about this channel is their uplifting community. Fitness is hard and you're more likely to succeed with a supportive team behind you.
If simple, no nonsense, no fluff workouts are what you're looking for, Fitness Blender is for you. You'll find a range of beginner, intermediate, and advanced bodyweight-based and equipment-based workouts. Target one area or work your entire body through their hundreds of videos. They also have some yoga, Pilates and stretching workouts available.
This is a small, but fierce channel. Founder Zuzana Light co-founded Bodyrock.TV®. She has since moved onto her own endeavors in California. She has slightly less videos, but they are equally as challenging and often don't include equipment.
Yoga & Pilates
If having a dancers body and strength is your objective, yoga and Pilates can be fantastic. Here are some of our favourite channels:
Based in Austin, TX, Adriene Mishler manages an enormous channel filled with yoga sessions, individual pose instruction, and challenges. This yogi also includes other yoga poses to help you increase your performance in other sports!
Founder of Strala, a "movement based" type of yoga, Tara Stiles offers over 500 different yoga and health-based videos on her channel, ranging from weight loss yoga, yoga while traveling, and diet tips.
Blog-turned YouTube Pilates guru, Cassey Ho has almost 300 Pilates videos to date, ranging from beginner to advanced. If you enjoy super fun upbeat music during your workouts, then you'll love Cassey's channel. Most of her workouts are done on a mat. Cassey does have a handful of resistance-band workouts too.
Dance & Other
Maybe none of the exercise forms mentioned above don't do it for you. Here are some alternatives for you:
If you love hip-hop Zumba routines, we haven't found a channel better suited than CLUB FITz. With a modest 200k subscribers, the lovely ladies at CLUB FITz release new routines that pump it out to current chart-topping hits.
Want access to popular workout systems from Jillian Michaels, Billy Blanks & others? Subscribe to the BeFiT channel. It boasts hundreds and hundreds of full workout videos in every exercise category imaginable.
Instagram
Fitness instructors are using Instagram more and more to build their brand, and lots of them do live stream workouts or post daily workouts that you can do yourself at home for free. Some of our favourite accounts to follow are:
Student discounts
Luckily, if you are a student, there is a chance the gyms or studios in your area may offer a discount when you show your student card. This can help you stay in shape and you can access places you wouldn't normally be able to afford on your student budget.
Walking/running
Undoubtedly, this is one of the cheapest ways you can workout. Get outside and go for a run, walk, or hike. Not only will you be getting much needed fresh air, but you'll also be staying active and fit. Challenge yourself to get out for a walk every day and get in those 10,000 steps!


Alternatives
Look at different options available to you. Maybe you can't afford to belong to that $150/month yoga studio. However, one of the studios in your area may offer free community classes. Your favourite instructor could offer free yoga classes in the park near you too.

Take a look at other gym options too. The YMCA may be more in your budget!

Last, but not least, many studios offer new client discounts. Hop around and try different studios while reaping the rewards of their new client memberships and trials for less.
Don't Forget Sleep
Surprisingly, sleep is one of the most budget-friendly ways to keep healthy. Yep, you read that correctly. Sleep is one of the most valuable things you can do for your body and health. Without doubt, it is because your body needs that time to recover and rejuvenate.
You should be aiming for 7-8 hours a night. You also want to get quality sleep. Some tips to help you get a good amount of sleep are:
Try to slowly adjust your bedtime to an earlier time
Stay in your sleep routine on the weekends
Avoid blue light from the screens in your house at least 60 minutes before you go to bed. Blue light can stimulate your brain.
Make sure your room is dark, with no distractions or noises. If that's impossible, use a sleep mask and/or ear plugs.
Set the temperature to around 20 degrees Celsius. This is the optimal sleeping temperature.
Take a hot shower or bath before bed. The heat will make you sleepy.
Do something relaxing such as reading or meditating about 30 minutes before bedtime.
What are some of the inexpensive ways you invest in your health? Share with us!