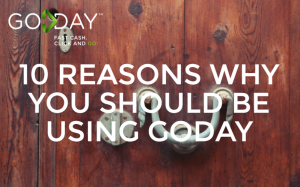 When it comes to payday loan companies, we like to keep it simple; fast cash for you with the security and professionalism along with it. It's no surprise that the market is changing, so why walk into a store when you can get the cash you need online in as little as an hour? We give you ten reasons why you should be using a GoDay as your online payday loan lender compared to traditional ones.
No fuss, no muss
Speedy, smart, secure, that is the GoDay way. GoDay partners with the most reputable financial institutions and uses the fastest tools in the industry to ensure you get the speediest service possible. We accept and approve online loan applications 24/7.
Need help? Just ask!
Unlike many online lenders, we do not exist in cyberspace alone, we have real people ready to help you along the way. For any questions or concerns feel free to contact us online or even give us a call and one of our customer service representatives will be able to assist you.
What see is what you get
Nobody likes surprises when it comes to money, that's why here at GoDay there are no surprises. No hidden fees or extra charges on top, we disclose all fees up-front, including those you'll be required to pay if you default on your loan.
Location, location, location
Because we're online you can apply for the loan you need virtually anywhere. Not to mention we're mobile friendly, so there is no need to go into a physical store, save time and apply from any device in the comfort of your own home or on the go.
Privacy and security
We understand and value that your information is private, which is why we have security top of mind. This is all a part of our responsible lending strategies here a GoDay as we are compliant with provincial loan regulations, which means you're protected legally with every cash advance. Our customer service representatives can also help to answer any questions you may have with respect to your privacy, your obligations, and your rights.
Communication is key
We let you know the process every step of the way. From our instant approvals process to email notifications for the status of your loan, you will always be in the know. And if you ever have questions, as we mentioned we have our customer service team waiting by for any questions you may have.
Options
With most payday loan companies, when you go into the store you are given a loan after a lengthy process and sometimes you don't always know the outcome. But when it comes to GoDay, you can use our online tools and customize the loan that works best for you. That's right, everything from the amount to the payment options.
Resources
Not only do we have our easy to use application process and step by step guide along the way, but we also have the GoDay café, our personal blog giving you a resource for finance related tips and tricks. On our website, we also have our Finance 101 section. Finance 101 is our learning centre where you will find handy calculators, links to credit counsellors, useful apps, budget worksheets, and more. You can also follow us on social media for the latest in industry news.
Responsible lending
We pride ourselves in our responsible lending practices. Some lenders would be willing to give you the shirts off their backs if they could charge you interest indefinitely. Not us. Our short-term cash-flow solution is intended to help get you back on track – not further off it. That's why we place a ceiling on how much you can borrow: up to $500 as a new customer and up to $1500 as we establish mutual trust.
100% Canadian
It's true! With physical office locations in both Toronto and Vancouver, GoDay.ca may be a virtual online company, but we are founded and run here in Canada.
Have any questions about online payday loan lenders or GoDay? Let us know in the comment section below or feel free to contact us.