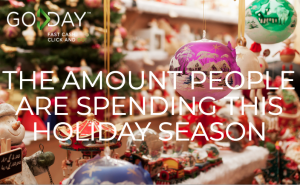 It's no surprise that December is the most expensive month of the year, but do you know how much you're really spending this time of year? The amount people are spending this holiday season is up again from last year, averaging about $482 on gifts just this season alone. And that's just gifts!
According to The Globe and Mail, a new CIBC survey found that spending is up 8 percent this year from last year. Needless to say, consumers are financially stressed. Would you agree with nearly two-thirds of those were surveyed calling their holiday spending "out of control"? Do you expect to go over budget like half of the survey respondents?
As much as more people wish they could save more money (instead of spending it) this time of year, be ready to budget approximately $643 on gifts and another $300 on decor and entertaining. That's almost a thousand dollars just for the holidays! And that doesn't include Boxing Day shopping, one of the biggest shopping days of the year.
Are you spending more than you would like this holiday season? If so, you're not alone. But it's because spending continues to grow over the holidays, people are finding different ways to budget and be prepared for the busy holiday season. Not only does setting aside a reserve fund (or something like your holiday savings account or holiday emergency fund), help curb spending, but people are starting their holiday shopping way earlier. Thanks to retailers having Christmas decorations out during Halloween these days, this helps to give consumers a little more wiggle room in terms of money coming in and in terms of retail deals and not spending as much in a shorter time period.
It's also not just about how much you're spending this holiday season, but how you're spending. Cash, debit, credit? What is your form of payment? According to Interac's point-of-sale data, Canadians made over 24 million transactions and spent over $1.2 billion on Friday, December 23, 2016, and they are predicting December 22, 2017, to be the busiest shopping day this year with 25 million debit transactions projected on that day. So get those taps ready if you still have some holiday shopping to do! Don't say we didn't warn you to stay away from the malls on these days.
Is your budget ready for the holiday season?