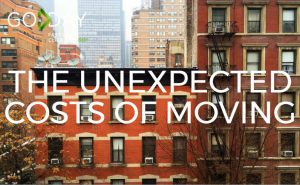 When it comes to moving, there are many surprise costs that can come up. You would think that moving to a new property it is the physical place that you are moving into that is the only thing that is going to cost you, but you would be surprised how much moving from one place to another can quickly add up. That's why we have rounded up all of the costs you forget to think about when it comes to moving so you can focus on a smooth transition into your new place.
Movers or no movers?
A lot of people want to save money when moving and not hire movers or a moving company and do it themselves. Depending on the size of your place and how much furniture you have, hiring a professional moving company can be an investment in making sure none of your personal belongings or furniture gets ruined during the process.
Moving Materials
It's the boxes, tape, markers, bubble wrap and even with all of that something is bound to get broken. And these materials don't come cheap, especially since you may need a lot of them depending on your place.  If you live in Ontario try and save yourself some cash and get boxes from places like the LCBO and the grocery store who will give them to you for free.
Utility Transfer Fees
Hydro, cable, water, internet, and every other bill we pay will all need to be moved to your new address too. And canceling and reinstalling these types of things definitely come with a price. If possible, see if you can get some of these services transferred to your new address (depending on distance some companies won't charge you if you choose to stay with them). This is one of those must-do things that people usually forget about until the last minute when it comes to moving.
Storage
There are times when storage and lockers are needed. Storage lockers can be a great temporary solution when getting all your items organized and sorted out, but at the same time can add up if it's needed as a long term expense. It's also very common for condos (especially in bigger cities like Toronto) to come with a locker and if you don't need the space you can try renting it out and making some cash off it.
Cleaning
Whether you're moving in or moving out, a good scrub needs to be done. And you can take on that yourself but remember those cleaning supplies also come at a cost. You can also hire a professional cleaning service, and may be a good idea depending on what shape your place is in and how the previous tenants have left it.
No one wants any added stressors when it comes to moving so make sure to keep these tips in mind.