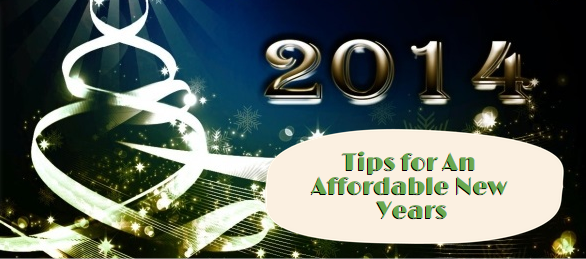 Have yourself an afforrrrrd-a-ble New Year's…
Er, sorry. Still have Christmas music stuck in here somewhere.
You're probably reeling from the massive expenditure that is Christmas & Boxing Day, so the idea of yet another party probably seems a bit overwhelming (emotionally, mentally, financially…you name it).
If you had a really fast-paced Christmas, there's nothing wrong with toning it down for December 31st. In fact, there's never anything wrong with low-key events. That being said, here are our best suggestions for keeping New Year's Eve affordable and yet still enjoyable!

Sure, a bar might be a good time, but have you checked the latest cover prices? Yikes! Some bars charge over $20 just to get in! Throw in the cost of food and drinks, you could be looking, very easily, at $50+ per person. Let's not add that to the credit card bill, shall we? If you must go out, hit up a local restaurant that might be having a special NYE event. Some may request a charge for entry, but more often than not, it's a flat rate for food, entry and entertainment! And at a restaurant, you're at least guaranteed seats!

Don't want to go out? Staying home is always a great option, not to mention possibly a bit safer than being on the road after midnight. If you're having a party at home, make it BYOB, especially if it's a large crowd. Guests generally ask to bring something anyways, right? This way, you control the environment, the food, the music and best of all, the budget! What's not to love about that? (except maybe the after-party clean up).

This works either at home or out on the town! Use that Netflix subscription, hit up the Walmart $5 bin or ask your guests to bring their favourite DVD! Couple this with BYOB and the potluck, and you've got a smash-hit evening.
A creative twist on this evening is pulling out your cell phone and taking video of your own, turning it into a memory-movie of your very own! Share it with your friends, or make it editable for everyone to add their own clips.

We're a big fan of Apples & Oranges in the office (and it's more, shall we say, dark side counterpart), Monopoly (gee, shocker right?) and we'll eventually get around to Settlers of Catan. There's really nothing like a round-table of friendly competition. Hours pass smoothly and quickly with any game. If you're feeling particularly competitive, set up a tournament evening! If your friends and family are less of the physical game type, pull out that gaming console or set up a LAN party.
As for food, make it a potluck! The preparation and cleanup is negligible compared to other options, not to mention it's affordable for everyone.
 Have yourself a safe and happy New Year's! If you could use a little extra cash for the celebration, head over to GoDay.ca. New customers can be approved for up to $500!