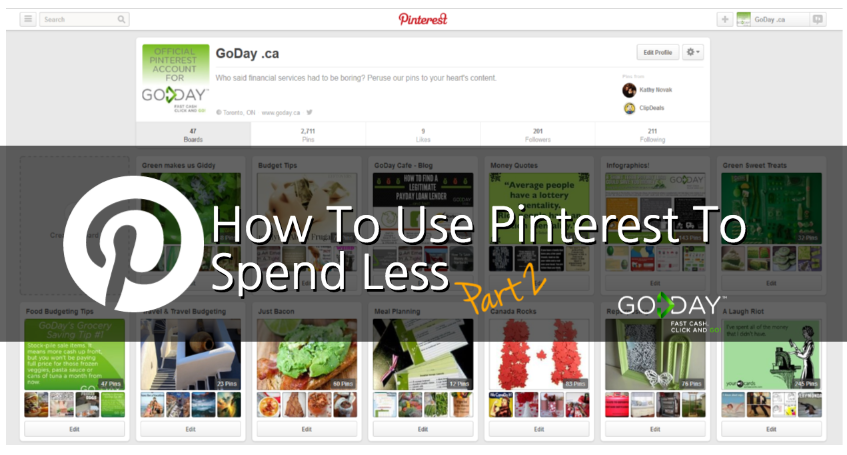 Short Term Loans | GoDay.ca
Last week we had a short intro into Pinterest for those who are unfamiliar with the platform. For those of you who skipped that step, welcome! We're about to embark on a money-saving, waste-preventing journey together. At least for the next two weeks.
Budget Resources
If Pinterest is known for anything, it's the community of budget-savvy bloggers who share their content for all to see. Before you start your money-saving/waste-prevention adventure, you first have to have it well planned! If you're looking for ample free worksheet downloads or organizational how-to's for your paperwork, then searching for the terms, " budget organization " or " budgeting tips " will yield thousands of results.
Search by individual pin, as specific or as general as you wish, or select entire boards where users have already curated their own pins. You can find free downloads of worksheets for grocery planning, home renovation planning, weekly or monthly general house budget plans and so, so much more.
Canadians might have to dig a little to find maple-leaf-specific information (if that's what you need) but the logic behind most of the tips can be applied to any budget, regardless of country of origin. If you want a good place to start, check out our Finance 101 page for links to free calculators, spreadsheets and more.

Comparison Shopping Board
Whether you're about to start Christmas shopping, birthday shopping, computer shopping, car shopping or you're simply adding to the goods in your home, it's always intelligent to comparison shop (impulse-buys are a big no no). What a better way to do your research than to pin the items you want from various retailers onto a specialized board so you can weigh the pro's and con's quickly and easily?
An added bonus? Many retailer's websites will email you if there's a price change in the item you pinned, so you can get real-time updates on the best prices using an app called HOVR.IT  One of the very best features about this app is that it connects you to the items you've already pinned (but don't know the store they hail from). Amazing!
The options for this are endless; use boards to compare the pricing of literally any tangible good in existence. And don't forget – if you're shopping online, there are Canadian retailers that ship for free; you just have to know how to find them (oh look, we can help right here). Happy shopping!

Coupon Curating Board
Oh, Pinners love their coupons! Say goodbye to thick binders or messy piles and drawers filled with your coupon clippings. Organize them online using pin boards! Prepare them by category (food, clothing, services, etc) and print them up when you're ready to use them. This method works wonderfully in combination with coupon subscription websites, which often have "pin it" buttons already available. Efficiency – it's a beautiful thing.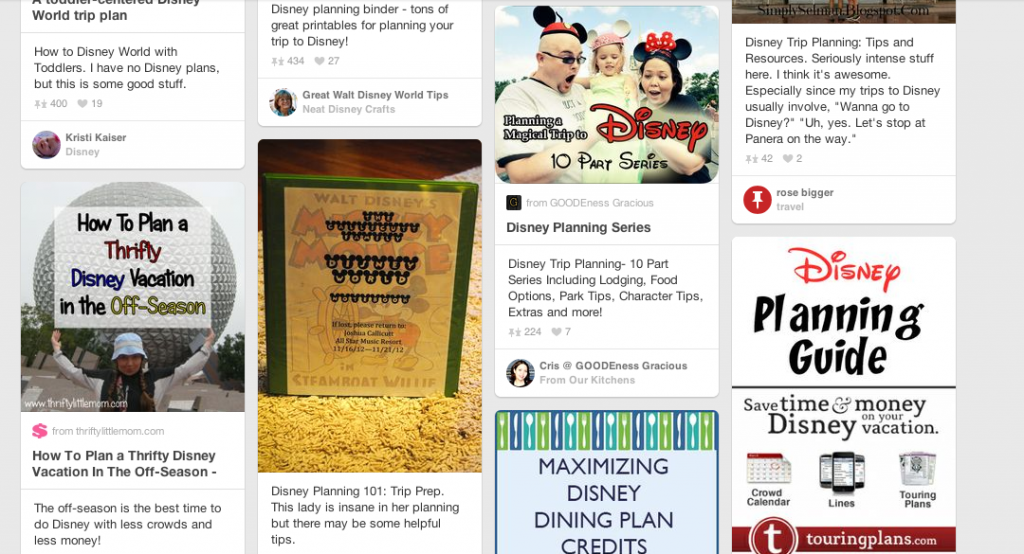 Vacation Planning
Going to the caribbean?  Backpacking through Europe? An exotic trek through Australia? No matter where your travels take you, Pinterest can help you not only plan every last detail of your trip in beautiful colour, but can also serve as inspiration for where to go as well! Once you've decided where you're going, plan your activities with matching images, food you want to try, sites you want to see, tours you want to take – you get the picture (ha, pun).
Like with the first tip suggestion, you can find free printables that will help you organize your vacation budget, timetable, packing list and more. Additionally, you can find location-specific tips, especially for theme parks or very popular destinations that have insider tips or frequent-traveller secrets (Disney guides are particularly popular)!
Check back next week for part three, where we'll discuss event planning, home reno projects, pet care & tech!