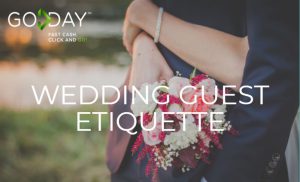 Wedding season is quickly approaching and whether you're in the bridal party or just a guest planning on attending a wedding, you are going to want to make sure you know the in's and out's of modern day wedding etiquette for guests who will be attending weddings. That's why we created a list of some of the key things to keep in mind for when you have an upcoming wedding:
Turn off your phone
They created silence and vibrating modes for a reason. The last thing anyone wants to hear is cell phones go off during the ceremony or speeches. Once the music is playing and the dancing has started, feel free to turn it back on.
Don't be late
Weddings are one of those events that everyone has to be seated for before the wedding party can walk down the aisle and as much as weddings usually run late, you should try not to be.
RSVP
The happy couple is counting on you to let them know whether you're attending or not. Make sure to RSVP as this affects things like food, accommodations and seating charts.
Don't assume
Unfortunately, it is not your special day; you are there to celebrate someone else. So don't assume when it comes to your invite. Things like automatically having a plus one, bringing your children, and dress code are all things that the bride and groom make the decision on.
Gifts
Gifts are a tricky one when it comes to weddings. Some people like to give cash, some people like the bride and groom to be able to open something. No matter your preference, stick to the basic gifting rules according to wedding planning website, The Knot. Tips, like sticking to the registry or going in on a big group gift, are some of the tips that can help with gift giving this wedding season.
Have fun, but not too much fun
The bride and groom want you to have a good time! And if they are providing an open bar they are doing that as a courtesy. But there is a difference between celebrating and having one too many drinks.
Dress code
Out of respect for the bride, please don't wear white. Usually, the invitation will let you know whether or not there is a specific dress code but always dress for the venue. If you know the wedding is outside, do you want your stilettos sinking into the grass all afternoon?
Do you have any wedding etiquette tips? Let us know in the comment section below.