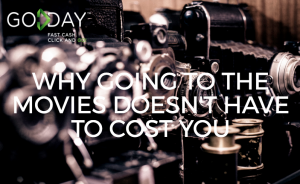 When you're looking for something to do, watching a movie is still a classic event. But going to the movies shouldn't have to cost you a pretty penny. That's why we've rounded up all of our favourite tips and tricks that will help you save when you want to watch the latest flick.
Cheap Night
Most movie theaters have one night of the week where they will give discounted movie tickets, all the way up to half price! Known as "cheap night", going to see the latest flicks on this specific night of the week can save you some serious dough because as we all know, movie prices (like everything else) only continue to rise. So next time you want to head to the movie theater, head on the night that's going to save you cash.
Coupons
Whether it's the Costco value packs, or certain online promos, for the bigger theaters like Cineplex, you can often find coupons! They do many partnerships with food brands, and back in the day, you could even get movie tickets from your cereal boxes! Search online to see what coupons may be available for your local theater as websites like Groupon feature local deals and can include movie and snack packages.
Netflix
There's a reason why "Netflix and chill" is a thing. Why go out, when you can stay in? The selection of movies and shows Netflix has is amazing! Even if you cannot find the specific movie you're looking for, there will be plenty of the same genre to choose from. Netflix doesn't have the latest releases, but their selection still has some of the newest and latest hits of the year. And for only $8-12 a month, you're getting movies and TV in one.
Snacks
Movie theater popcorn is a weakness of ours too. But when it comes to the concession stand and snacks at the movie theater, they can be quite expensive. So if you're trying to save money, skip the snacks or look for any of those movie snack coupons we mentioned above. You can also split or share your favourite movie treats if you are still craving a snack and want to save some dough.
The movies are a go-to when looking for something to do. Whether that be date night, girls night, or a night out with the family. What's your favouriite money-saving movie tip? Let us know in the comment section below.