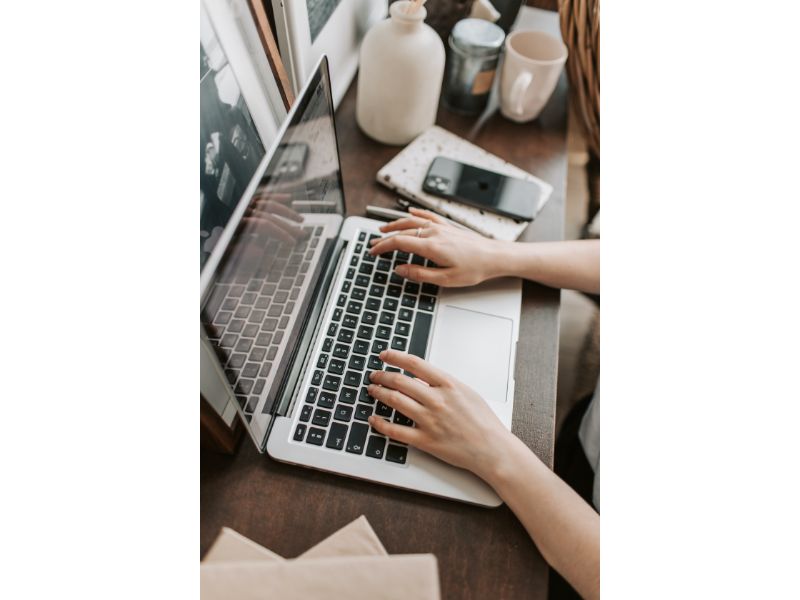 Online loans may not seem the most likely way to get money when you need it quickly. You may think it is faster and more efficient to apply in-person. However, you will need to take time out of your busy day to visit an office. You'll also need to find parking and perhaps wait in line too.
Luckily, you'll sidestep all these drawbacks when you apply online. You can do so from any device and at any time of the day, making the process more convenient.
Nonetheless, some people worry about the safety of borrowing online and whether they'll obtain the best terms. We're here to put those fears to rest.
You may be surprised to know that online lines are often a superior choice, not a sub-par one. Online loans offer many benefits beyond convenience.
You'll Probably Reveal Less Personal Information
We all hate filling out application forms. They can be lengthy, ask plenty of personal information, and take a lot of time to complete. This is particularly true when you want to borrow money and you're under financial stress. Traditional lenders want you to provide very detailed information to judge your stability and reliability.
Fortunately, a good online lender usually asks far less information than a traditional lender. For instance, they will probably only ask you for your most recent employment information, not over the past five years. They probably won't care where you lived three years ago either. They're more interested in your ability to repay your loan now.
Technology Eliminates Proof of Income
In-person loans almost always require that you provide the lender with proof of income. Conversely, online loans usually don't require it. You won't need to dig up old pay stubs or contact your employer or accountant for an income statement.
Instead, modern technology allows a good online lender to verify your income through your bank. They do this digitally, which saves you time and hassle. There's no need for document uploads and the lender can easily transfer funds once you're approved too.
This doesn't mean an online lender can peer into your personal affairs. Nothing could be farther from the truth. You verify ownership of your account through a 128-bit SSL encrypted portal. Then your bank sends the lender electronic copies of your statements. That's it.
Licensed Lenders Greatly Reduce Risk
Regrettably, some shady online lenders do exist. However, you can easily avoid them by choosing a lender that's licensed in your province.
Licensed lenders must adhere to provincial and federal lending laws, which are very precise. They must behave responsibly and ethically, otherwise they can face legal consequences.
Consumer protections are always important, but especially when borrowing online. You can't walk into a local office to speak to someone if you don't like what's happening with your loan. However, you do have recourse if a licensed lender doesn't handle your loan appropriately, including filing a complaint through Consumer Protection or Consumer Affairs in your region.
If you're concerned whether an online lender is reputable, we suggest you check whether they have a license in your region. You can find this information by searching "check for payday loan license in…" Input the company name to verify they are licensed, or not. Here are links to some of the provinces for your convenience:
Alberta
http://www.servicealberta.gov.ab.ca/find-if-business-is-licenced.cfm
British Columbia
Nova Scotia
https://data.novascotia.ca/Permits-and-Licensing/Licensed-Payday-Lenders-in-Nova-Scotia/kjbw-et7g
New Brunswick
https://portal.fcnb.ca/LicensedPayDayLenders/
Ontario
https://www.ontario.ca/page/search-business-licence-registration-or-appointment
PEI
Email: [email protected]
Saskatchewan
https://fcaa.saskatchewan.ca/apex/f?p=200:9996:0::::CMS_SITE,CMS_PAGE:FCAA_411,PAY
It is important to note that licenses are required in many regions, whether the lender operates in-person, online, or both. Nonetheless, that doesn't mean all companies comply. It is up to you to check. Otherwise, the lender could charge you high, open-ended fees and use unethical practices too.
Luckily, reputable, licensed lenders are legally-obliged to reveal all fees upfront. All fees and penalties as well as the interest they can charge for the loan are limited by law.
Legal Loan Limits Protect You
If all you require is a small amount of money quickly, payday loans are usually your best option. The Canadian maximum for these online loans is $1,500. However, in some regions the lender may be legally obligated to limit that amount to 50% of your take home pay.
These loan limits are meant to protect against accruing too much debt. While online loans offer convenience and quick cash, you won't want to take on more debt than you can afford.
When you require a higher amount, your best bet is an online installment loan. These offer more flexible terms, but may also have more stringent requirements. Fortunately, some online lenders automatically check to see whether you qualify for an installment loan when you apply for a payday loan.
Your Credit May Play A Lesser Role
Online lenders often use their own scorecard to help them decide whether they will lend to you or not. This process examines many factors and often credit plays a lesser role.
Additionally, a good online lender will use a "soft" credit inquiry if they decide to check your credit (this may or may not happen for small online loans). A soft credit inquiry gives the lender a broad overview of your finances, but it does not impact your credit file.
Unfortunately, some lenders use a "hard" credit inquiry. It gives them all your credit details, but it also lowers your credit score. Plus, the inquiry stays on your credit file for other lenders to see, even if the lender turns down your application.
They Can Be Incredibly Fast
We mentioned that one of the greatest advantages of online lines is convenience. However, the time between application, decision, and funds release can also be incredibly fast.
In many cases, funds will be in your bank account in less time than it would take to drive to an in-person lender's office. At the very latest, you could have your money within 24-hours. All this can occur without getting out of your chair.
Automated Processes Eliminate Hassle
Good online loans never involve office visits. The reputable, licensed lender of your choice reveals your costs upfront. You decide whether you want to borrow before you provide them with your personal information.
Should you agree to the costs, you can complete your straightforward application form within minutes. A good lender will let you know whether you're approved within minutes. Once submitted, it only takes a few minutes for the company to reach a decision. If approved, all you need to do is agree to the terms and sign your loan documents digitally.
Repayment is also very simple. Short-term payday loan repayment occurs quickly and automatically. Usually, this occurs on your next payday after a full two-week pay cycle. In some provinces, this may be extended to no more than 62 days.
Basic Requirements for Online Loans
With so many online lenders and so many loans available, it is impossible to provide set lender requirements. However, lenders usually expect at least a reasonable, steady income, permanent address, and an active bank account.
Of course, you will also need to provide personal information for verification purposes if you agree to the lender's costs. Thankfully, licensed lenders must adhere to applicable data privacy laws. They can't sell or share your data with others, unless the information is specifically used during the loan approval process.
Top-Notch Customer Service
The best online loans also come with excellent customer service options. Good lenders offer multiple contact options so their clients can get the help they need quickly.
Unfortunately, not all online lenders are Canadian companies. Fortunately, some are and they are highly-recommended. This ensures you're dealing with Canadian customer service representatives and Canadian laws take precedence.
Look for a company that offers email and website support, as well as a toll-free number where you can talk to an actual person. Their website should also provide an in-depth help section that answers common questions.
GoDay Payday Online Loans
GoDay wants to show you why so many Canadians choose us for their online loans. Here are our simple payday loan qualification requirements:
Canadian resident over the age of 18
Permanent address
Active account with a Canadian financial institution
Steady income paid through direct deposit
Valid personal email account and telephone number
Here's what we can offer you:
100% Canadian – we were founded here and all our employees live and work here. We offer website and email support as well as a toll-free number for live assistance.
Licensed – we're licensed to lend in BC, AB, SK, MB, ON, NB, NS, and PEI and must meet the requirements of The Payday Loans Act and the Business Practices and Consumer Protection Act in each province.
Professional – active member of the Canadian Consumer Finance Association
Established – we've been lending to Canadians since 2012
Reputable – long-standing member of the Better Business Bureau with an A+ rating
Trusted – Excellent rating on TrustPilot, based on over 1,700 customer reviews
Industry-recognized data encryption – we use the latest data privacy measures and best practices to protect your personal and financial data. We never share your data with third-parties.
Financial scorecard – we look at many factors, not just your credit. If we do check your credit, we use a soft credit inquiry.
Quick Decision & Funds Release – we know you need money quickly and we make it happen
Find Out More
Whether you are ready to start the application process or want more information, please visit our website. We make online loans safe, simple, and incredibly quick.