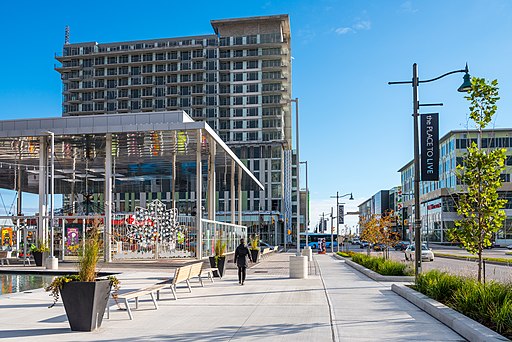 A Markham payday loan can offer you the money you need to meet an urgent need. However, with so many options it can be difficult to separate a good loan from a less desirable one.
Consequently, we're providing you with 9 important things to look for in a good loan and a good lender to make the process much easier.
1. An Online Markham Payday Loan is More Convenient
Many lenders only offer their Markham payday loan from a brick-and-mortar office. Others start the process online, but finalize the loan in-person. Finally, some lenders only offer online loans, which are much more convenient.
You don't need to take time out of your busy day to make an appointment. There's no dealing with traffic, looking for parking, or standing in line. You simply complete an online application form.
What adds to this convenience is that you can apply at any time. You needn't worry about whether the lender's office hours align with your own. If you're concerned about the online process, you can read about additional advantages you may not have considered here.
2. A Good Lender Simplifies the Application Process
Regrettably, many lenders make applying for a Markham payday loan a long, complicated process.
Firstly, you must complete a lengthy application form. Secondly, they may ask for details on where you lived, worked, and banked over many years.
Luckily, none of this is necessary when you choose a good lender and an online loan. They are only interested in your standing now, not your entire life history. Consequently, their application form is short and straightforward. You should be able to complete it in less than 15 minutes.
3. Select Lenders Automatically Consider You for An Installment Loan
A Markham payday loan may not be your only option when you want to borrow a small amount of money. Luckily, select lenders automatically review your application for an installment loan when you apply for a payday loan.
How can this benefit you? You could potentially take months or years to repay your loan. A Markham payday loan must be repaid quickly (usually in-full on your next payday).
Establishing a rapport with a good installment loan lender could also benefit you in the future. You will have access to bigger loans and potentially better interest rates.
An installment loan through a good lender could offer you as little as $500 and as much as $15,000. However, the maximum Markham payday loan is only 50% of the average of your last two pay periods, up to a maximum of $1,500.
4. Licensed Lenders Are Safer to Use
Even though all Ontario lenders should have a payday loan license, some ignore legalities. While you may not think that it matters who you borrow from, you should definitely choose a licensed lender for many reasons.
Firstly, if a particular lender does not have a license, they do not have government oversight. Basically, they can handle your data, loan, and your business in any manner they choose. You're essentially giving up your consumer rights.
Secondly, many unlicensed lenders aren't interested in granting you a loan at all. They want your personal data. If they get it, they can use it to obtain credit you are unaware of, until creditors start calling. Incidents of identity theft in Canada have risen at least tenfold in a decade.
On the other hand, licensed lenders only ask for your province of residence. If you decide not to borrow it is not an issue, since you did not provide your sensitive data. Of course, they will need more information if you decide to borrow.
Luckily, you can easily check whether an Ontario lender is properly licensed through the Ontario government's website here.
5. A Good Lender Provides Your Costs Upfront
Another important reason to choose a licensed lender is transparency. Unlicensed lenders aren't concerned about providing a good product and won't necessarily be transparent about how much you'll pay. Often times, open-ended fees are buried in the fine print of your contract and inevitably you will pay more since their higher interest rates aren't restricted.
Conversely, a licensed lender immediately shows you what fees, penalties and interest rate you can expect once you input your province of residence (fees vary by region, but they're limited by law).
6. Choose a Lender That Cares
Unfortunately, some fly-by-night lenders do exist. However, you can weed through them pretty quickly. Here's what you want to see in a good lender:
Great customer service options – these should include a toll-free number with Ontario business hours, email, chat, website support, and an in-depth website FAQ page
Good reviews on independent sites – Google doesn't give you the details you need when you're looking for a good lender. Check independent review sites like TrustPilot. You'll get better information on all aspects of the lender and their products.
Industry groups – does the lender belong to industry groups associated with short-term loans? If so, this shows they are committed to ethical practices and want to stay on top of industry trends and legislative changes.
Accreditation – does the lender belong to organizations such as the Better Business Bureau? If so, this indicates they aren't afraid of scrutiny and are willing to resolve disputes.
7. Important Income Considerations
A Markham payday loan doesn't involve a great deal of money. Nonetheless, many lenders want you to do a lot to get $1,500, or less. Consequently, it makes a lot of sense to choose a lender that makes income verification very easy.
A good online lender will not ask you to upload pay stubs or provide a letter from your employer. Instead, they use digital income verification to confirm your regular direct deposits. This is done quickly and safely, since data is fully-encrypted.
Additionally, a good lender considers many forms of income, not just full-time employment. As long as you earn your income through direct deposit, they will review your application. Potential income sources include self-employment, several part-time jobs, and pensions. They may even consider money earned through the Child Tax Benefit and the Disability Tax Credit.
8. Pre-Approval Process
Always choose a lender that uses a pre-approval process. This eliminates one of the biggest sticking points that stop people from obtaining a loan: a minimum credit score requirement.
Many lenders will only consider your application if you meet or surpass a certain credit score. Of course, they're not going to tell you what that is. However, lenders that use a pre-approval process rely on an a more robust artificial intelligence review which considers many factors, not just your credit.
Naturally, any lender will probably check your credit. However, the pre-approval process does not lower your credit score. A standard credit inquiry can reduce it by as much as 12 points.
Plus, if you're pre-approved you see what the lender's offering and there's no obligation. You can shop around for the best Markham payday loan without concern.
9. Fast Process
The best Markham payday loan offers a fast process from application to funds release. If you're pre-approved, all you need to do is accept the terms. The lender prepares your loan contract and sends it to you for signature. Your signature triggers the funds release process.
A good lender has money in your hands within an hour if you sign during business hours. Outside of business hours you should have your money as soon as possible the next business day.
The Best Markham Payday Loan Through GoDay
Before you decide on a lender, please consider these facts about GoDay. We believe you will find many reasons to choose us over the competition:
GoDay is a licensed Ontario payday loan lender
We automatically consider you for an installment loan when you apply
We offer a totally online process and have issued payday loans since 2012
Our company is 100% Canadian, including our professional customer service representatives
We're a proud member of the Canadian Consumer Finance Association, representing licensed payday loan lenders in Canada
Our Better Business Bureau overall rating is A+
GoDay has over 2,000 reviews on TrustPilot from clients with an overall rating of "Excellent"
Apply in less than 15-minutes
Various income sources considered
No proof of income required
Pre-approval – get our decision within minutes
Fast funds release – in most cases GoDay will have the money in your bank account within an hour, providing you apply during business hours. If you apply during the evening or on the weekend, you will get your money as soon as possible on the next business day.
Excellent customer service
Our Basic Qualification Requirements
GoDay is a transparent lender and we don't believe in wasting your valuable time. Consequently, we're providing you with our basic qualification requirements below:
At least 18 years of age
Canadian resident
Permanent address
Active account with a Canadian financial institution with at least three months of recent activity
Regular income paid by direct deposit
Valid email address
Active cellphone or home telephone number
Visit our website to start the application process, or for more information. We also offer tips on obtaining Ontario payday loans here.
Discover why so many people say we offer the best Markham payday loan. We make it easy to borrow.