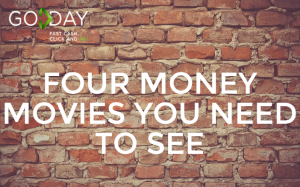 We recently saw The Big Short and it was from that movie that we were inspired to do more research on other movies that help depict the true stories within the financial sector that not all of us may have realized. There are many more films we could have featured, but for this post we wanted to start you off with some of the true stories surrounding finance world. Not only are these some of the most popular films based on money, but have also won numerous awards.
The Big Short
Based on the non-fiction novel, The Big Short, by Michael Lewis surrounding the United States financial housing crisis of 2007-2008. As told in three different parallel stories, The Big Short breaks down the story line for everyone to understand, as it is the Wall Street jargon that has been a catalyst to this financial crisis. Also up for numerous awards, this is the most recent film currently still in theaters and starring some of the biggest stars such as Christian Bale, Ryan Gosling, Brad Pitt and Steve Carrell.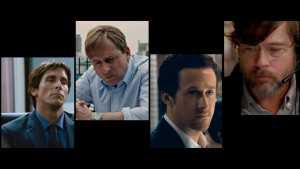 Photograph via The Big Short Movie
The Wolf Of Wall Street
Based on the true story of Jordan Belfort, The Wolf Of Wall Street tells the story of the rise and fall of a wealthy stockbroker who ends up in prison for getting involved in crime and corruption with the government. Starring Leonardo DiCaprio as Jordan Belford and Johna Hill as his business partner, The Wolf Of Wall Street was nominated for numerous awards including five Academy Awards. From what it's like to work on Wall Street and experience a market crash, to selling penny stocks and indulging in the stockbroker culture.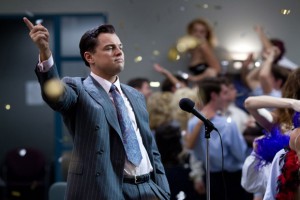 Photograph via The New Yorker
Inside Job
Released in 2010, this documentary, narrated by Matt Damon surrounds the true experiences also surrounding the 2008 financial crisis. In five parts, this documentary explores how changes in the policy environment and banking practices helped create the largest recession since the Great Depression. The Inside Job shows a comprehensive analysis through extensive research and interviews with key financial insiders and leaders, along with politicians, and academic professionals. The Inside Job won an Academy Award in 2010 for best documentary.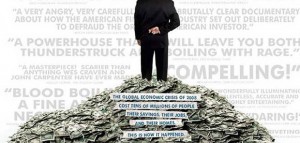 Photograph via CBC
Floored
Floored is a 2009 documentary based on the trading floors in Chicago, Director James Allen Smith specifically highlights several Chicago floor traders who were impacted by the electronic trading revolution and whose jobs have been threatened by the use of computers in the trading world. With technology making floor trading largely extinct, this documentary focuses on how everyone's role quickly changed and risks that were took in order to survive.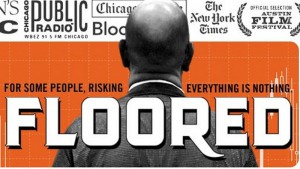 Photograph via Rotten Tomatoes
Have you seen all of these films? Or do you have another film that we should be adding to our list? Let us know which one is your favourite in the comment section below.