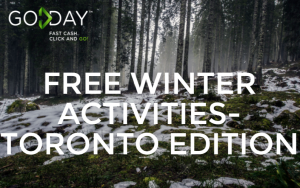 Even though it has been a mild winter here in Toronto, we still like to participate in Winter activities. Especially activities without a hefty price tag. Toronto always has a lot going on, and finding something fun to do doesn't have to cost you. So we created a checklist of fun, free things to do in the City to maintain the budget.
Ice Skating
Time to lace up! The City of Toronto has conveniently created a map for all of the public ice rinks throughout the City and to find the closest one to you, all you have to do is use the search function. These rinks are entirely free and, for the most part, open from 9 a.m. till 10 p.m., seven days a week. 
Photograph via City of Toronto
Back by popular demand, the Bloor-Yorkville Icefest is back for another year. Make sure to stop by the Bloor-Yorkville neighbourhood Saturday, February 20 & Sunday, February 21 from 12–5 pm to celebrate and watch a showcase of incredible ice sculptures and live ice carving demonstrations. This is also a family friendly event, as there are "ice kiddie cubes" with toys inside for children. All proceeds from this event go the Heart and Stroke Foundation, so spend an afternoon enjoying the neighbourhood and embracing winter.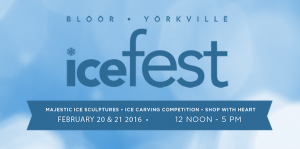 Photograph via Icefest
Who knew that the library had more to offer than books? A library card is definitely worth getting with the many perks that come along with it. There are numerous events, seminars and classes, for both children and adults at various branch locations throughout the City, all free to access for those who have a valid library card. Besides in-house programming,  the Toronto Public Library offers a Musem and Arts Pass (MAP) which gives you and your family access to Toronto's arts and cultural treasures for free. Places like the Art Gallery of Ontario, The Royal Ontario Museum and the Ontario Science Centre are only a few on the list to explore.

Photograph via Toronto Public Library
Hosted at the Richard Bradshaw Amphitheatre, in the Four Seasons Centre for Performing Arts, artists from around the world share their talent and passion in six series: vocal, piano, jazz, dance, chamber and world music. Admission is on a first-come, first served basis as seating is limited, so make sure you check the schedule for all of the concerts that are offered.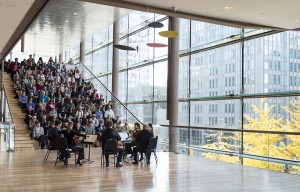 Photograph via Canadian Opera Company
What is your favourite free Toronto event? Let us know in the comment section below.