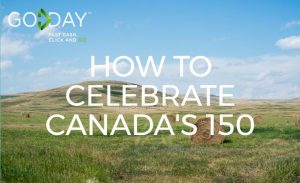 When it comes to Canada's 150th birthday, are you going to be celebrating?  With the Canadian dollar and economy the way it's been, Canada's 150th birthday is the perfect occasion to travel and explore Canada as most cities throughout the country will be hosting events to encourage celebrations.
Travel Canada
As we mentioned, there's no better time to take advantage of the beautiful country we call home. And with the number of events happening across the country, cities are planning for the festivities. So why not explore a Canadian city you've never been to before? Places like Halifax, Victoria, Winnipeg, and the list goes on, all have their events already listed on their tourism websites so you can start planning.
Company Promotions
Companies have been doing special deals and promotions, like Via Rail offering Canada wide travel for youth under the age of 25 for only $150 that instantly sold out.  But there are also other great events and activities to participate in. Like the  2017 Parks Canada Discovery Pass. To help celebrate Canada's turning 150, Parks Canada is giving away a FREE Discovery Pass for all of 2017. This pass gives you unlimited access and opportunities to enjoy National Parks, National Marine Conservation Areas and National Historic Sites across the country! Unfortunately, this pass does not cover camping costs, but will definitely save you money on any exploring for Canada's 150th birthday.
Participate
If you are a company or are just looking to be involved in the birthday celebrations, there are numerous opportunities to volunteer within many parts of Canada's 150th celebration. You can do this on a local level or volunteer as a Canada 150 ambassador. Head to the Canadian government  website for more details on how you can be a part of the celebration. The best part about Canada's 150 is that there are events you can take part in all year around. Some of the bigger celebrations will of course be over July 1st and Canada day long weekend, but there are continuous events throughout the year that you can celebrate. For example, right now spring is in full swing with flowers starting to bloom and as selected by the National Capital Commission in Ottawa for Canada 150, the tulips will have red and white petals that will echo the colours of the Canadian flag.
Are you looking for ideas or ways to celebrate Canada's 150? Don't worry, the Toronto Star wrote a great article on 150 ways to celebrate.