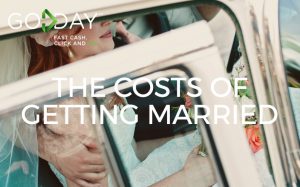 Wedding season is upon us! Global News did a feature piece on the costs that come with getting married and on average a wedding will cost you approximately $30,000 US. Wedding Bells magazine did a Canadian survey and found that in 2015 Canadian couples would spend $30,717 on a wedding that included the honeymoon. Needless to say, weddings aren't cheap. What do you think is a reasonable amount to spend on a wedding?
So where do the numbers above come from? Once you break down the costs of everything from the number of guests to the honeymoon and everything in between, when it comes to wedding planning, budgeting is key. "The average cost of a wedding remains close to US$30,000, with couples spending roughly US$250 per guest to attend," said Andy Whittaker of WeddingWire, the company behind the 2015 Newlywed Report.
Global News broke this down to a 120-person guest list at a standard wedding. The venue often eats up the largest chunk of the budget, when you look at the money typically spent on vendors:
Venue: $8,798
Catering: $6,877
Band: $3,848
Photography: $2,435
Rehearsal Dinner: $1,935
There are definitely costs that you are probably forgetting about to add to that list. Make-up and hair, all the traditions including your something blue, the list of costs continues.That's why there are so many wedding blogs, Pinterest Boards and "do it yourself" or DIY projects have become so popular when it comes to getting married. Did you know there are even resell websites and specific Facebook groups for couples to get rid of their wedding decorations, dresses, and more?
It's no surprise with the cost of things above why people are wanting to save money where they can. So if you are getting married it may be worth spending the extra time to recycle someone else's goods or get crafty when it comes to the details. Not to mention your wedding day will feel that much more special knowing how much work you personally put into making it how you've always wanted.
Remember this special day isn't just costly to you, but your guests have also made an investment in your marriage by helping you celebrate and if guests are going to more than one wedding in a season, it can add up for them as well.
Looking to have a small wedding instead? BlogTO recently did a feature on the top small wedding venues in Toronto to check out if you're not interested in having that average of 120 people at your wedding.