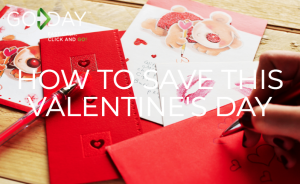 When it comes to special occasions, do you budget for them? Days like Valentine's Day, birthdays, Mother's & Father's day, these are all special occasions that come every year, but for most, it's a last minute way to break the budget. So how can you avoid splurging when it comes to holidays like Valentine's Day? We give you a few hacks on how to not break your budget on one of the most romantic days of the year because showing your love doesn't have to come with a price tag.
Don't give in to retailers
We've talked about retail marketers are getting you to spend your money, and this full applies for special occasions like Valentine's Day as well. According to Huffington Post, 60 percent of Canadians were planning to spend an average of $177 on their significant other. Just like how Christmas items are now available in October, you are starting to see red and pink hearts floating around window displays. Valentine's Day has become one of those days that everyone, no matter your age or relationship status now celebrates. So whether you're picking up Valentine's treats for your kids to hand out in the classroom, or heading out on a romantic date with your significant other, make sure you're staying within budget and not giving into the retail trap.
Back to basics
Forget the roses, chocolates and champagne, because those are the things that will cost you, and go back to the basics to make things just as romantic. Plan an experience or think homemade this Valentine's Day. Homemade gifts or going with the DIY route are simple yet thoughtful ways to show your appreciation for someone and makes any gift personal. You can easily do the same with creating your own Valentine's experience. Whether it's cooking dinner, making your own movie night at home, or planning a free excursion like a hike, it's about creating that quality time together.
Think budget
There are many couples that don't take Valentine's Day seriously, and would rather save towards something else. As a couple, you may decide that it is worth saving the funds you both would have spent on each other and putting it towards something else. Whether it could be saving for an upcoming vacation or planning an evening out on the town, make sure to talk budget with your other half to make sure you're spending your money wisely.
Valentine's Day is about spending time with loved ones, not about the cost or money. These ideas can help you enjoy the day with that special someone and not have to worry about the hefty price tag.