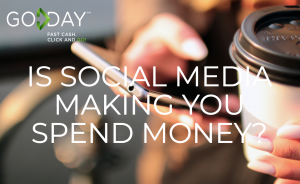 Are you spending too much time on social media? Scrolling, pinning, tweeting, liking. We're all guilty of it. And we're not saying it's a bad thing. Even GoDay has social media! And what do we do on social media? We promote our company, give you tips and tricks about payday loans in Canada and provide blog posts and financial resources for our customers. When it comes to social media from a business standpoint, especially one like ours- it's important to understand who's a part of the conversation. We like to know who is saying what about us and how we can use social media as a customer service tool to help provide a service for your payday or short-term loan.
Have you ever researched a company only to not find the information you're looking for? This is a frustrating experience for any consumer. This can include a business's social media presence. Something else that's very common is seeing social media business ads and brands active on some social media profiles, but not others. What about not being able to link back to a website and learn more? Social media and the web, in general, has become an endless resource for information and reviews. People evaluate a company based on their social media presence and how active they are. We often hear from our customers through our social media channels! But while online, have you ever made a purchase based off of something you've seen on social media? We break down all the ways social media can make you spend money as a new shopping tool for businesses.
Do you shop via social media?
So what have you purchased because you've seen it on social media? According to Inc, nearly 40 percent of American adults with social media accounts say that seeing other people's purchases and vacations on social media have prompted them to look into similar purchases or vacations, and more than 11 percent spent money after seeing someone else's post, according to a new poll by the American Institute of Certified Public Accountants. More than 20 percent of Americans adults with social media accounts say they have chosen activity or purchases based on how friends and family will view their post about it. As predicted, younger people are more likely to factor social media reactions into their purchasing decisions, with millennials more than twice as likely to say that the reaction of friends and family on social media affected their buying habits. So what does that mean? Have you heard of "do it for the gram"? What does this mean? It means you're only posting on social media (in most cases photos on Instagram) to show off the things you're doing, travel, purchases, etc.
Each social media platform is different and has its effects. Entrepreneur shares a breakdown of the effects of each social media platforms spending including while Facebook does make you spend a lot of money, reports show that, of all social networks, Pinterest is likely to make you spend the most money. An analysis of close to 700 million online shopping transactions concluded that one average, a Pinterest user will spend around 70 percent more per order compared to a Facebook or Twitter user. Where Facebook users spent $95 per session, Pinterest users spent $170. Twitter users spent an average of $70 per session. In 2017, Facebook alone brought in $39.9 billion of revenue from ads and we cannot forget about Instagram – the leading social media platform with 1 billion people using the social media platform. Instagram, which was purchased by Facebook for 715 million dollars, is incredibly influential in product purchases. Business Insider breaks down that the vast majority of Instagram users, approximately 72 percent say they have purchased a product that they have seen on the app. In 2017, Instagram introduced Instagram Shopping, a tool that provides in-app purchases (a tool frequently used by both businesses and consumers) and has become the leading social media site for luxury shoppers. Shopping on Instagram gives businesses a unique opportunity, including an immersive storefront for people to explore products. Shoppable posts give merchants more tools to display their products and guide shoppers toward purchasing items without immediately forcing them out of Instagram, improving the product discovery experience.
Shopping Digitally
When it comes to shopping, you have more options than ever with the Internet and our mobile devices constantly connected and having everything at our fingertips only a few clicks away. On average, Americans check their phone once every 12 minutes – burying their heads in their phones 80 times a day, according to new research the New York Post shares. This means changes in the retail market have advanced and created new ways to shop and that includes social media. And if a store isn't online, they're behind and missing out big time. As technology advances, so do our habits as a consumer. So what does this mean for retailers? Besides having to adapt to these changes, they need to be ready to provide not just products but also different services to meet these ever-changing needs. Things like being able to put their products in the hands of consumers everywhere such as on different social media platforms. This includes everything from being able to upload pictures and interactive concepts, to different types of payment and e-commerce methods, all while being flexible with things such from the start of the process to the end including shipping and returning as well.
Some people may not realize how technology really has changed the shopping game as it didn't happen all at once. This process was gradual and is constantly continuing to advance, creating more and more options for consumers. Everything from email promotions, to social media and apps, to delivery and online exclusives, the way we shop online has become its own and a new, yet completely different customer experience while shopping for the same items you would normally purchase in store. Some people may see this as a negative, but others have fully embraced it as our personalized customer experiences are continuing to grow. As a consumer, we want things that are personally relevant to us, and that is not something new. But the fact is we now expect this form of customer service because of these technological advances, and in the end, this is what creates a loyal customer base and makes it easier for us to spend cash.
FOMO
Do you suffer from "FOMO" or the "Fear Of Missing Out"? The Oxford dictionary defines it as: "Anxiety that an exciting or interesting event may currently be happening elsewhere, often aroused by posts seen on social media." This is something very common, because who wants to be the person missing out on something fun? What you don't realize is that these events and decisions can often lead to or have financial implications. Especially in the age of social media when you're seeing images and reading stories of what others are doing, this is how "FOMO" is created. The Toronto Star highlights that while millennials are the ones who FOMO is affecting the most, the FOMO phenomenon spans all generations, genders, relationship statuses, and income levels. In a FOMO-specific survey (yes, it is a real thing) 900 Canadians by RateHub, 25 percent said FOMO is their main motivation to shop and 70 percent believe that close to one-quarter of their debt is from FOMO overspending.
Of course, you want to also be traveling the world or attending that awesome event, but who doesn't? But is it financially feasible for you and your budget? Splurging here and there is one thing, but constantly being off budget and not worrying about your credit card statement because you're living in the moment is another thing. According to Tangerine, twenty-six percent of Canadians admitted to suffering from "FOMO". Of that demographic, forty-eight percent are millennial consumers, while only nine percent are of the baby boomer generation. Surprised? Not really, since "FOMO" mainly comes from outlets like social media as previously mentioned. This fear of missing out has been statistically proven to have purchase power as twenty-five percent of those surveyed saying that "FOMO" is their main motivation to shop. This is an alarming statistic because if this kind of spending goes unchecked, shopping habits and random purchases can quickly get out of hand. So next time you're on social media – don't be comparing yourself to what others are doing and suffering from FOMO, but enjoy sharing the awesome things you're doing!
The Role Of A Social Media Influencer
By now, I'm sure you've heard of the term "influencer", but where does it stem from? Influencer marketing is a relationship between a brand and an influencer or person. The influencer promotes the brand's products or services through various social media platforms such as Instagram and YouTube. Influencers are usually someone within a niche community or place and retain a loyal following (most influencers have a significant number of followers to reach a larger audience). They are also usually experts or have experience about what they are advertising and the brand they are working with. Influencers operate independently, creating their own content and integrating a company's advertising specifications into it. This promotes authenticity and can help reach a specific target audience. The monetary value of an influencer is typically calculated by the size of their social following as well as the platform they are using. Sprout Social breaks down how there always needs to be something in it for the influencer. This can be cash compensation, product gifting, promotion of their platforms by your brand, exclusive event access, or other possibilities depending on the influencers and their goals.
Here are a few recent surveys that have looked into typical influencer content creation rates. That's right – this is how much people are getting paid to promote products with the hopes of you buying them on social media.
Influence.co recently published the results of their research into Instagram influencer payment. They looked at the average cost per Instagram post and found:
The overall average price was $271 per post.
The average price for micro-influencers with fewer than 1,000 followers was $83 per post.
The average price for influencers with more than 100,000 followers was $763 per post.
Not long before technological advancements, scheduled television was virtually the only mass media consumers had access to and were one of the main platforms marketers used to advertise to the masses. Today, with the creation of the internet and the popularity of social media platforms like Instagram, Facebook, and YouTube, consumers have unlimited freedom and choice over the content they wish to view.
The Canadian Code of Advertising Standards already requires influencers to disclose any material connection they may have with a brand when posting about that brand's product or service. Strategy Online breaks down how these new guidelines are meant to address the "how" of properly disclosing those connections, whereas the Code – as well as similar guidelines from the Competition Bureau – cover what should be disclosed and why. There are also regulatory reasons brands should make sure the influencers they work with are making their material connections clear. As with any ad that contravenes the Canadian Code of Advertising, improper disclosure could open a brand to complaints from consumers, adjudication from Ad Standards' Standards Council and requests that the brand amend or remove the ad or content.
What Can You Do?
So, how can you make sure Facebook doesn't target you more and Instagram influencers are taking over your newsfeed? Instead of giving up or deleting social media (because it is used for so many great things) you can do things like set your saving goals- because knowing your goals will keep you on your toes and help you resist the urge to online shop or be the victim of an impulse purchase. You can also use social media less frequently- by spending less time on the apps you're less likely to see the targeted ads and branded posts and you can focus on your friends and followers.
Entrepreneur also breaks down that research conducted on the effects of social media shows that it can indeed make you spend more money. And most people believe that people spend money based on what they see on social media to make themselves feel better when really it's the other way round. People are spending more money because they feel good and they're posting it on social media for others to see. It seems like if social media isn't making you get depressed, it's getting you so happy you forget you have budgets to stick to. The key is to have controlled use. So make sure to watch out for those ads and sponsored posts while you're scrolling.