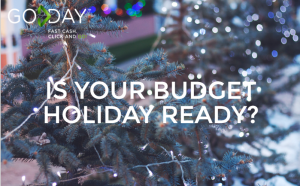 Now that Black Friday is over, it is the official kick-off to the holiday season. And when it comes to your budget, now is the best time to get your wallet prepared to avoid the looming January credit card bills. Is it possible to even avoid this financial hangover? Yes, that's why we give you all of our favourite tips and tricks to make sure that your budget is holiday ready so you and your wallet don't have to suffer come the New Year.
When it comes to the holidays it's more than just gifts that add up! Remember all the decorations, food (and we cannot forget about all the wine that comes with these delicious meals), wrapping, and all the little add on's that we always forget to budget for that seem to add up quickly.
So how can you get your budget holiday ready?
Start thinking ahead.
With all the deals that have happened for Black Friday and Cyber Monday, the deals won't end here. And there is no such thing as being too financially prepared for the holiday season. Between all the gifts and everything else we listed above that will need to be purchased, starting early will help your budget in the long run, and make keeping track easier.
You've of course been setting money aside for the holidays for months now to prepare your wallet, and have been waiting to top up your December budget. Keeping up with your regular monthly budget and making sure all regular expenses are not going to be missed is your first priority and then you can start to work out the holidays with that leftover budget. It's all about living within your means and getting creative when it comes to the holidays.
You would be surprised how many different ways there are to save as well, including going green this holiday season. There is no reason why you need to go out and get brand new decorations when you have the ones from last year in storage. Or with big events before the holidays like Toronto's One of A Kind Show, you will be totally inspired to go with Do-It-Yourself gifts and decorations this Christmas. Not to mention how DIY is always more significantly meaningful and trendy, but will also save you from overspending.
How many times have you had to run out to grab those last minute items? It's Christmas Eve and you've forgotten a to get dessert or your Uncles present so you run to the store paying any amount to just grab the items as quickly as possible, not caring about going over budget.
Don't let this be you this holiday season, be budget ready for whatever this holiday season throws at you.