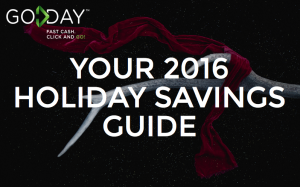 It's that time of year. December is officially here; and this means all you we will all hear are Christmas carols in every retail store and flashy decorations in every window. So now that Black Friday and Cyber Monday have officially come and gone, it's time to get ready for the holiday season and all the joy and spending that comes with it. That's why we created your 2016 holiday savings guide, to make sure you're getting the best bang for your buck.
Loyalty Rewards
Use them! This week alone, Air Miles retracted their previous statement from this year stating their miles will be expiring this month. So not only do they have some very angry customers, who have already tried to use up their miles thinking they would expire, but now there is a legislation in place that protects you and your loyalty rewards. And this is the perfect time of year to use them. Because the holiday season is already so expensive cashing in any points to help you save is a bonus. Not to mention this is also one of the best times of the year to also redeem rewards. Between spending cash and racking up rewards, it's becoming more and more common for stores to be offering bonus rewards for loyalty card members, which can also help when it comes to redeeming in the future.
Cash Back Credit Card
With the end of the year here, some people will be getting a cheque from their credit card company for all the money they've spent this year. That's right, cash back reward credit cards are one of the most popular credit cards around. And it's exactly what it sounds like; you get cash back for the money you spend all year round. Because of how much people spend in December with the holidays, this time of year can easily add up, so you mine as well get some money back to help pay off the bills come January.
Make A List And Check It Twice
Stay organized this holiday season, as it will be the best way to make sure you stay on budget. Everything from gifts to groceries, budgeting and making a list will help avoid those last minute purchases. It's easy enough to make the lists of everything we want for Santa, but it's not as fun thinking about all the things you need to buy to host your whole family for Christmas dinner. This is the most common time of year for people to overspend for the simple reason of holiday stress. So avoid making those financial mistakes this Christmas with the ultimate holiday list to keep you and Santa in check.
Go Digital
As we just saw with Cyber Monday, online shopping sales have never been higher. And to prove that the online shopping market is only growing, retail giant, Ikea reported their online sales grew 41.3% in 2016. Online shopping has also never been easier with retailers and they are making it it's own kind of shopping experience. Not to mention all the sales you can find in store you can also find online, but it is also becoming more and more common for online retailers to add online exclusives to encourage people to use their online store more often. And not just their online store, stores are coming out with apps that you can do online shopping from and include app exclusives too! Just make sure you do your shopping in good time, this is also the busiest time of year for the post office and you don't want to get caught having to pay the huge amount it can be for priority shipping and handling.
Now that we've given you a few of our holiday saving tips, which one will you take advantage of first?