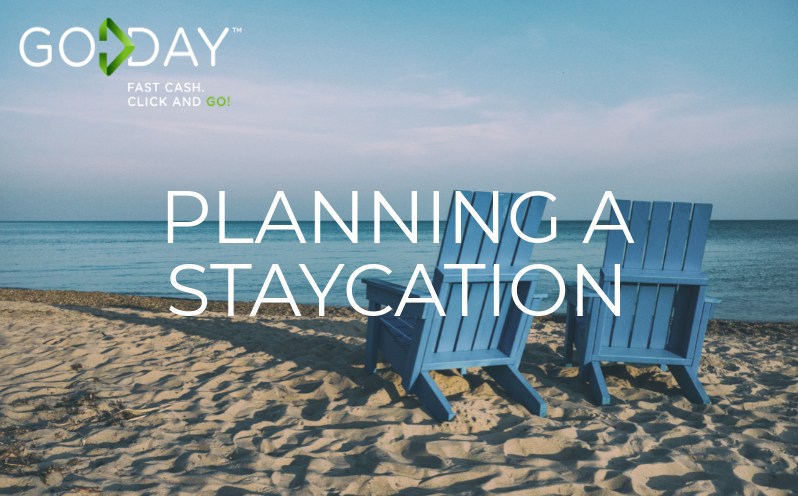 Not everyone can afford to take a vacation every time they have some vacay days to use up. On top of that, you may need to use your vacation days by a certain day, and that timeline may not work for the rest of your family, or your kids school schedule. For many of us, this means that a staycation is your only option for a little rest and relaxation to recharge from your busy schedule.

What is a staycation? A staycation is a vacation you take at or near your home, versus traveling far away to an exotic destination. This could mean a camping trip nearby, or quite literally, not leaving your town/house. Staycations have a ton of benefits, not just for your mental health when you take some much needed time off, but also for your wallet.

Vacations can be full of temptations. When you're traveling, you're eating out a ton, eating unhealthy, you're always on-the-go, doing different things, and sometimes, you come back feeling like you need a vacation from your vacation. Vacations are fantastic, and they're also important. However, a staycation can be incredibly underrated.

Here are some of the additional benefits of staying put rather than flying far far away for your next vacation…

The benefits of a staycation

Reduced travel time

One of the biggest challenges when planning a vacation is how much time you have or don't have. Sometimes you'd love to fly around the world, but the time you are given off just won't cut it. This is the best part about staycations. You can still explore and take adventures, but by them being in your own backyard, you don't have to worry about wasting a day or two traveling there, and back. Not to mention all the time wasted waiting around airports, and adjusting to jet lag.

You'll save money

This is one of the most important factors to taking a staycation. Often, we just don't have the money to take a trip to a far away destination, so a staycation can be the budget-friendly option. Traveling can add up quick. You're paying for eating out constantly, flights and transportation, baggage, a place to stay, and the list goes on. Staycations, however, can be as inexpensive as you wish, and can fit any budget. Which can make your wallet very happy when you're trying to save for other aspects of your life.

You can be a tourist in your own city

How often do we actually take the time to truly explore our own city? Often we take it for granted and have a long list of things we say "oh we should try that sometime" that we never get too. A staycation is the perfect opportunity to go see and do all those things on your list that you never normally have time to do. Go eat at that restaurant you've been wanting to try, or visit that museum exhibit you never have a chance to go to. If you really want some R&R, stay in a hotel for a night to feel like you're vacationing still without having to leave. You never know what gems you could discover right in your own backyard.

Can take along your pets & family
Obviously when you have a pet, it can be hard to go on vacation. Often times you're spending tons of money on boarding them while you're away. When you have a staycation, you can bring your pet along for the ride. Heading on vacation can also be tough when it comes to leaving loved ones at home that you care for. Perhaps your kids have commitments they can't get out of, or your parents need to be taken care of and can't travel far, a staycation can be the perfect opportunity to spend that much-needed time with your family and take them along for the local adventures.

Support the local economy
Supporting the local economy should be an important priority for everyone. Whether it's buying from local producers when possible, or traveling within your own city or country so the money stays within your local economy versus leaving it. To support your local economy on a staycation you can stay in a locally owned boutique hotel or Airbnb, you can eat at locally owned restaurants versus chains, and you can get out and explore the tourist attractions your own city or town has to offer. Take a vacation, and feel good about it, it's a win-win.

Planning a Staycation

A staycation can be a great alternative to a vacation. It can leave you feeling recharged and ready to face everything life throws your way afterwards. Now that you're convinced with all the benefits of a staycation, where do you get started? Here are our tips…

1. Figure out what you want to do

The key to a good staycation is to figure out what you want to do with your time off. Often when you don't plan what you want to do in advance, you'll end up either doing nothing, or filling your time with chores, or things that don't make much of a fun vacation. Create a bucket list for your staycation like going on a spa getaway or a hiking adventure.

2. Create a budget

It's important to have a budget in place for your staycation, because after all, you're probably doing a staycation so you don't spend a fortune. Just like you'd create a budget for a vacay away, do the same for your staycation. You don't want to get into debt on your staycation, but to splurge a bit is fine. You just don't want to end up spending the same or more of what you'd spend on a vacation.

3. Use online resources
Staycations are a great way to fall in love with your city, and there are often discounts for local residents to explore some of the major attractions in a city. For example, in Toronto, the Toronto Public Library has a select amount of tickets for museums, etc. for library card holders. Groupon could also be a great way to find deals and fun things to do in your city.

4. Rent a place other than your home
If you still want to have an escape from your home, you can rent a place on Airbnb or a hotel. A proper staycation is about experiencing your city in a new light, and there is no better way to do that than a change of scenery. Book a place in a different neighbourhood than you're used to, or a unique, different kind of accommodation you normally wouldn't experience. Another option is to house or pet-sit for a friend or family member if you're trying to stay on budget, or head on a camping trip nearby.

5. Be a tourist in your own city

When is the last time you explored a new neighbourhood in your city? Took time to visit that farmers market you always walk by or go into the local museums to check out the latest exhibits? These are always things we throw to the curb when we're busy in our everyday lives. Plan a route of somewhere new you want to explore, look up fun walking tours, free tours, or other events and experiences you can have in your own city. Go on the typical "tourist" route that you have probably never done yourself.

Here are some ideas on how to be a tourist in your own city:

Find a guide book of your area and pick out some activities that interest you
Take a road trip to a nearby area
Look for festivals, fairs and free events happening in your area
Visit local or regional museums or art galleries
Spend a day at a local or nearby park or beach
Do something active like rent a bike for a day
Stay in a nearby bed and breakfast or hotel
Create your own bar hop, brewery or winery tour
Spend a day at a local farm picking fruit or whatever is in season
Enjoy local pools, beaches or water parks
As you can tell, there are a ton of things you can do in your own backyard that you may never think to do, or have time to do. This is why a staycation can be an incredibly refreshing experience, and also eye-opening to how great your city or town actually is. If you're looking for more inspiration for the perfect staycation, here are some additional ideas:

Try kayaking or canoeing
Go for a hike in a local area or trail
Look into local programs or workshops you can sign-up for
Get a pair of rollerblades and explore a new trail
Spend a day at the lake. Swim, rent a small boat, explore trails, enjoy the scenery and the cool breeze or just soak up some sun.
Volunteer for a cause, or event that you care about
Find a needy person, or even a friend or family member that you can do something nice for
Camp in your own backyard, or at a nearby campground
Visit your local library and find a bunch of books or magazines that you would enjoy reading
Finish a project you keep putting on hold like redecorating your house, or printing out your family photos and organizing them in an album
Go to your local drive-in theatre, or find a drive-in restaurant
Organize a party or get together for your family, friends or neighbours
Use up those reward points that you've been accumulating and looking for something to spend them on
Staycations are an excellent alternative to a pricey vacation. They can refresh you and give you the rest and relaxation you need, without the hefty price tag. They can be great for in the summer when your kids are off school, or just to take on your own for a little pampering. What are your ideas and tips for a staycation? Share them with us at GoDay.