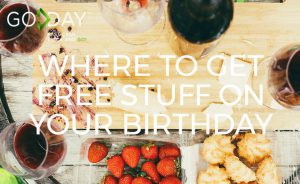 Who doesn't like getting free stuff? And what's a better way than to celebrate your birthday than to cash in on freebies? That's why we created a list of all the free stuff you should take advantage of so you can celebrate without having to spend a penny.
Scream for free ice cream! Sign up for the Baskin Robbins Club 31 and get coupons for buy one, get one free scoop of ice cream on your birthday and discounts on birthday cakes.
Yum! Start your birthday off with a smoothie! Sign up for Booster Juice's email newsletter, you'll receive a certificate for a free birthday smoothie.
Head to Boston Pizza to celebrate your special day and receive a complimentary dessert when you sign up on their website.
DAVIDsTEA
Join the Frequent Steeper club and you can get a free cup of any of the speciality tea's, on your big day.
This is a Grand Slam freebie! Sign up for the Denny's loyalty program and you'll get a free Grand Slam Breakfast on your birthday.
Sephora
To all the beauty lovers out there, all you have to do at Sephora is sign up for their Beauty Insider program (which has value of its own) and during your birthday month, you'll get a nice little complimentary gift package.
Starbucks
Let's be honest, who's not a part of the Starbucks Rewards program? This should be a required stop on anyone's birthday because a free drink and a 15% off birthday coupon for their online store; starbucksstore.com doesn't come often.

The Works Gourmet Burger
A free burger? You bet! All you have to do is join in their WIP (Works Important Person) loyalty program and you get a free juicy birthday burger on them.
What A Bagel
Now we're talking bulk items! Make sure you head to What A Bagel because with any purchase of six bagels on your birthday you get another six free with no sign up required, you just need I.D. to prove it's your birthday.
Do you know of any other great freebies to take advantage of on your birthday? Let us know in the comment section below so others can benefit from these great perks as well!