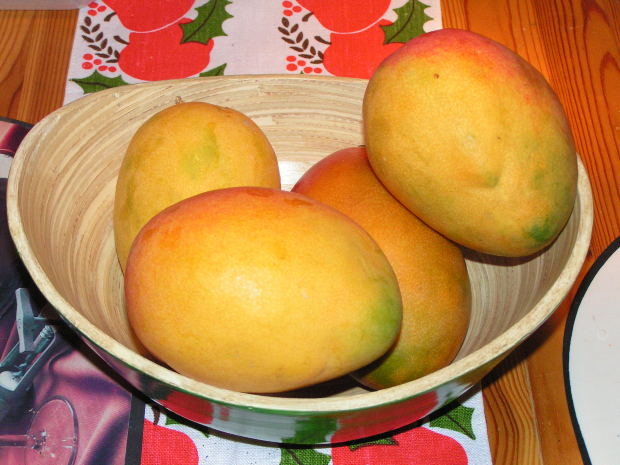 GoDay.ca | Short Term Payday Loans
Bring the tropics in with this delicious Mango Pineapple Salsa.
Watching your budget and think paradise fruit is too expensive right now? Good news – it's not! In Southern Ontario, we're looking at $4-$5 bucks for a bag of apples or $4 for a pint of strawberries! Meanwhile, enormous 3lb-5lb pineapples are on sale for $2.99. Is this a contest? Not in our books! You might even luck-out like we did and find a huge sale for $1 a pineapple! Check your nearest Loblaw's grocer for this deal – usually comes around about now.
It's the time of year where we'd much rather be on a beach somewhere south, soaking up much needed Vitamin D and enjoying fresh salty air. In all honesty, that vacation-y feeling can run us over any time of year, particularly the time when we start blowing our noses so much due to the cold, we sound like a Canadian goose in it's natural habitat.
One of our own has a special recipe to share, to help combat the winter-blahs. A piece of paradise, so to speak. So golden, she says, it'd be a crime to keep it to herself.
This salsa is quite versatile. You can eat it with tortilla chips, you can use it as a garnish or bake it in a tinfoil wrap with chicken or fish!
What You'll Need:
1 pineapple, skinned, cored, and sliced into chunks (I like longer chunks as opposed to cubes)
2 large mangoes, skinned
1/4 cup red onion, chopped
1 sweet red pepper, diced
1/4 cup fresh cilantro, washed and chopped
Juice of 1 lime (Note: This is a very strong amount for those who love the lime. Tone back to 1/2 of a lime if you want it to be more subtle)
1/4 cup of shaved coconut (unsweetened)
1 tsp sweet paprika
Pepper to taste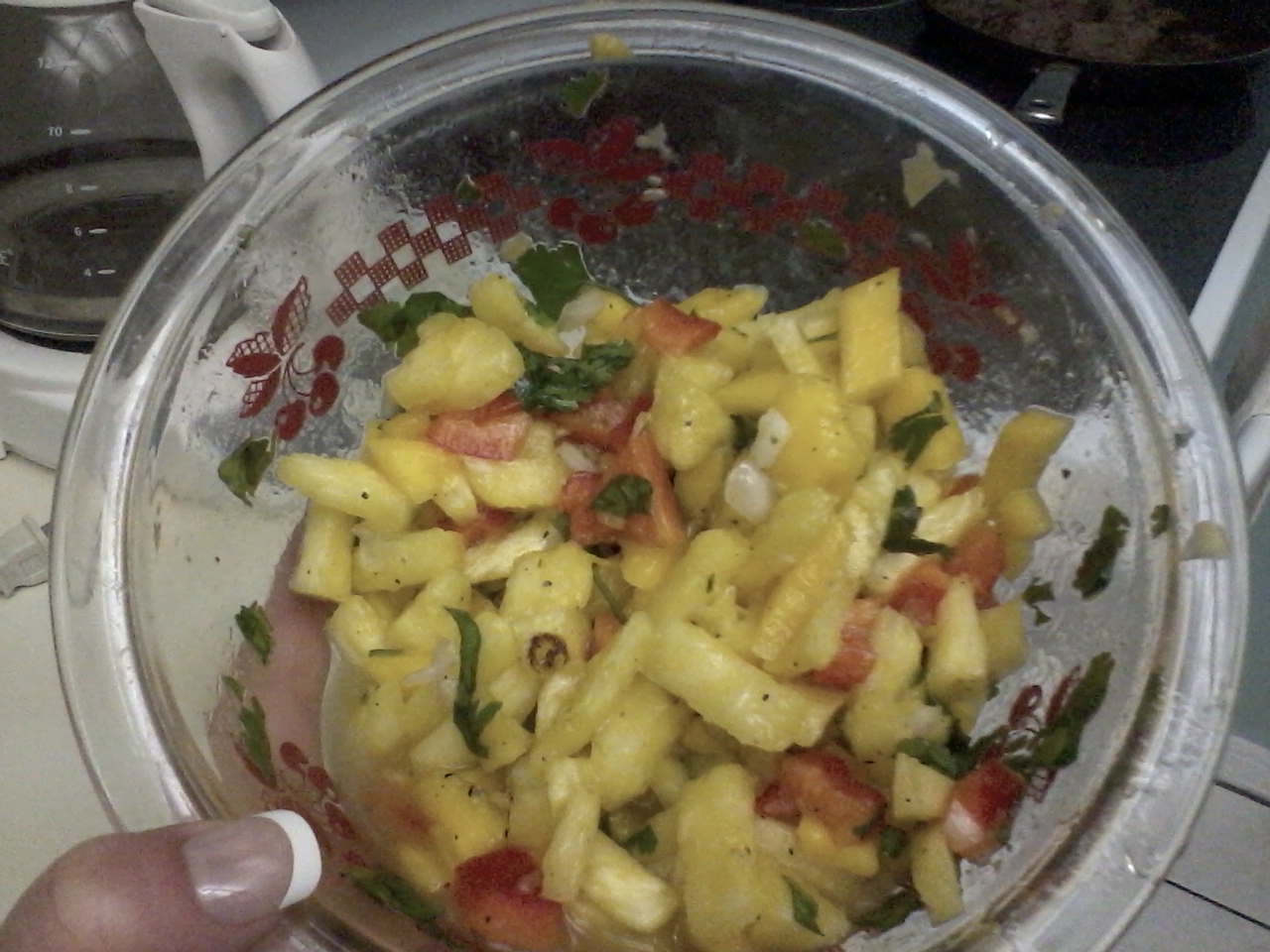 You'll spend most of your time chopping. It took  a solid 10 minutes to peel and chop only the pineapple. It'll take about 5-10 minutes to peel and chop the mango. If you have a magic bullet type contraption, cut big chunks into manageable pieces and throw into your device and that will save a ton of time. We may be fancy online, but we're still old-school in the kitchen. No gadgets for us!
Combine pineapple, mango, cilantro, pepper and onion into a large bowl and mix very well.
In another bowl, combine lime juice, paprika, and coconut. Wisk well. Pour mixture into the large bowl and stir thoroughly to ensure the lime juice blend folds in with the hard ingredients.
Taste a bit and add pepper to your liking. Cover with plastic wrap and let cool in the fridge for 30 minutes.
ALL DONE!
This salsa also freezes incredibly well, so if you find a big sale on $1 pineapples (sometimes the PC chain will have them this time of year), buy a huge box and get chopping!
Did you know…
Pineapples have bromelain, which is an effective anti-inflammatory. Eating pineapple while you're sick is great for three reasons – it has Vitamin C, which can help you fight your cold, it can help suppress your cough and it can help loosen mucus. There is also promising research that suggests bromelain could slow the growth of tumour cells and can help prevent blood clots. So, stuff your face with this salsa, it's good for you!
Mango has been called " the king of the fruits" ! With it's rich and exotic flavour and beautiful colour, it's not much of a stretch to consider this fruit worthy of a royal title. It also packs a whollop in terms of supplemental health benefits. Mangoes are loaded with Vitamin's A, B-6 C & E!
Cilantro may look like parsley, but it tastes and smells nothing like it. Cilantro is a power-herb and is as unique in it's flavour as it is in it's affect on our body. It has proven anti-bacterial and anti-fungal properties, it is a promising sleep-aid and it's also been proven to help lower blood pressure!
DISCLAIMER:  Information and statements made are for education purposes and are not intended to replace the advice of your treating doctor. We do not dispense medical advice, prescribe, or diagnose illness.
Like this post? Want to see more like it? Check out:
Save money by making your own granola bars!
Tea is cheaper (and healthier) than soda! We do the math for you!
Healthy Meal ideas for under $5!