GoDay.ca | Short Term Payday Loans
Need a good laugh with dinner tonight? Our resident cost-cutting foodie takes to the kitchen and shares the outcome with all of us…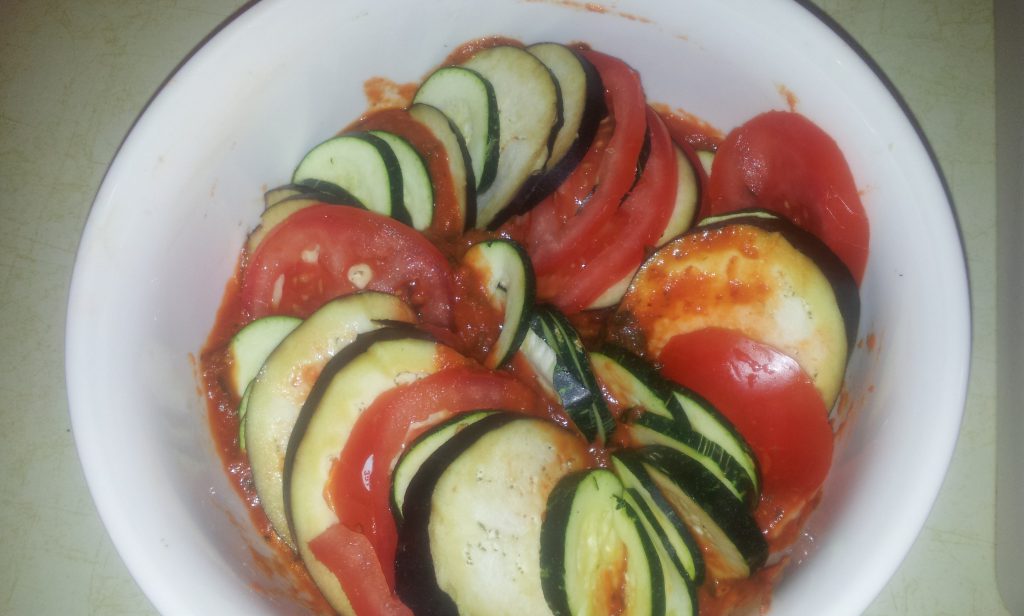 I'm not a phenomenal cook – won't lie. But, I'm not totally horrible either, so the reason this even exists on the internet is solely for your entertainment (you're so welcome).
Last night on Facebook, we announced that one of us would be attempting Ratatouille. So, ta-da! Here it is. I have to warn you, though. If you're eating or drinking, your might want to stop for a bit. Not because anything will be gross, but because we're pretty sure you're going to laugh.
I'm not really sure how a few-year-old mandolin slicer can mutilate, and thus not slice in a perfectly fine way, the veggies I press to it, but alas, this was not the case. It had one job to do, just one, and it failed. Horribly.
The zucchini, the eggplant, the tomatoes – nope, none of them would take, and I was soon left with a small pile of ripped mush.
Thankfully, ratatouille in it's "stew-ish" form does look completely mangled. In fact, the recipe calls for you to tear the tomatoes apart with your hands, so I thought what the heck – let's just slice by hand and if it's uneven and weird looking, no harm done. Taste matters right?
I'll perfect the look…as soon as I trash this mandolin.
Ratatouille Casserole
The traditional French Provence recipe calls more for a "stew" texture, but I really, really hate extremely mushy vegetables. There are a few steps involved in crafting this delicious medley of vegetables, but if you have a great mandolin, then it's pretty easy to do.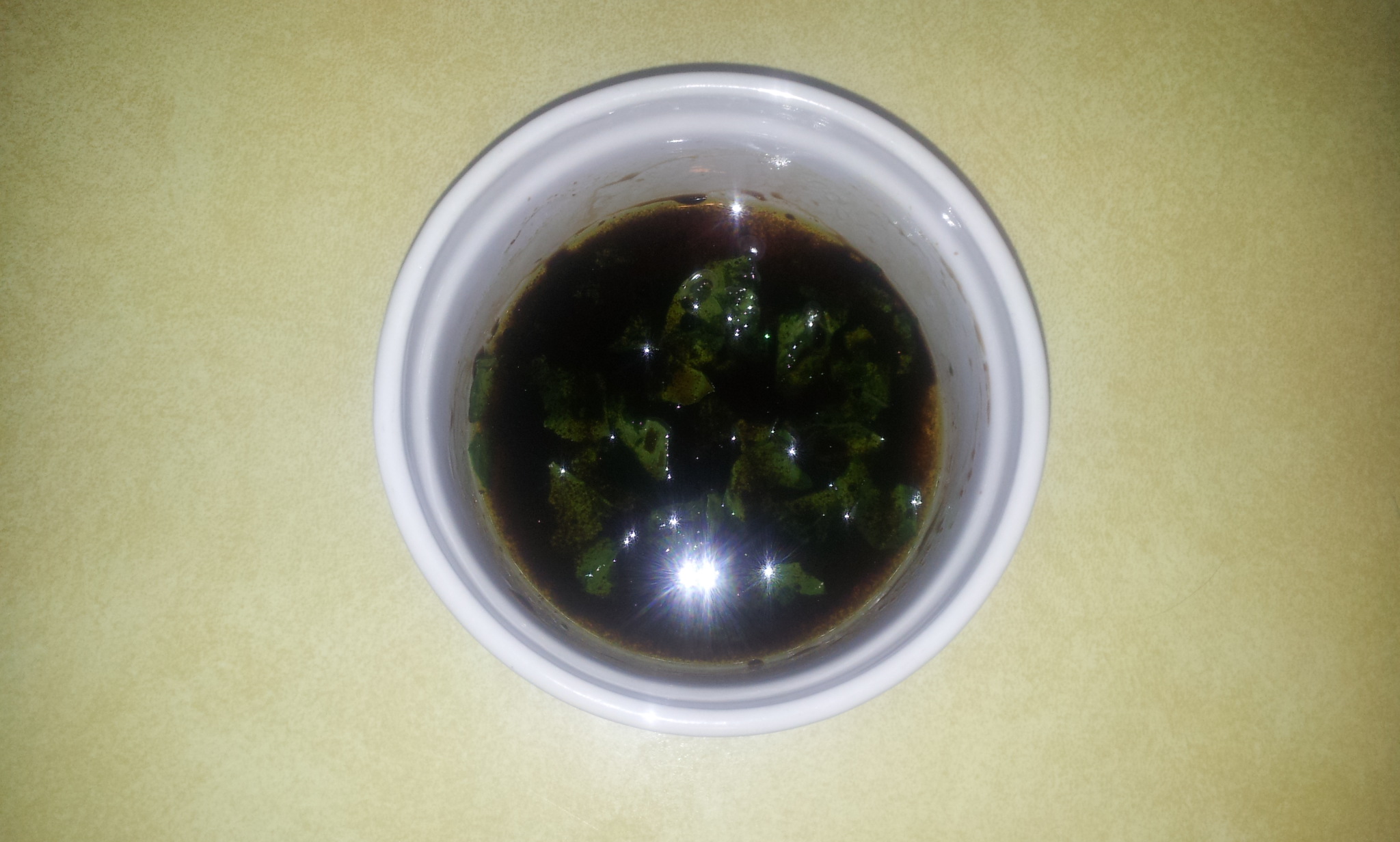 You'll Need:
A) For the piperade base
2 tablespoon olive oil
4 garlic cloves, minced
3 Large roasted bell peppers (jarred is no problem if you don't have an open flame)
4 tomatoes, peeled, seeded and chopped (or canned)
.5 cup of parsley – you can finely chop it or rip it into small pieces (which I did)
1 whole small white onion, chopped
1 bay leaf
1 small can (5 oz) tomato paste
6 leaves of fresh Basil, finely chopped
Dash of sea salt
Dash of pepper
B) The Veggies
1 small green zucchini, thinly sliced
3 roma tomatoes, thinly sliced
1 small eggplant, thinnly sliced
*You can add yellow squash to this if you like but I didn't include it in this batch.
**Note: Ideally, you're going to want veggies that are roughly the same size in diameter if you're concerned about presentation. These are veggies I always have around, so please forgive the wonky-shapes.
C) Balsamic Vinaigrette
5 Tbsp Extra Virgin Olive oil
2 Tbsp Balsamic Vinegar
1 tsp thyme leaves
1 tsp basil leaves
1 tsp oregano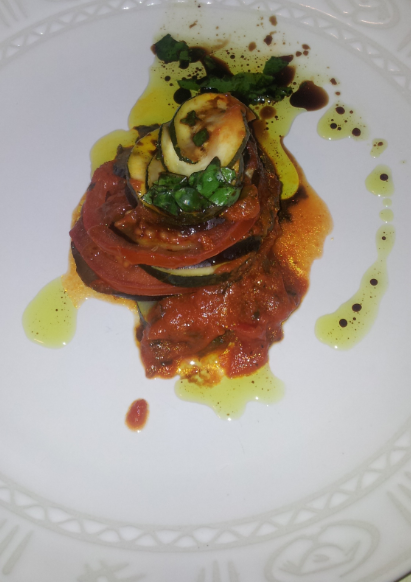 Preparation
1. Preheat your oven to 400F.
A) Piperade base
Sauté the onions, garlic & extra virgin olive oil in a sauce pot. Add the tomatoes, peppers, tomato paste and herbs and reduce to medium-high heat for 12-15 minutes. Remove and pour into a blender and puree until smooth. Dash in pepper and salt to taste.
B) The Veggies
On a mandolin that won't let you down, slice all the vegetables the same thickness. Or, if you're like me and fail horribly at doing this, don't give up and keep slicing. For those of you who have fine-tuned this slicing skill, you want to go for around 1/4 of an inch in thickness.
C) Balsamic Vinaigrette
Combine olive oil, balsamic and herbs and whisk. Let sit.
2. Assembly
Pour your piperade into a dish, filling about 1-1.5 inches. Layer the veggies over the sauce, alternating between eggplant, squash and tomato until the sauce is completely covered.
Cover with parchment paper and cook for 15-20 minutes. Keep an eye on your veggies; if they overcook, they'll turn mushy and lose their vibrant colour.
3. Let your casserole cool for 5 min and scoop out a serving. Drizzle your vinaigrette over the heaping serving and along the clean area of the plate.
4. Enjoy!
Despite it's wonky look, it tasted incredible!
If you made it as well, tell us – how did it turn out? We'd love to see pictures of your creation and if it's something you'd make again. Let us know on a scale of 1-5 how easy this was to prepare.
And remember – the mandolin makes all the difference.
If you loved this, you might also enjoy:
Save money by making your own granola bars!
Tea is cheaper (and healthier) than soda! We do the math for you!
Healthy Meal ideas for under $5!