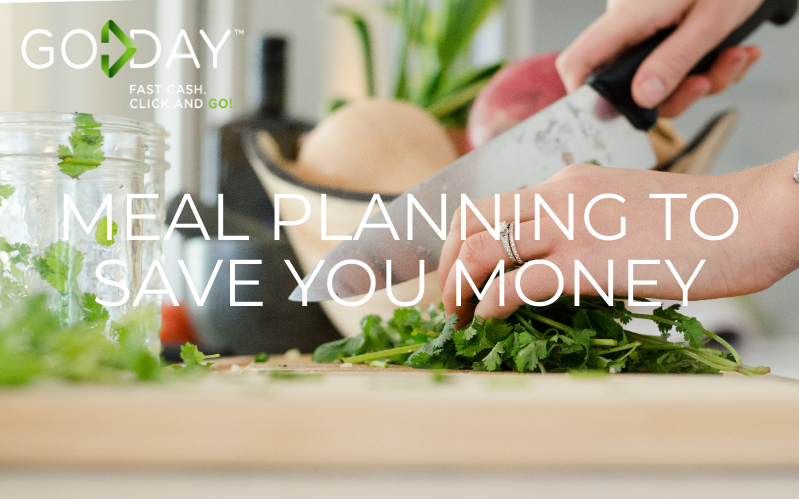 Everyone wants to save money. However, food can be one of the easiest categories in your budget where you can overspend. You can spend too much when eating out, grabbing a morning coffee, or making poor grocery purchases. The cost of food adds up quickly, and even though it's a necessity for survival, it shouldn't make you go broke. 
Meal planning can be one of the easiest ways to cut back on your food expenses to save money, while still eating well. Meal planning involves having a plan of action for your meals. Instead of buying things on a whim, not making your own lunches, or buying ingredients that don't necessarily make a meal, you focus on what's important. Meal planning eliminates buying things you don't need, and you'll also cutback on food waste. 
A meal planning strategy
Let's get started with building a meal planning strategy that works. It's a sure fire way to save money and it's lot easier and less daunting than you think. Like anything, once you get in the habit of meal planning, it'll become second nature to you.

Step 1:
Draw a two column template that leaves room for breakfast, lunch, and dinner for every day of the week on the left, and a grocery list on the right.

Step 2: 
Fill in any meals that have already been accounted for such as birthday dinner at a restaurant, or a lunch meeting at work.
Step 3:
Take stock of what's in your fridge and pantry and fill in as many meals that can be made from the ingredients you already have. If you have leftovers from the previous week, include those as meals too.
Step 4:
You may also have some ingredients that you can't make a full meal out of. That's okay. Add them to your list and add on your grocery list the new items you'll need to make it a complete meal. For example, you already have burgers but are missing the toppings and buns.

Step 5:
Lastly, to fill in any blank spots, add in any new meals, if you need to. Need inspiration? Check out Pinterest for some super easy recipes. This can also be a good spot for finding inspiration for meals to make with ingredients you already have too. 

There are also some apps out there that make meal planning easier, here are some recommended by The Penny Hoarder:
When you have a plan in place, it'll make grocery shopping more efficient and you will save money. You'll go into the store knowing exactly what you need, and won't spend on random items that don't actually form a full meal.  Over $165 billion of food is wasted each year. That's $529 per person. Let's cut down on waste by planning before we shop. 
To save money and plan meals, here are some tips to make the adjustment easier: 
Pack your lunches the night before. This way if you're running late in the morning, or you're too tired, they're already prepared.
Switch up your lunch and dinner so you don't get sick of eating the same thing every single day. Otherwise you could be tempted to toss out food to eat out instead.
Prepare your favourite recipes repeatedly. If you know you (and your family) likes them, then don't worry about always getting too creative. 
Have food for snacks like nuts, or cheese, so you don't get hungry and eat all your prepped food in one day. 
Commit to eating foods before they go bad. Don't always buy new ingredients. Look for ways to use up what you have. 
Tips to optimize your meal plan
To really get the most out of your meal plan and save money you can take it to the next level by incorporating some of these tips into your routine: 
Stock your pantry, fridge & freezer
Stockpile staples in your pantry, fridge and freezer. Think long-lasting, flavorful or nutrient-dense items like rice, pasta, beans, canned tomatoes and sauce, soups, frozen veggies, etc. These are staples that can easily be incorporated into a lot of recipes. When you catch them on sale or buy in bulk, you can save money too.
Simplify your planning process with themes
To keep things easy, assign a category based on the days of the week. Try Meatless Monday, Taco Tuesday, Crockpot Wednesday, etc. and mix the recipes up each week to keep things exciting. 
Plan a weekly cleanout
Plan one night of your week to just cleanout any leftovers or to eat a frozen meal. Get creative and create something new out of whatever bits you still have in your fridge. You'll save money and waste less food.
Order groceries online
This can help you from going off your shopping list. You'll only buy things you need, and you'll save money.
Double recipes when possible
This way you can eat the leftovers, pack them for lunch, or freeze them so you can have a quick and easy meal in a few weeks. 
Cut your grocery bill in half
Let's get that grocery bill down so you're not paying an arm and a leg for food! How? Here are some of our tips to land the best deals.
Use a list 
It's simple. Make sure you're taking your meal planning template with you when you head to the grocery store. Stick to the items on your list. According to research from the University of Pennsylvania, people who avoid impulse spending save up to 23% on their grocery bill.
Shop at the right store
You don't need to go to 8 different stores each week or be an extreme coupon user. Just shop at the store that usually has the best prices. Whole Foods or Loblaws is going to add up quickly. Instead, shop at cheaper stores like No Frills or Walmart. You'll notice a difference instantly on your bill.
Buy generic brands
Often that "no name" brand is the exact same thing as the brand name you recognize. Just look at the ingredients for proof.
As much as possible, shop for the generic brand or the best deal between the brand name and the generic. Walmart's Great Value products are usually produced by a major brand name food company. They probably sell their own version of these exact products, but under another name. The Great Value version could be sitting right beside them, but at a much lower cost.
Price match 
Lots of supermarkets price match. If you find a better price advertised somewhere else, they'll match their price to the lower one at the checkout. Even better, try an app like Flipp. It finds deals automatically and you don't have to flip through flyers. 
If you're having troubles keeping up with your grocery bills, GoDay can help you get money when you need it. Check out the services we offer by clicking "Our Loans" at the top of this page. 
Meals for $5 or less
If you're looking for inspiration to get started on meal planning, we wrote a post awhile back about meals you can put together for $5 or less. Use these below recipes to get your wheels turning. Even the most novice cooks can pull these ones off: 
Fish fillet and glorious green veggies
It's that simple. Roast, grill, fry, or bake your fish with some healthy green veggies like broccoli or green beans. Season how you prefer. Haddock and tilapia are often your cheapest bets for fish, and you can sometimes get sic pieces for under $8, which can last you six meals.
Chicken with frozen veg
There's so many ways you can prepare chicken. Bread it, eat it plain, make it into chicken strips, or season it with your favourite sauce or seasoning. Pair the chicken with frozen veggies, which you can also season the way you like. Frozen veggies are cheap, and they stay fresh as long as they remain frozen. This can help you eliminate food waste.
 Soup
Soup is such an easy and healthy meal to make and you can do it on a budget too! Here are some options for different soups you can try out:
Chicken broth with green beans and rice 
Barley and beans 
Cream of Broccoli
Tomato
Eggs with any veggie
Cheap, and good for you. A carton of eggs can cost you $3 and feed you for many meals. Plus, you don't have to just eat them for breakfast. Whip them up in different ways, or add in your fav veggies, cheese, etc. to keep them exciting. 
You can also check out this list we put together for frugal meals you can make. 
More tips to help you save on food
Here are some additional ways you can save on your grocery bill and eat food that goes further, and has less waste:
Cook less meat and load up on vegetarian proteins like beans and eggs 
Appreciate the full rotisserie chicken. These can go a long way and you can make multiple different meals with one!
Dry beans versus canned can be cheaper and healthier, because they have less sodium
Use your slow cooker – a slow cooker can make almost anything taste good (even cheap cuts of meat)
Buy in bulk and freeze when you can
Make big batches of what you're cooking and freeze it for later 
Buy frozen fruits or veggies so they last longer 
Buy produce that is in season and freeze it for later 
Sign-up for store points/discount cards where you shop
Buy spices, baking supplies, etc. in the bulk section so you just purchase what you need 
Make your own sauces, dressings and seasonings instead of buying them
If you have a garden or outdoor space, grow your own veggies and herbs
Repurpose food scraps where you can (like in soup) 
Store your produce the right way to ensure it lasts longer 
Regrow vegetables from their roots (here's a full list of veggies you can do this with)
What are some of your biggest tips for saving on food and meal planning to get the most out of your grocery shops? Share them with us!