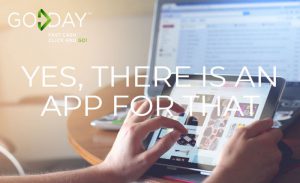 It is no surprise how much our mobile devices and technology have taken over how we basically do everything. Look at GoDay for example- we are an online payday loan company who also has a specific mobile site for our customers! And if you're a business that is not online, you are missing out on numerous opportunities. So because everything we do is now a part of the digital age, there are over 2,100,000 apps that you can have on your phone to make life easier. That's why we've rounded up a few of our favourite apps and digital helpers that help keep our finances in order, help us save money, and have been designed to help reach our budgeting or money goals.
For all the shoppers looking for the best deal or way to save money, Ebates is for you. So how does it work? You sign up for free with an email address and start shopping! That's right, it's that easy. To get cash back you have to make one stop by first visiting the Ebates site to browse all the stores and begin any online shopping you want to do. Yes, this works on your phone, tablet and computer. Each store has a percentage tied to it based on current promotions and that is also the amount of cash you will get back. Once you choose the store you're looking to shop at, you are automatically directed to that store's website and can begin online shopping like normal. From there, Ebates does all the work! Ebates will track your purchase and deposit the cash back you've earned into your Ebates account within a few days. There are new offers added to the site daily and you can search for coupons at specific stores or by store categories such as electronics, department stores, or travel. Who doesn't want cash back for shopping? Sign us up! Ebates is the ultimate way to shop smart online and keep your wallet happy.
One of the most popular and reputable budget apps is Mint. Mint works by gathering all your financial information, everything from regular bank accounts to investments and bills. It takes what your income and your spending patterns and automatically updates in real time. Mint also has the ability to send you regular notifications about your spending patterns by customizing accounts and setting limits to track your expenses. It also makes it easy to see what you have and what you owe all automatically updated in your pocket. Connect an unlimited number of bank accounts, credit cards and bills for free! The best part is you can see your available cash and credit alongside your upcoming bills. From your bank accounts and credit cards to retirement accounts and more, they crunch the numbers to make it easier for you. It's your finances, all in one place that is easy to understand.
Who else likes cheap travel deals? Because we sure do! Introducing HotelTonight, for any last minute stays you need. An app strictly for your phone, HotelTonight makes it quick and easy to book great hotels at amazing last-minute rates for the same night, tomorrow and beyond. So what's the secret in comparison to other travel or accommodation apps and websites? When hotels have unsold rooms for the night, they will upload them to the app at a great deal. All hotels are screened and by using HotelTonight you get the flexibility to play it by ear and not committing to expensive fees, all while knowing you'll get a great price and a great place to stay. The downside to this app? It's only in certain cities, so make sure to see if it's available wherever you're travelling before you commit to waiting to use it.
We've mentioned it before, and we have to mention it again. Flipp has taken over the digital flyer scene as it provides you with online flyers for the best deals, but it also compares all the prices of that item for you. Flipp has taken the physical flyers and brought them right to your device and even lets you customize what you want to see. This works for anything you're shopping for, brings in coupons and the latest deals and is great for price matching. Features like creating your shopping list all within the app has become a handy tool that can help you save time and money.
New and local to Toronto, Feedback is taking the food app service to a whole new level. So how does it work? With the menu changing constantly throughout the day, you can browse through time-specific promotions at some of Toronto's best restaurants and order your meal directly in the app. You get access to hundreds of exclusive promotions at restaurants across the city and from there, you just head over to the restaurant during the given pickup window and grab your food. The best part? You're getting a discounted meal all while knowing that your order is helping to reduce waste and provide a meal to someone in need.
We know that the digital world is only continuing to grow and connect us more than ever. In 2016 alone, Canadians spent $19.2 billion dollars on online purchases and it's expected that number will hit $39 billion by 2019. When it comes to being constantly connected and only being a few clicks away from anything you need, this means changes in the banking and retail market have had to create new ways to keep you as a customer engaged. As we mentioned above, it is one of the many reasons why GoDay is an online company because in this market you need to be innovative and meet the needs of your customers. But that's why we also need to be ready to adapt to new technology and learn the ways that it can help us, especially in terms of our finances. Let us know about a favourite app that has saved you money, helped you make money or is just an app that you can't live without in the comment section below.