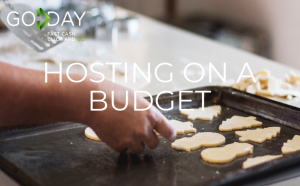 The holiday season can be one of the most wonderful times of the year. You get the opportunity to spend time with family, friends, and who doesn't love the magic of Christmas? However, the holiday season can come with a price tag that can often be daunting and a burden for many people and families. How do you provide for your family, host, and give everyone the Christmas of their dreams without going into debt?
Choose a theme
Themes can be a great way to add that "wow" factor to your holiday parties or get togethers. They are also a great way to help you budget as you can have a direction for food, decor and beverage options. Plus, a theme makes an event seem way more upscale or fun, without having to put in a ton of effort. There are a ton of easy DIY themes that can be done on a dime.

Alternatively, decorate with things you already have, or don't underestimate what can be purchased at the Dollar Store or thrift shop. Add ambience with nice table cloths, napkins, candles, and your Christmas tree which is likely already up. It doesn't need to be over complicated, especially over the holidays when you already likely have decor up.
Co-host
Instead of putting the burden all on yourself, find a co-host that you can host the party with. Having a partner in crime for party hosting can make things easier, as well as split the expense and responsibility. Co-host your holiday get together with a family member or friend, and divide and conquer the responsibilities. Perhaps one of you is in charge of specific food dishes, or one person is on the alcohol, and the other on the food. This can make the financial burden of hosting a lot less stressful, and more fun!
Skip dinner
People have this assumption that when it comes to hosting, especially during the holiday season, you have to host dinner and feed all your guests a top notch, three course meal. However, this isn't the case. You don't need to do anything during the holidays, in fact, people often like to switch things up and do something different. Instead of a traditional dinner, host a cocktail party with appetizers instead. Alternatively, host the party after dinner hour so people eat beforehand and the party goes late into the night. You can even go totally out of the norm by having a daytime or afternoon party.
Be smart about the menu
Skipping dinner isn't always an option for people, so another option is to be smart about planning your menu. We found this great list on how to feed ten people on a budget, and the internet is full of resources like this one. How do you make a fancy or impressive meal when you're on a budget? It's definitely possible. Think things like chiles, stews, pastas, stuff that's inexpensive but also easy to cook in bulk.
Keep your guest count down
Whenever people host parties, they always assume they need to invite every single person in their life so no one feels left out. But one of the best ways that you can keep costs, and stress, down is to keep your guest count down. Instead of hosting a massive party, host something more intimate with just your immediate family, or closest friends. Have a girls night, and tell your girlfriends to leave their significant others at home, or take a long hard look at your guest list and invite the people who would invite you. Or the people that also host you in return. Often times there is always only a few people in a group that host parties and dinners, and many people who just soak in the rewards of them. There is nothing wrong to keeping your dinner or party to a more intimate group of people.

Another way to decide on how many guests you should host is to set a budget for the party and then figure out how many people you can host within that budget. We often fail to budget for these sorts of things and don't realize how much of a dent it makes to our bank account until after when it's too late. Instead, think ahead of the game.
Host a potluck
Potlucks can be fun, plus you are no longer putting the stress on only you to buy and make all the food for the party. Make a list of the items you need to make a great dinner party, and have guests sign-up to provide different dishes like appetizers, desserts, or main dishes. You can even have people volunteer to bring alcohol or fun cocktails. People love to contribute when others are graciously providing the space for a party, but sometimes all you need to do is tell them what they need to help with or can bring.

Another fun idea is to have a progressive dinner party with your neighbours or family if they live nearby. Organize the houses in order of location, provide flashlights to everyone, and hop from house to house for different parts of the dinner party. For example, start at the cocktail house, move to an appetizer home, then to the main course, to dessert, then to coffee and tea/nightcap. This can be a ton of fun, plus a unique experience.

Think ahead
Thinking ahead and planning can help save you big bucks. Costs of things go up around Christmas, and often there are some great sales and deals leading up to the holidays, so if you plan in advance you can cash in on these deals. Even though it can be hard to think about Christmas in October, it can not only make you less stressed when the holiday chaos hits, but it'll also help you score deals on food, decor, booze, and anything else you need to make your party the best party yet, without going poor.
Ask for RSVP's
One of the biggest money wastes when throwing a party is overbuying or preparing food and drinks for more people than you actually have or need. Knowing how many people are actually coming in advance will help prevent food waste, and also help save you money. Send out an invite (online versus paper invites because that'll also save you cash), and ask for people to RSVP before a specific date. There will always be a couple last minute people who can't come or can suddenly come, but at least you'll not prepare for 25 people, and only get 5.
Make it BYOB
Booze can be a really expensive addition to any party, and there is one very simple way to save money in this department, tell your guests it's BYOB. This way, not only will you save yourself the expense, hey, you'll likely even end up with the leftovers. Another option is to stick to only beer and wine, versus adding in liquor which can be more expensive.
Buy in bulk
Buying food and drinks in bulk can really help with cutting the cost of a party. Bulk shopping isn't always a great deal because usually you don't need a life supply of specific items, however, bulk options can be perfect for throwing a party. The key to buying in bulk is to make sure that the items you're buying in bulk, versus in a regular store, is actually a reasonable amount of product for how many people you're hosting. Don't just buy it because "it's a great deal", buy it because it's a great deal and you'll use the items. Another tip is to think about when it'll go bad if it isn't all used at your party. For example, buns can go bad quickly so if you are having 50 people, buying 100 buns may be a waste of money and food.
Think about what's really needed
If you're a perfectionist, you'll know that you think about every single tiny detail when it comes to throwing a party. It can be so easy to get lost in the small details like how you fold your napkins, or if your dishes match your cutlery, that you lose sight of the things that your guests will actually notice and remember. Guaranteed that if you think back to all the parties and dinners you've attended, the things you remember aren't likely the little details, it's usually the memories that were created with the people you were with. Will people really miss that overpriced cheese plate? Will they really remember the over the top cocktail you made versus just beer or wine? Probably not.
Have a party fund
This may sound crazy to start a party fund, but it can totally make hosting less stressful. If you know you always host at Christmas, or if there is a specific time of year you love to throw a party, start saving for it months in advance. Each paycheck, put aside a few dollars and before you know it you'll have enough saved to cover the expense of hosting and you won't be breaking the bank for it. Getting a loan through GoDay shouldn't have to be your only option for hosting a great party.
The holiday season is full of fun, getting together with family and friends, eating and drinking, and overall just celebrating with our loved ones. It's important to keep your focus on that versus spending a fortune on a party. These tips will help keep your budget in check when planning your holiday celebrations, and will make you incredibly less stressed when you look at the receipt at the end of the holiday season.