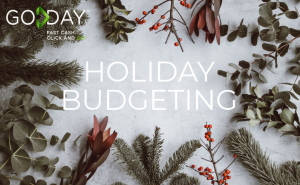 The holiday season can come with a hefty price tag. It's said that the average American will spend just shy of $900 USD this holiday season, and while Christmas can be full of fun get togethers, time with your family, and the jolly ol' big guy in the red suit, it's easy to blow your budget out of the water and end up in holiday debt.
Why would you want to start 2019 off on the wrong foot, digging yourself out of debt from the holiday season? Making sure that you build and stick to a budget over the holidays is critical because it's so easy to overspend. You pick up gifts here and there, join in on one too many secret Santa parties, and host your own family and friend get togethers, and before you know it, each small expense adds up and you don't even know how much you've spent on the holidays.
So how do you stay in control of your finances and ensure that you come out of the holiday season, and into 2019 on the right foot? Here are our tips for budgeting…
Create a List of Holiday Expenses
We often make a holiday shopping list of the people we have to buy for, but very rarely do we create a budget on how much we want to spend on all of those people. On top of that, what about traveling expenses to visit family, gift exchanges at work, donations to charity, decorations, wrapping paper, the holiday dinner menu, and the list goes on. Lay out every single expense you will likely encounter this holiday season.
Decide On Your Spending Limit
Take a look at that list you created in our first step, and determine what your spending limit is for each line item. Think about the money you actually have to spend on Christmas, and use that as a base of what you are going to spend. Assign this money to each category on your list of holiday expenses. There are so many ways you can lower the cost of items on your holiday list. Whether that's doing DIY gifts, or a potluck for Christmas dinner, more on that below though.
Make a Shopping List
Create a list for your holiday shopping and stick to it. It's easy as you browse through stores during the holiday season to start picking up things you don't need for people, or even yourself. Make a shopping list, and do research into where is having the best deal on the items on your list.
Keep Track of Your Spending
It's one thing to make a list, and check it twice, like Santa does, but it's another thing to stick to it and track what you are actually spending. Whether you spend more on line items on your list, or less, keep your receipts and keep track of where your overall budget stands. This will help you stay on top of your budget and let you know how it is doing as you go through your holiday expenses.
There are a ton of ways to save during the holiday season and we have compiled a bunch of tips and ideas to help you cut costs so you don't go broke. After all, the holidays shouldn't all be about spending money and buying gifts should they?
Think about YOU
It's easy to get overwhelmed during Christmas with all the things you think you need to do and all the people you think you need to buy for. However, don't get so lost in how many people you should buy for and how much you should spend. Instead, think about what is reasonable for you. Your friends and family should appreciate whatever you give them, if anything, so you shouldn't just be thinking about the value of how much a gift cost. Instead, remember that it's the thought that counts.
Plan in Advance and Look for Sales
The sooner you start thinking about Christmas, the better you'll be able to find good deals and sales on the things you want to buy. Black Friday sales are often one of the best pre-Christmas shopping days and usually the sales last at least a few days before Black Friday and throughout the weekend into Cyber Monday.
Shop Online and Look for Promo Codes
Shopping online can make it easier to price compare to different websites. There are even a ton of stores that offer cheaper and different deals online that they don't offer in-store. You can also take a look at different promo codes that may be available, such as getting 10% off if you sign-up for the sites newsletter. The flipside of this is that some places will have shipping fees which can add up quick, make sure to see the price of shipping before you purchase anything, some websites may offer the option to buy online and pick-up in a local store for free.
Earn Extra Income
Most stores hire seasonal staff during the holiday season, which basically means that they bring on additional staff during this busy time of year and their contract will end after the holiday chaos is over. This could not only be a great way to earn extra cash for the holiday season, but if you're working somewhere that you can do holiday shopping, you'll cash in on an employee discount.
Start Saving Early
It's hard to think about Christmas until December, however, there are a ton of benefits of you thinking about it early. Think about how easy holiday spending would be if you put aside an extra $50 each month starting in January. By the time December hits, you already have enough saved for your holiday expenses and shopping.
Go with DIY for Gifts
Who said you need to buy your friends and family all designer gifts this holiday season? A more meaningful gift is one that you made yourself with them in mind. Do-it-yourself (DIY) projects can be perfect at this time of year for helping you create unique gifts, while also saving money. On top of DIY gifts, you can also make DIY decorations and wrapping paper to save on those expenses too. Here are some great examples:
Plus, this is a great way to get the whole family involved in the holiday spirit!
Suggest Secret Santa
Doing a Secret Santa draw for your family and friends can be a great way to eliminate having to buy for everyone, but instead focusing on one or two people. If you buy gifts for your entire family, or all your siblings, or friends, suggest that you all put your names in a hat and draw names this holiday season versus buying every person a gift.
Cut Back on Extras
For some reason the holiday season brings out this side in us where we are constantly over spending. Whether it's going for more dinners or drinks with friends than usual, buying that overpriced holiday latte at Starbucks instead of your typical black coffee, or paying an arm and a leg for a photo with Santa. We're not saying you can't have fun during the holidays, but look at cheaper or free things you can do to celebrate versus always forking out money.
Have a Potluck
Instead of going out for fancy dinners, or being the host of all your extended family for Christmas eve, opt to have a pot luck with your friends and family instead. This is a good way to make holiday cooking less stressful, plus it spreads out the expense of getting together among the whole group instead of just you.
Know When to Stop

When you've finished your list, and you've checked it twice, it's time to stop your shopping. It's so enticing to keep shopping, because once you start, it's hard to stop, however, if you don't need to buy anything else, then don't. If you know you'll get the itch to keep shopping even when you're done, spread out your shopping throughout December so you're only getting stuff off your list. Plus remember, you may want to save up some money for Boxing Day sales after Christmas.
Shop Thrift Stores
This may sound like a cheap or cheesy idea, but you'd be amazed at what you can find in thrift or consignment stores. In some cities there are even some higher end consignment stores that you can get really great quality brand name items for cheaper than you'd buy them at full-price. Sometimes you can even find unused items in thrift stores or on websites like Kijiji.
Sell Your Old Stuff
Earning extra cash at this time of year doesn't mean having to get another job, you can also use this time of year to clean out your closets and sell the things you no longer use or need. This can earn you some serious cash that you can use towards holiday gifts or parties, plus it's a great way to help other people out who are looking for the perfect secondhand gift.

The holiday season can be loaded with fun parties, family get togethers, holiday gifting, and everything in between. It can be an incredibly exciting and joyous time of year, so you want to ensure that you are able to enjoy it without feeling like your being held back or dragged into a hole of debt. These tips can really help you set a budget for the holiday season, as well as save money on the things that you usually spend more than you need to on, like dinners, parties, gifting, and more.

Let us know how you'll be saving money this holiday season, and click here if you want to learn more about our payday loans in Canada from GoDay.