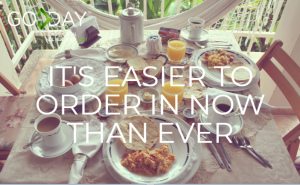 We've all had those days. The ones where you get home from work and the last thing you want to do is have to cook dinner. You were running late and now don't have time to make lunch. We've been there. Is first thought is to pick something up on the way home or to order in once you're done looking through your cupboards and looking at the clock? How many times a week has this happened? Especially when you're craving something specific, impulse food purchases are something we commonly forget to budget for. This makes it tricky when trying to stay on budget when eating out in comparison to grocery shopping but is also why the food delivery game is changing and it is getting easier than ever to satisfy your cravings.
It's no surprise that convenience has its price, and that's no different in the food industry. As take-out and drive-throughs are now a thing of the past, the latest is the boom in technology and how it is shaping food trends and consumer purchasing decisions. All done at the tips of your finger, your food is also now living in a digital world, and you can order through a number of apps and services all trying to master the digital food space. And as technology advances, so do our habits as a consumer. So what does this mean for retailer and restaurants? Besides having to adapt to these changes, they need to be ready to provide not just products but also different services to meet these ever-changing needs. The same way GoDay provides you 24/7 access to get a payday loan, why shouldn't you be able to get your favourite dishes the way you want it right to your door?
Food Apps
We've talked before about the latest and greatest food apps that are popping up to get you the food you want when you want it. Doordash, Skip The Dishes, Uber Eats, Foodora, and Just Eat are just a few of the food delivery services that are taking over our dinner tables. And because there are so many of these services available now, they are constantly offering coupon and promotions to compete with one another. Not to mention most of these apps pride themselves on being environmentally responsible and to also compete with one another refrains from imposing surge pricing (meaning higher prices during peak delivery periods) on customers who want to order food during normal dinner hours. Apps like Uber Eats are also trying to differentiate themselves, by providing options for items that you normally wouldn't think of ordering in. Recently, they've partnered with Cineplex to make sure you have movie theater style popcorn and snacks for your movie nights in. And yes, it is things like this that are all apart of the new food app and dining in experience. Craving something specific? Check out which app is offering free delivery or a promo code for a certain discount or free extras when ordering in.
The New Way To Grocery Shop
The way we shop for groceries is also now changing with apps and services that are provided. As we mentioned, as we move more to a digital lifestyle, retailers are moving to keep up with us. And depending on your location, these new programs and services may be the perfect fit for you in terms of how you dine in, cook or grocery shop. Besides ordering in, have you tried ordering your groceries online? That's right, someone will personally do the shopping for you, picking, packing and deliver your groceries to your door. Now that is what we call dining in. There are options to shop with in-store pricing from your favourite grocery stores with the option of picking them up or having them dropped off for when you get home. Besides new services such as ordering your groceries online, there are also more convenient ways to order in home cooked meals with services like Chef's Plate that delivers your meals already prepped, portioned and ready to go. It's thanks to these services that we can now order in our groceries to save time and the hassle of grocery shopping.
More Than Just Food
The first thing you think of when ordering in is food. But there are plenty of other services you can order in as well. Things like the latest movies or TV shows can now be ordered through your TV providers (if you haven't cut the cable), services like Netflix or online are different ways to save the expense of the movie theater and enjoy the latest flick from the comfort of your own home. Not to mention you can then still get the movie theater popcorn delivered right to your door as we mentioned above. Like only being able to order in pizza, having flowers delivered was the only gift you were able to send for a long time. But that is why mobile apps and services like Giftagram were created. Say goodbye to flowers and hello to gifts from many of your favourite stores for any occasion. Who would have guessed you could order in a gift that is already wrapped for someone? It doesn't have to be just about what you're craving for dinner, but there are many services thanks to technology that has made ordering in easier for everyone.
When it comes to ordering in, it is about the convenience factor. And it's with these ever-growing options of convenience that new apps and services for things like pre-packed meals, groceries, and your dinner for tonight are continually expected to grow as they already make up $150 million of the market while is estimated that Canadians spend $1.6 billion to order food using some sort of digital app. So next time you can skip the drive-through because it is now all about digital. What is your favourite thing to order in? Do you take advantage of the many apps and new ways technology is making our lives more convenient? Let us know in the comment section below.