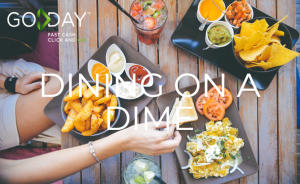 It's true; if you're trying to save money then you shouldn't be dining out. But we're all busy people and there are nights where take out is the best option for the table. We are also believers in budget management and balance. So when it comes to dining out, the main this to remember is that restaurants don't usually have deals or sales, but more features rotating all the time with different menu changes. This makes it tricky when trying to stay on budget when eating out in comparison to grocery shopping and being able to stay within budget. So when it comes to dining out, we don't want you to have to take out a payday loan just for dinner, there are many ways to get the best bang for your buck.
Dining Out
Most restaurants have daily specials to try out new dishes and may even participate in food events and incentives to get you to try their new menu or keep you coming back for more. Taco Tuesday? Wine Wednesday? Most restaurants will have a special that rotates on a daily, weekly or even seasonally basis. And this can be food or drinks. It is inevitable that food prices are going up, that means menu prices are too since restaurants need to make their money and then some. There are numerous ways people try to save money when eating out and daily specials is just one of them. Another classic is splitting your meal! Now, this usually works best for appetizers, but some restaurant meals can be pretty big in terms of portion sizing, so why not split an appetizer or even a main dish depending on how hungry you are? Things like trying and look for the deal of the day, limiting yourself to certain number of times you go out or choosing menu items wisely are all ways you can still go out for dinner all while trying to make it easier on your bank account.
What's our favourite part of eating out? It's ordering something you know that will be delicious as leftovers the next day. Getting something good that you can eat the next day not only makes life easier because you know what you're having for lunch the next day, but now that you're getting  two meals, this means you won't be buying lunch the next day. That's a win-win.
Grocery Shopping
Grocery shopping can be expensive if you don't plan accordingly. There are always plenty of mouths to feed, special dinners to prep, and lunches to pack. A lot of people dread going grocery shopping, but by having a grocery list and shopping around can help save you money all while making things simple for you. Creating a list at home where you can see what you have in your fridge and cupboards is best, that way you're not doubling up on things you already have. Making a list also holds you accountable for the items you need. It is very common for people to wander isles and think they need certain items when they actually sit in the cupboard or go bad. By planning out key meals, this will also help know what you need to purchase and can also create leftovers for lunches the next day or for busy evenings, times that are often used as excuses to spend money on eating out.
A lot of grocery stores now offer the convenient grab and go packages for everything from salads to fruits and vegetables and sandwiches. As convenient as these may be, it is also very simple for you to make these kinds of dishes by spending some time prepping. By prepping on a weekly basis, you not only have snacks and items instantly prepared to eat, but you will save a lot of money and have less food waste. Doing this with snacks and treats is always good too as purchasing these items are one of the most common things we spend our money on.
The way we shop for groceries is also now changing. As we move more to a digital lifestyle, retailers are moving to keep up with us. And depending on your situation these new programs may be the perfect fit for you in terms of how you grocery shop and save on eating out. Have you tried ordering your groceries online? That's right, someone will personally do the shopping for you, picking, packing and delivering your groceries. There are options to shop with in-store pricing from your favourite grocery stores, and have them delivered to your home or even pick them up. Besides new services such as ordering your groceries online, there are also more convenient ways to dine on a dime with services like Chef's Plate that delivers your meals already prepped, portioned and ready to go. It's thanks to these services that people are able to cut back on food waste and overspending at grocery stores with a major convenience factor.
Food Apps
The food delivery game is changing and it is getting easier than ever to satisfy your cravings. Saying goodbye to the good old days of being able to order pizza for delivery, there are numerous apps and businesses popping up to get you the food you want, when you want it. Doordash, Skip The Dishes, Uber Eats, Foodora, and Just Eat to name a few are only some of the food delivery services that are taking over our dinner tables. And because there are so many of these services available now, they are constantly offering coupon and promotions to compete with one another. Not to mention most of these apps pride themselves on being environmentally responsible and to also compete with one another refrains from imposing surge pricing (meaning higher prices during peak delivery periods) on customers who want to order food during normal dinner hours. Craving something specific? Check out which app is offering free delivery or a promo code for a certain discount or free extras.
What are your favourite money saving tips when it comes to what you're having for dinner? Let us know in the comment section below.