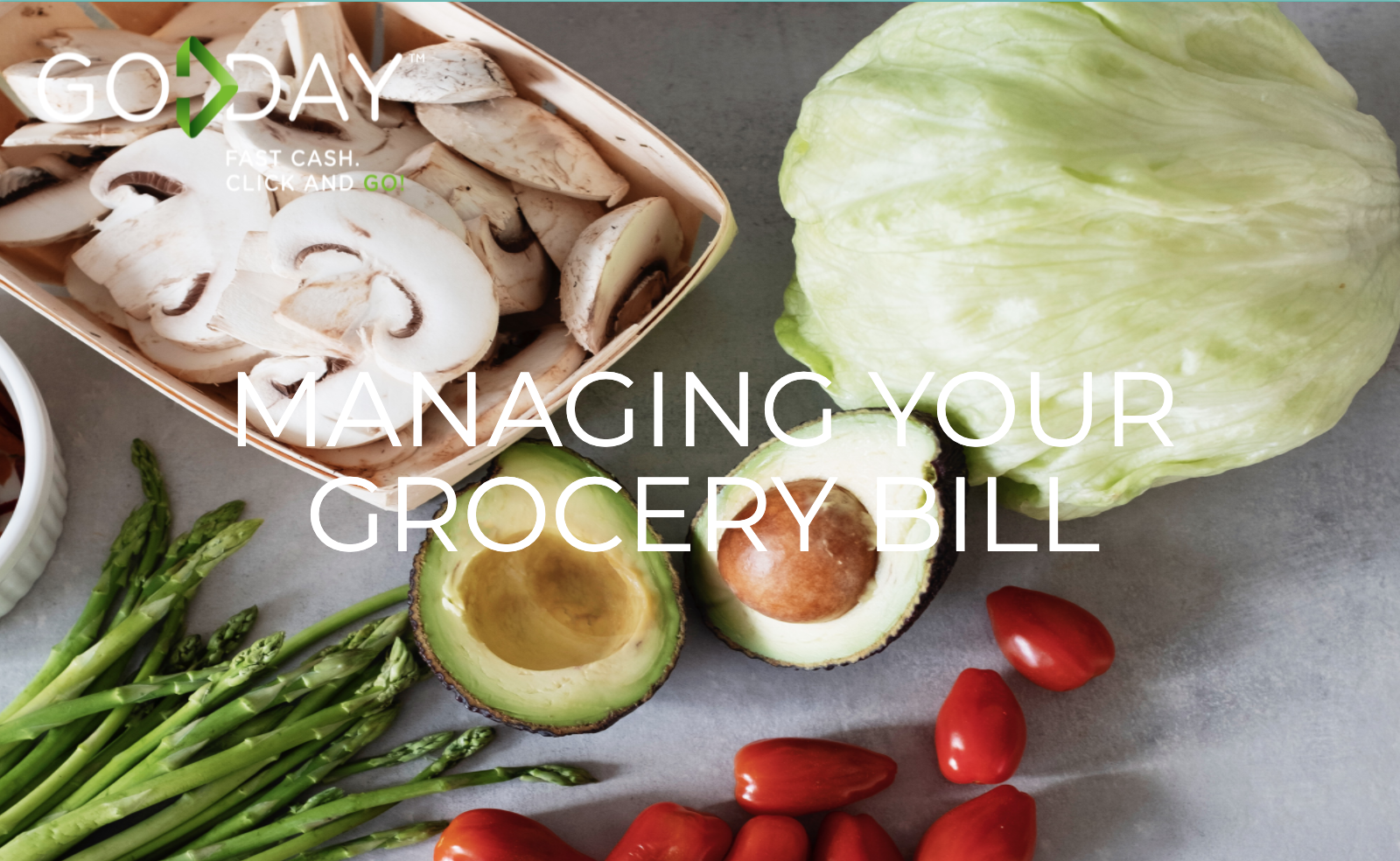 Have you noticed that your regular grocery shops may be costing more than usual? If so, you are not alone. Food prices are continuing to rise – and people are looking for ways to cut costs and save on their grocery bills. As with everything else, supply chain issues caused by the COVID-19 pandemic have also had a major impact on grocery prices and food availability. Prices are expected to climb by between five and seven percent in 2022, adding nearly $1,000 a year to the grocery bills of the average family of four, according to the latest edition of Canada's Food Price Report. Like any costs that you can fall behind on, GoDay offers payday loans online because you shouldn't have to worry about putting food on your table.
How can you save on your grocery bill?
It could be taking up meal planning, finding good deals or buying sale items, making a grocery list – there are many ways to do grocery shopping on a budget. Food prices have risen almost three times as fast as incomes, leaving Canadians spending more and more of their budgets on food. Not budgeting accordingly and allocating a certain amount of money to your food budget can end up being very costly. So, whether you're eating out, ordering in, or not planning when it comes to getting your groceries – with the continuing rising costs of food, it can cost you.
Where will Canadians see the biggest increase in prices?
Dining out and restaurant meals
Dairy products
Fruits
Vegetables
Bakery goods
Budgeting Tools
Here at GoDay, we are big on budgeting – and while we offer payday loans online, our loans are here to help you get back on budget. We also know that everyone has different financial priorities and that is why we understand that sticking to a budget can be tricky. GoDay is big on budgeting – and we talk about it a lot on our GoDay Blog. We believe that having some kind of budget or tracking system in place for your finances is key to being on top of your finances.
Why should you have a budget?
The Financial Consumer Agency of Canada defines a budget as a plan that helps you manage your money. Creating a personalized budget will help you figure out how much money you get, spend, and save and help you balance your income with your savings and expenses. It guides your spending to help you reach your financial goals. Everyone has their own way of keeping track of their finances and it can be hard to keep up with what money is going in and what money is coming out at different times. There are a lot of tools out there to use – and it is about finding the right one that works for you and your budget. It could be the tools and resources your bank has available, there are many different apps like Mint that can help track your spending and alerts.
Statistics Canada reports that the average Canadian household spends about $214 per person on food each month. If you're single or live in certain parts of the country, the average could be higher. When doing meal planning, you also want to consider different dietary choices such as gluten-free or other diets. These can significantly affect your budget, so consider planning your grocery list online to compare prices and find your preferred alternatives. To get started Finding a reasonable monthly grocery budget ensures you and your family have what you need, while not overspending. Look back at previous months using a budgeting app or credit card statements to see what you have spent at the grocery store.
How can these budgeting tools help save on grocery bills?
So, whether you have a dedicated grocery budget or incorporate your food spending into your overall budget, it is important to make sure you are creating a budget and using budget tools that will help you stay on track. Take a look at Mint's grocery budget calculator to help you determine your weekly or monthly budget that can help guide what kind of spender you are.
Change Your Spending Habits
While you are creating your budget – it may be time to reevaluate your spending and regular costs. It's not always easy to change your spending habits, but here are a few tips that will help you save money on your grocery bill.
Cut coupons –
There are many places to find coupons – in the mail, in stores, in your email inbox, and even with a quick Google search. There are also apps that have exclusive deals and can help track your coupons and savings.
Price match –
There are many ways to price match, whether it is through mobile apps like Flipp or using your local flyers. There are a number of stores that do price matching which can make a big difference in your spending.
Use what's in the fridge –
The same goes for making coffee at home instead of grabbing Starbucks. Little things like bringing a lunch and snacks to work, cooking what's already in the fridge instead of picking something up or ordering in add up – especially when it comes to your monthly food budget.
Buy store/no-name brands –
The majority of grocery stores have a store or generic version of products, and these no-name products are usually cheaper than the brand names we all know. There can be differences between brand name and generic name products. But there are certain things to look for, including the price when it comes to making a decision on which product to buy.
Buying in bulk –
It has been shown that buying in bulk can save you money, but it also depends on how smart shop. While the amount you save depends on the category or item, what you need to keep in mind when buying bulk is that it is not the price of the item, it is the price per unit (or size) that matters.
Make a list –
How many times have you gone to the grocery store without even really thinking about what items you need? And then you come home only to discover you already have two of the items you thought you needed already in the fridge. It not only causes us to spend more but also wastes more food. This is why you should have a grocery list – and keep it simple with a pen and paper or the notes app on your phone.
What are the tips that have helped you change your spending habits? Another big one we hear about is meal planning and below we share our favourite meal planning tips.
Meal Plan
Meal prepping, meal planning – whatever you like to call it, can be one of the easiest ways to cut back on your food expenses and save money while still eating well. It is the art of going into your week with a plan of what you are going to eat that week, rather than getting busy or buying meals on a whim. Not only does planning out your meals help save you time, but it can also help save you money.
How? By knowing exactly what items and ingredients you need to purchase you can research and find the best deals on those items, you will eliminate buying things you don't need, and you will also help cut back on food waste and things going bad that you don't use.
Have go-to dishes – It's good to have a few favourites! This will make your grocery shopping easy by knowing exactly what you are looking for.
Shop smart – Make sure to double-check what ingredients you may already have before going out and purchasing more. You may also want to make a list of all the things you need to prepare your meals so that you don't have to make more than one trip to the store.
Freeze meals – One of the best parts of preparing meals ahead of time is being able to keep them in the freezer for times when things get busy. When planning, look ahead at your schedule for the week and prepare meals that can be pulled out of the freezer and thawed out the night before.
Pantry items – Don't be afraid to stock your pantry with items that are versatile and ingredients that can be used in different ways. Food like pasta, rice, sauces, and canned beans, and tomatoes are great to have on hand.
Take a night off – You don't have to have a plan for every single night of the week. It's okay to order in or grab takeout – and knowing that you are taking a night off helps you to budget accordingly.
GoDay's online payday loans are being used for more necessary expenses
Our online payday loans are used for many things, including necessary expenses – such as rising food costs. We provide a flexible borrowing solution that can help with immediate expenses. Since 2012, Canadians have relied on GoDay for fast and easy online payday loans. Next year, groceries will only get more expensive – so creating a budget can help you from feeling stressed over your finances. It is one thing to put all this effort into managing your grocery costs, but it is another to follow through to changing your spending habits. By sticking to the budget you've created, you are working on creating financial stability that will only help you and your family in the future.
What are some of your biggest tips for saving on food and meal planning to get the most out of your grocery shops?